When Is the Best Time of Year to Visit Istanbul?
Experience Istanbul's enchanting seasons and find your perfect time to visit this dream destination in Turkey.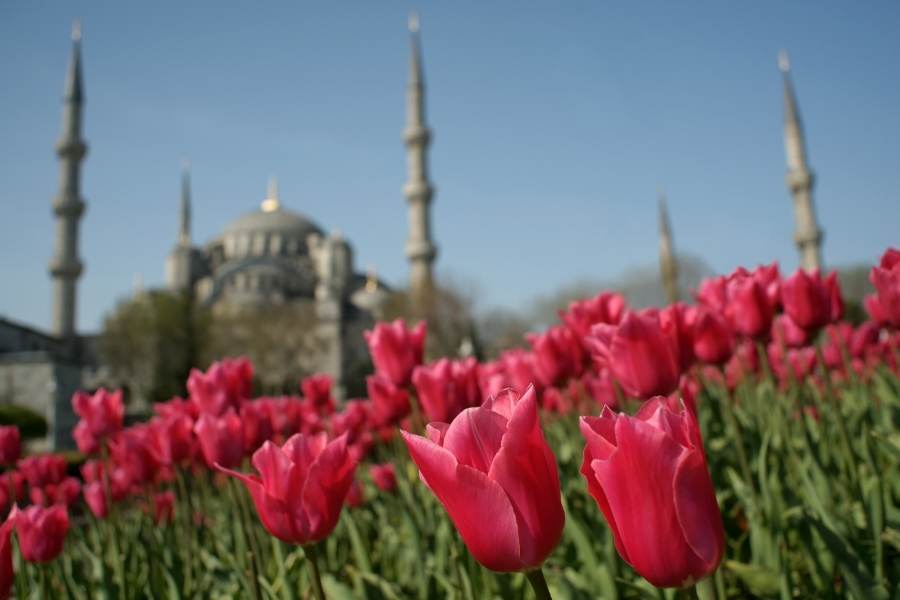 Istanbul is a dream destination for most, but you can make your Istanbul holiday even dreamier by just picking the best time of year to visit Istanbul. 
So when is the best time of year to visit Istanbul? As transition seasons, fall and spring offer pleasant temperatures and add their colors to the city's stunning scenery and architecture, they are considered the best times to visit Istanbul.
Let's dig into the details of what Istanbul offers in each season and why fall and spring are the best times for your Istanbul trip.
What Is the Best Season to Visit Istanbul? 
Fall and spring offer more comfortable temperatures and less busy tourist scenes in Istanbul. Therefore you'll have more flexibility during your visit around these times. Fall and spring also emphasize the transition between tougher, more challenging times to a bit of relaxation with a help of the change in temperatures; hence it is also time for locals to socialize, discover and appreciate their city a bit more. 
In Turkish, fall directly translates to 'last spring' and spring to 'first spring.' And the common belief is that everything has two springs hence two chances to bloom in their lifetimes. So what is better than visiting a place in its blooming time? 
On the other hand, situated on the border between two continents, Europe and Asia, Istanbul never sees the extremes through the balancing effect of neighboring places over the climate. Therefore, this means that you can enjoy a trip to Istanbul in winter and summer too. 
Istanbul has mildly cold winters and hot and dry summers, and you can expect rain in almost every season. Depending on your travel length, you might end up having a gray and foggy holiday during the winter or a holiday filled with boiling temperatures in summer. So you have to be extremely careful about planning your Istanbul trip during these seasons.
Fall: Get Lost Amongst Istanbulites
Fall is a homecoming month for Istanbulites as the summer holidays end and the new school year starts. So it is an ideal season to get a glimpse of daily life in Istanbul from the morning rush to evening serenity. You can walk around the empty streets during the day and join the locals with their after-work drinks or even a Friday night out around a raki table. 
Besides, fall is known as a festival season in Istanbul as it hosts various festivals from art to film and music. It might be your chance to join and get lost in the crowds of young Istanbulites and experience the city in a way that they do. 
You can also catch some fall colors in Istanbul. If you stroll towards the famous Bogazici University campus and continue towards Bebek, there is no doubt that Rumeli Hisari will amaze you covered with autumnal colors. 
During the fall, the temperature is neither too hot nor too cold. However, you should always be ready for rain showers or some hot and dry days. So the key here is dressing up in layers and always have an umbrella handy. But don't worry, umbrella sellers in Istanbul will never let you get soaked with unexpected rain as they are popping up like mushrooms with a drop of rain. 
Fall season starts in late September and lasts until mid-November in Istanbul. As it is not the peak time for travelers, you can enjoy affordable prices on hotels and airline tickets.
Where to Stay in Istanbul in Fall
The Story Hotel Pera (link to see availability on Expedia) is located in the very heart of Taksim, by the famous Istiklal Street. You can discover the city on foot or by public transport, and write your own unique story while staying in this beautiful historical building with modern rooms. It's got exceptional user ratings, and it offers excellent value.
Spring: Explore the Every Corner
Spring is known as the season that everything and everybody gets a bit more relaxed with the warming weather in Turkey. So expect to see Istanbulites enjoying the city that they are living in at every possible opportunity. Spring is the time of the year in Istanbul that urges everyone to have one more bite of everything. 
Therefore there is no better time than spring to enjoy a leisurely walk by the side of the Bosphorus topped up with a delicious cup of coffee or a gelato. Alternatively, you can jump on a morning ferry for a little excursion to discover one of the islands of Istanbul or to have a cruise on the Bosphorus. 
Without a doubt, the Istanbul Tulip Festival is another charm of the city during spring for more than 15 years. The festival takes place in several city parks in Istanbul and demonstrates over 2 million tulips every year. Make sure that you check the dates of the upcoming Tulip Festival before making your bookings. 
From mid-March to the end of May is considered the spring season, you can still benefit from winter specials' perks, especially on airline tickets for March.
Where to Stay in Istanbul in Spring
Celine Hotel (link to see availability on Expedia) in Sultanahmet, where most of the sights of Old Istanbul are gathered, is one of the best places in Istanbul to observe the colorful tulip festival. You can walk to the great Ottoman palaces and parks to take the most amazing pictures. The top floors of the hotel also offer a sea view, and the decor gives you a peek through history.
Winter: Discover the Seasonal Delicacies
Traveling to Istanbul during the winter season could be the most economical amongst others and the least crowded one. However, you should bear in mind that there will be some limitations over what you can or cannot do during your visit. 
Even if it is rare to see snow in Istanbul, you should be ready for cold weather, especially near the water. So the walks by the Bosphorus won't be as enjoyable in winter, and you might struggle to find some activities like dinner cruises or day tours available at this time of the year. 
On the other hand, Istanbul shows its beauty differently during winter. It is spectacular to see Maiden Tower or Rumeli Castle through the curtains of fog. Besides, you can opt for indoor activities from gallery hopping to see some international and local artists' works to experiencing Turkish Hamam, aka sauna. Don't forget to treat yourself with seasonal street food delicacies like roasted chestnuts and sahlep to warm your spirit on cold Istanbul days. 
As Turkey doesn't celebrate Christmas, you don't need to worry about the closure of regular businesses during that time as opposed to European countries. Still, you might need to keep in mind that the 1st of January is a national holiday in Turkey.
Where to Stay in Istanbul in Winter
Nordstern Hotel Galata (link to see availability on Expedia) is located in Karaköy, which is within walking distance of most landmarks, and its decor also embodies the Old City. Some rooms have a sea view and the hotel even offers a suite with Hamam, the traditional Turkish bath, for the extravagant. The fireplace in the lobby will also warm your heart on winter nights.
Summer: Enjoy the Long Days
As Istanbul is not only a destination by itself but also serves as a gateway to a more extended adventure in Turkey, you might expect that the crowds can be overwhelming during summer. Summertime in Istanbul is the exact opposite of fall in daily life as you might end up seeing more tourists on the streets than the locals. 
On the other hand, being in Istanbul during summer has some advantages, from enjoying the endless sunshine and long days to discovering the beaches along the northern coast of Istanbul. Getting around the city can also become easier in summer as most of the Istanbulites go to their hometowns or summer houses and the traffic declines. 
However, you should always be aware of the higher rates applied to almost everything for the famous holiday season.
Where to Stay in Istanbul in Summer
Royal Galata Hotel (link to see availability on Expedia) in Karaköy is in a very central location. You can use all public transport options or take a walk by the sea and reach the main attractions of the city in a short time. The rooms are decorated in a way that will make you feel like you are under the sea, which is a great vibe for a summer visit to Istanbul.
Closing Thoughts
Istanbul proved to be one of Europe's most popular tourist destinations by welcoming almost 10 million visitors every year. 
Let alone the sights and the activities, Istanbul never fails to amaze people with the possibility of jumping on a ferry and traveling between continents in 15 minutes. Thanks to its unique location, Istanbul unveils different bits of its beauty in each season. Feel free to visit Istanbul anytime or visit more than once in different seasons to discover the city's every magical element.