Hot Air Ballooning in Cappadocia (Everything You Need to Know)
Soar above Cappadocia's fairy chimneys in a hot air balloon and experience pure magic!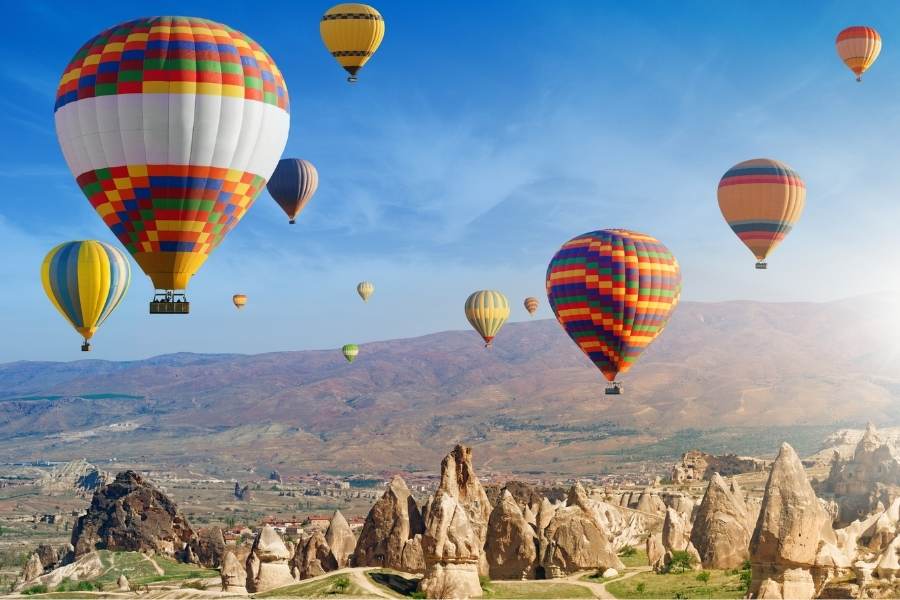 Cappadocia is the city that has astounded Instagram with views of fairy chimneys and hot air balloons at sunrise for years. It put the Turkish city on every traveler's bucket list. But many show up unprepared and miss out on the opportunity to soar 800 meters high. Learn how to go hot air ballooning in Cappadocia with these important things to know.
We'll guide you through planning your bucket list balloon ride, what to expect from hot air ballooning in Cappadocia, and help you create a back-up plan for bad weather.
So, what do you need to know to go hot air ballooning in Cappadocia?
Planning a Hot Air Balloon Ride in Cappadocia
Cappadocia is best known for its view of hot air balloons flying above the fairy chimneys at sunrise. It's a stunning image that would inspire any traveler to visit. Which is exactly what it's done for years.
You'll find Cappadocia on every Turkish travel itinerary. This is why it's important to plan your hot air balloon ride in advance.
Although Cappadocia sees 100 to 150 hot air balloons drifting through the clouds each morning, there aren't enough spaces for everyone. During the peak season of July and August, these balloons are fully booked for weeks.
To avoid missing out on hot air ballooning in Cappadocia, book your flight in advance.
You can book your flight through your accommodation or do your own research and find a provider that appeals to you.
I wanted to fly with an English-speaking guide who could chat with us. I used TripAdvisor and some tips from bloggers to find a company with a strong safety record and engaging pilots.
When Is the Best Time to Hot Air Balloon in Cappadocia?
Hot air balloons need ideal weather conditions to fly. Although bad weather can happen anytime, certain times of the year often have worse conditions than others.
Hot air balloons are active in Cappadocia for about 250 days a year. Although they can technically fly year-round, weather often grounds the balloons. The worst of that weather comes in winter.
There's a misconception that Turkey doesn't have winter. In reality, it does. The country gets cold and often sees snowfalls.
With the cold comes high winds, fog, and precipitation that prevents hot air balloons from flying.
Although Cappadocia looks magical when covered in snow, there's a high chance of your hot air balloon flight being canceled.
Most people opt to avoid the December to February winter season because of the high chance of bad weather.
However, the peak tourist season of July and August brings its own challenges. You have a higher chance of going hot air ballooning because of the good weather, but it's much harder to book a flight. You'll end up paying more during these times due to inflated prices and the need to upgrade to deluxe flights to get a spot.
To save your money while still having good odds of going hot air ballooning in Cappadocia, plan to visit between March and June or September and November.
How Much Does It Cost?
Hot air ballooning in Cappadocia is a once in a lifetime experience. That's partially because of the magic of it, and partially because it's expensive.
It's important to factor the cost into your travel budget to avoid overspending and missing out.
Hot air balloon flights cost anywhere from 150 to 250 euros per person. The exact cost depends on the type of balloon you take, the package, and the time of year.
Although that may seem like a lot for a 1-hour experience, it's worth the price. You'll never get a better experience than drifting peacefully through the sunlit clouds as Cappadocia wakes for the day.
When I thought about the cost, I realized I was happy to pay 200 euros. I wouldn't trust a balloon that only cost 50 euros and was flying 800 meters high!
Different Types of Hot Air Balloon Rides in Cappadocia
Not every hot air balloon ride is alike.
Typically, a hot air balloon ride includes transit from the company's offices to the balloon, a place amongst 28 people in the basket, a 1-hour ride, and transit back to the offices.
You can upgrade this experience in several ways with different companies and packages.
I opted for a deluxe hot air balloon ride to have fewer people in the basket. I didn't realize all of the benefits that came with it beyond the extra elbow room.
A deluxe flight includes transport to and from your accommodation, a free continental breakfast (which is definitely appreciated when you run out of your hotel at 4 am), an extra 30 minutes in the air, champagne, and a certificate to commemorate your flight.
You can get even more elbow room by booking a private ride. 
Beyond price, there are also different times for hot air balloon flights.
In Cappadocia, 100 balloons are allowed to fly before sunrise. 50 are allowed post-sunrise. This is a less demanded time but is just as beautiful (and potentially a bit warmer).
You can also book sunset flights for those who can't fathom the idea of waking up at 4 am.
Is Hot Air Ballooning in Cappadocia Safe?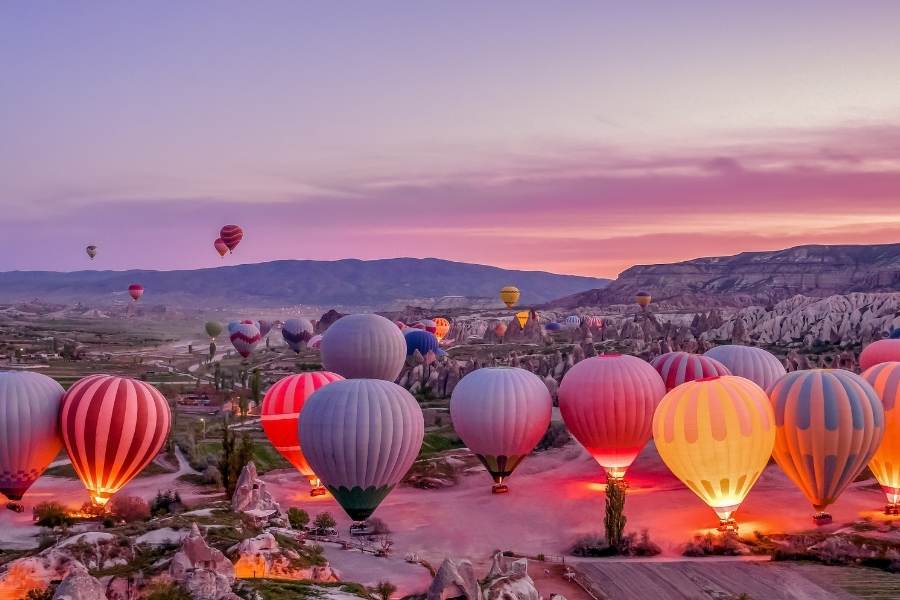 Hot air ballooning in Cappadocia is a must-do activity, but it is safe?
Pilots are certified like airplane pilots. They have to get training, fly a certain number of hours, and have a license. They also have to have medical tests done to ensure that they are healthy enough to fly.
Most pilots in Cappadocia have been operating for decades.
Like any mode of transportation, there is some risk to hot air ballooning. Of 1.5 million passengers, fewer than 10 people died and less than 50 were injured.
Most hot air balloon accidents are due to poor weather and inexperienced pilots. They almost always occur on landing.
That's why it's so important to pick a company with experienced pilots and a good safety record. And it's why you should be grateful that the Civil Aviation Authority cancels flights when the weather is bad. 
Apart from statistics and licenses, hot air balloons feel safe when you're in them.
Although they look dainty from afar, up close they are serious machines. The balloons are massive, with thick fabric material that takes a half dozen men to roll up. The basket is woven, but it's so sturdy that in the air you feel like you're on the ground.
There is almost no sensation of "flying" as we know it from planes or helicopters. You drift with the wind, which makes you feel incredibly secure, even 800 meters high.
What to Wear for Your Hot Air Balloon Ride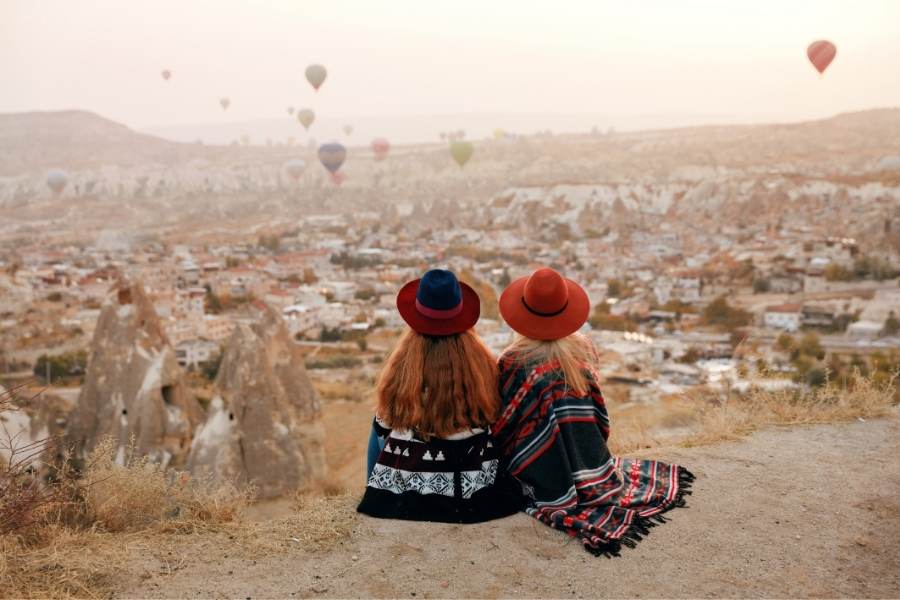 So many people pose in dresses on their cave hotel balcony overlooking the morning balloons.
But that attire isn't great for actually riding a hot air balloon.
Hot air balloons typically take off before sunrise, which means the air is still chilled from the night. They rise 800 meters (3000 feet) high, above the cloudline. The cold of night, the open air, and the height of the balloon all mean one thing: it's cold in a hot air balloon.
The actual severity of the cold depends on the time of year you visit. I flew in March when Turkey was still slowly shifting into Spring.
That meant I had to really bundle up with:
A light winter jacket
A fleece sweater
A long-sleeve shirt
Pants
If you have them, I'd add long underwear, tights, or fleece leggings
Thick socks
Boots or sneakers
A hat/ear muffs
A light scarf
Gloves (although mittens are a better choice to operate a camera)
Since you're standing still, you really feel the cold. At first, I needed the occasional blast of the fire to keep warm. By the time the sun rose, I was unzipping my jacket and abandoning my gloves.
For your hot air balloon flight, dress for weather 10 degrees below what it is on the ground. Wear layers that you can unzip or remove if needed. Always have something for your ears and hands.
Don't forget to pack your camera, phone, and/or go pro for amazing shots!
Always bring sunglasses. You're flying through the sunny skies, which often ends up with you blinded by the sun for a few seconds as the balloon turns.
I forgot mine and was squinting painfully for the landing. Bring yours to avoid my mistake!
What It's Really Like to Hot Air Balloon in Cappadocia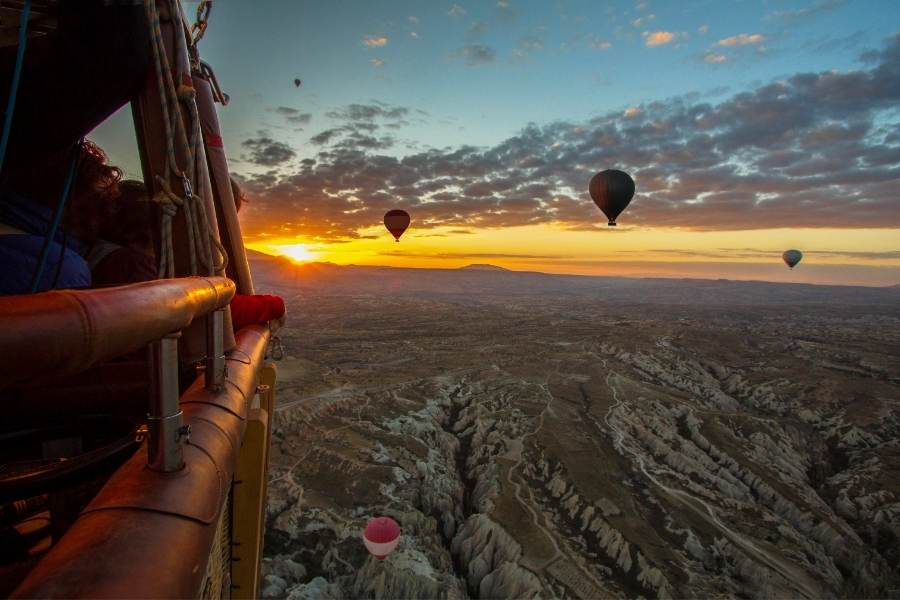 In a word, hot air ballooning in Cappadocia is miraculous. It's one of the most beautiful experiences of my life.
You wake far too early and stumble into all of your layers before racing out to your shuttle to the balloon company's offices.
There you sign your liability waivers with weary eyes while you try not to spill your complimentary tea over the pages. Munch on a few biscuits and eavesdrop on some groups nearby while you mentally prepare to fly.
The company will give you a safety talk, that includes the surprise twist that you should have kept up your squats during your vacation.
Hot air balloons land on their side, which means you end up landing on your back. To prepare for landing, you have to squat down and brace yourself against the back of the balloon while it topples over.
Experienced pilots (like mine, luckily) can land on the platform without tipping the balloon, but you'll still have to brace in case.
You'll drive to a hilltop where a half dozen balloons are glowing with the flames inflating them. Their bright-colored tarps slowly rise from the grass until they're a stunning display of reds, yellows, and blues across the darkness.
You have to get in the balloon before it's fully inflated. That means clambering over the side (less than gracefully, in my case) and taking a spot in the four quadrants of the basket. 
You can grab a few shots on the ground before the balloon lifts off. 
You won't even realize you're flying until you see the scenery start to move around you.
The Lift-Off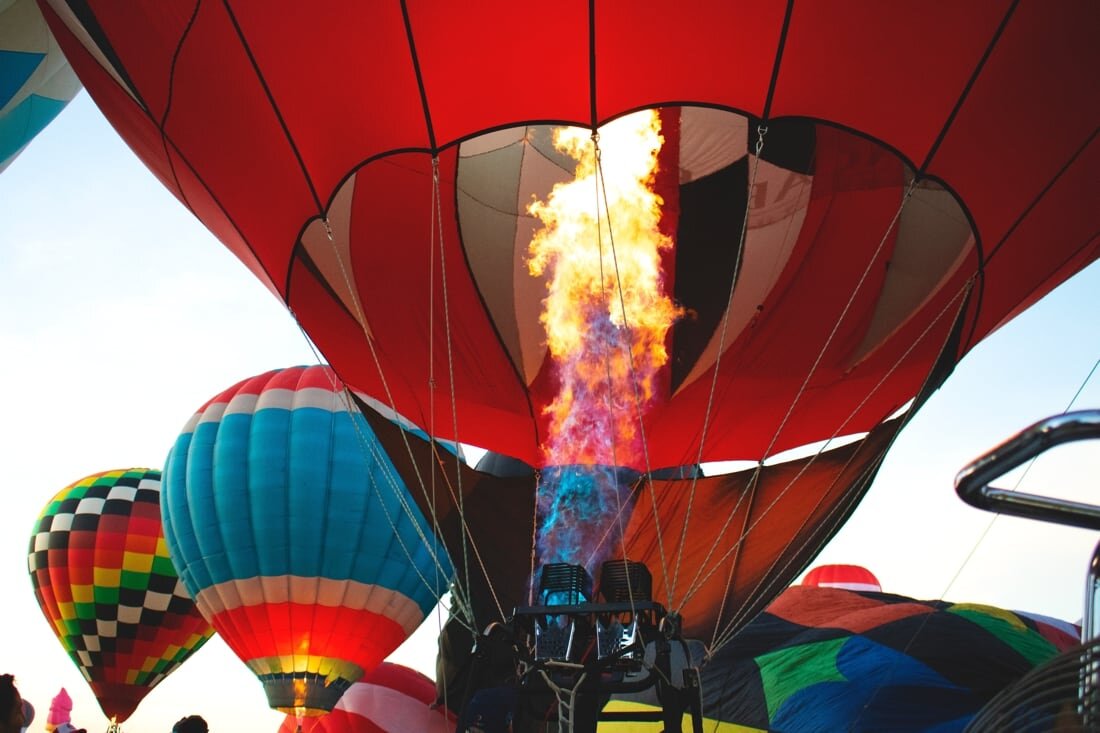 Every flight is different. Hot air balloons follow wind streams, which change every day. Your pilot will guide you over the fairy chimneys that cover the landscape of Cappadocia, highlight the distant mountains, and drift above the clouds to see the rising sun.
But the exact route is never the same.
My ride saw us skirting between fairy chimneys just 3 feet off the ground, before rising above a hilltop of photographers (and a dog) to drift higher with the rest of the 100 balloons aloft that morning.
The pilot kept radioing someone in Turkish. Eventually, I asked what he was saying. He was telling the chase crew where we were.
You see, hot air balloons have to be caught at the end. Since they follow different routes daily, no one knows where that will be. A team with a truck and the trailer for the balloon had to chase us along the route to meet us wherever we'd land.
The Landing
The landing was the most nerve-wracking part of hot air ballooning in Cappadocia. My legs were quaking from the start of the squat and I was worried about the sensation of falling backward.
In the end, there was no reason to worry because our pilot set us down straight onto the trailer. He had to shift the balloon a couple of times, but we remained upright through it all.
Afterward, we enjoyed a slice of cake and champagne in a field while the team worked to load the balloon up for travel.
The ride is always over too fast, even for 90 minutes in the air. I took about 2,000 photos of the different balloons, the peaks and valleys, my own grinning face, and the sunset.
It's an experience unlike any other.
What to Do if Your Hot Air Balloon Ride Gets Canceled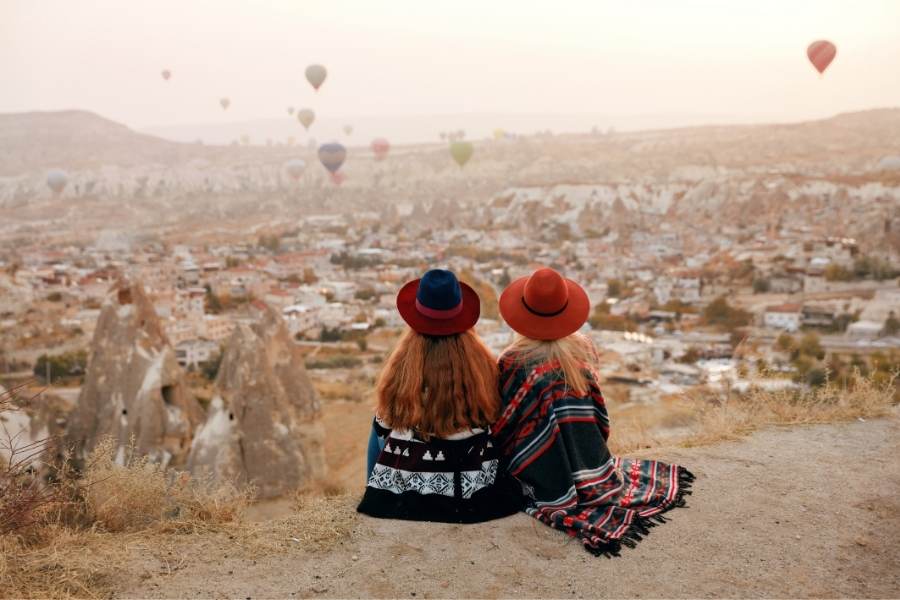 Unfortunately, many flights are canceled due to the weather.
It's completely unpredictable and can happen up to the point that you're inside the basket about to lift off.
Don't miss out on your opportunity to go hot air ballooning in Cappadocia! Have backups in place in case this occurs:
Plan to stay in Cappadocia for 3 days to give yourself multiple chances to fly
Book your flight for your first day
Visit during off-peak times to have a better chance of rebooking
Avoid the winter months when weather is most volatile
Ensure your company offers a refund for canceled flights
Have a plan to rebook
If your flight is canceled and you need to rebook, follow these steps to increase your chances to get a new flight:
Ask your initial company if they have space the next day, or the day after
If they don't, start emailing and calling other companies to check with them
Don't rely on your hotel, as they will often only call a couple of companies
Ask about deluxe, sunset, or post-sunrise flights. They may cost more or be at a time you didn't choose, but they'll still offer an amazing experience
Keep an eye on your phone/inbox. Companies will typically only reserve your space for 1 hour before you confirm
Don't miss out on the other incredible things Cappadocia has to offer while you wait
Other Things to Do in Cappadocia
Although hot air ballooning is the most popular thing to do in Cappadocia, it's not the only thing in the region.
Take advantage of your extra time in the area by visiting some of the highlights:
Watch the hot air balloons from Lover's Hill
Visit the Goreme Open-Air Museum
Hike to see the sunsets over Red Valley or Rose Valley
Visit the Fairy Chimneys
Tour an underground city
Stay in a cave hotel (or have breakfast at one)
Closing Thoughts
Don't miss out on hot air ballooning in Cappadocia by not preparing for your visit. These helpful things to know will ensure that you increase your chances of having a magical experience in Turkey.
Pack gloves, have your camera ready and be prepared with extra days to make your hot air ballooning dream come true. Have a safe flight over the fairy chimneys!