10 Must-Eat Street Foods in Istanbul
Embark on a delightful culinary journey through the vibrant streets of Istanbul!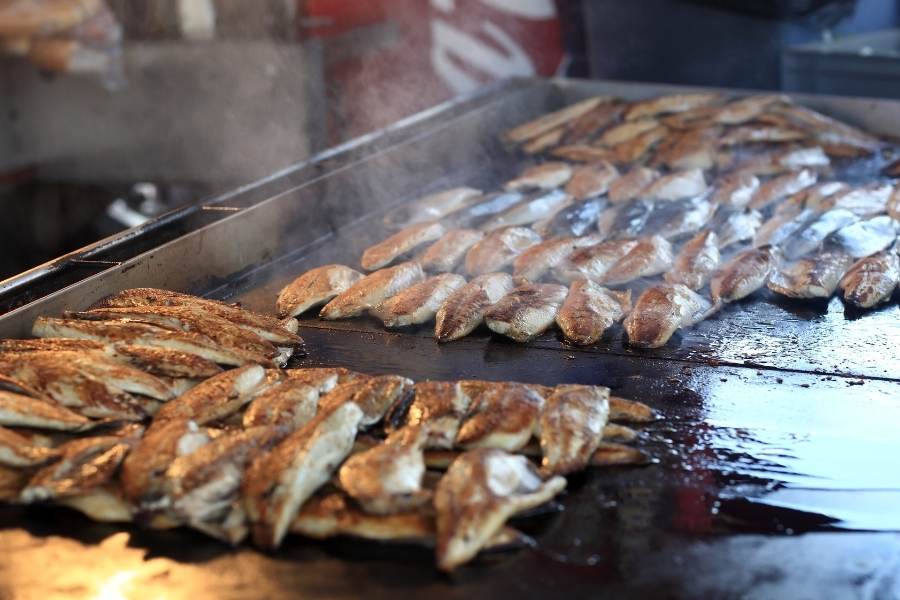 Without a doubt, getting familiar with the locals' favorite foods and understanding the way of their living on each bite is a mesmerizing experience. Are you ready to take a little journey to the best street food in Istanbul? 
The interest in street food culture is increasing day by day in almost every corner of the world. Kebab may be the first thing that comes to your mind when thinking about Turkish street food. Regardless of how delicious kebabs are in Turkey, there is a whole world of culinary treats beyond kebabs to discover.
So, what are the must-eat street foods in Istanbul?
10 Must-Eat Street Foods in Istanbul
1. Döner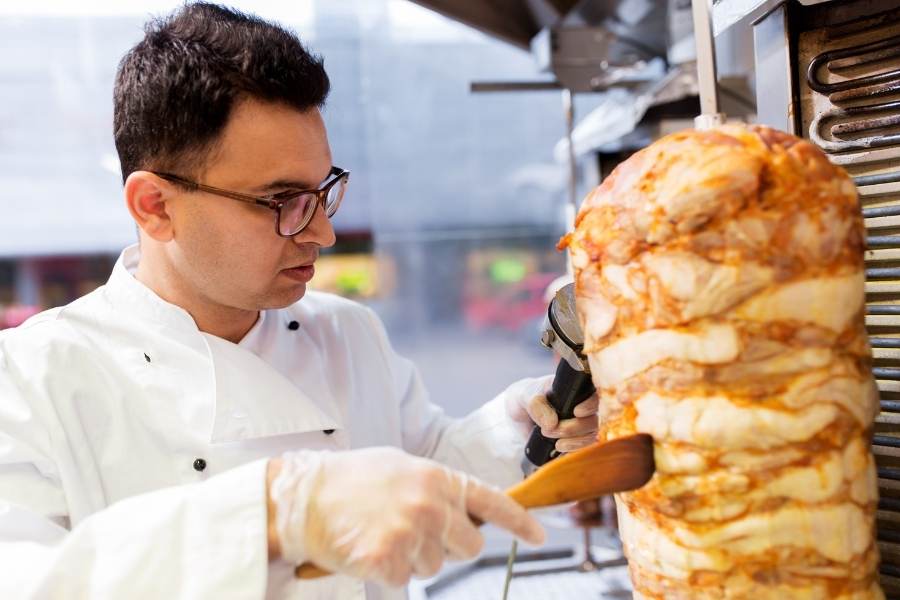 Let's start with döner! Unlike common usage in mostly Europe, these thin slices of meat, usually chicken or beef stuffed in bread with salad, are called döner, not kebab. You can opt to have your döner in lavash bread, and this is called dürüm döner. 
The general rule here is, once you wrap something in lavash bread, from that moment on, it is called dürüm. You can use this little knowledge to warm your döner crazy Turkish friends' hearts. 
Döner usually serves as a quick, cheap meal for Turkish people either for lunch or dinner, as well as a quick bite on their way back from a night out. 
You might come across different variations of döner during your visit, and the most popular one of all those is cheesy toasted dürüm. What can compete against melting Kaşar cheese (Mozzarella like Turkish cheese) from the cracks of warmly toasted lavash bread? If you are not eating meat, don't worry, you can always go with the veggie option.
2. Balık Ekmek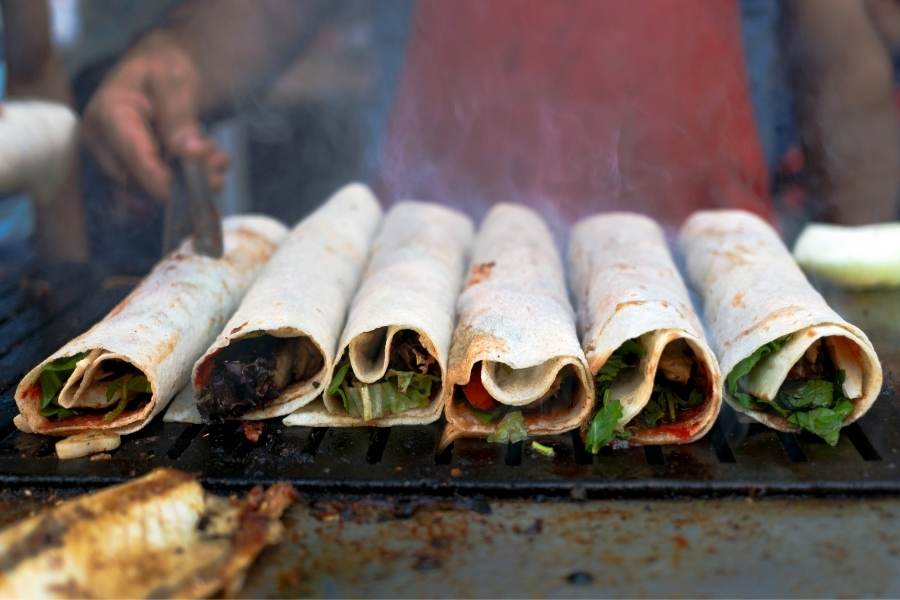 Balık Ekmek can easily be described as a fish sandwich. You usually come across wıth balık ekmek sellers in proximity to the sea around the areas like Eminönü or Karaköy. 
Literally translating from Turkish balık refers to fish and ekmek to bread, and it is really what it is. A piece of toasted Turkish bread bun filled with a grilled white fish, usually mackerel, some salad, and raw onion topped with a squeeze of lemon. 
Even if they are impossible to miss, make sure you check out the balık ekmek boats that serve fresh sandwiches. However, if you want a more local like experience, make your way to the restaurants below the Galata Bridge. 
3. Islak Hamburger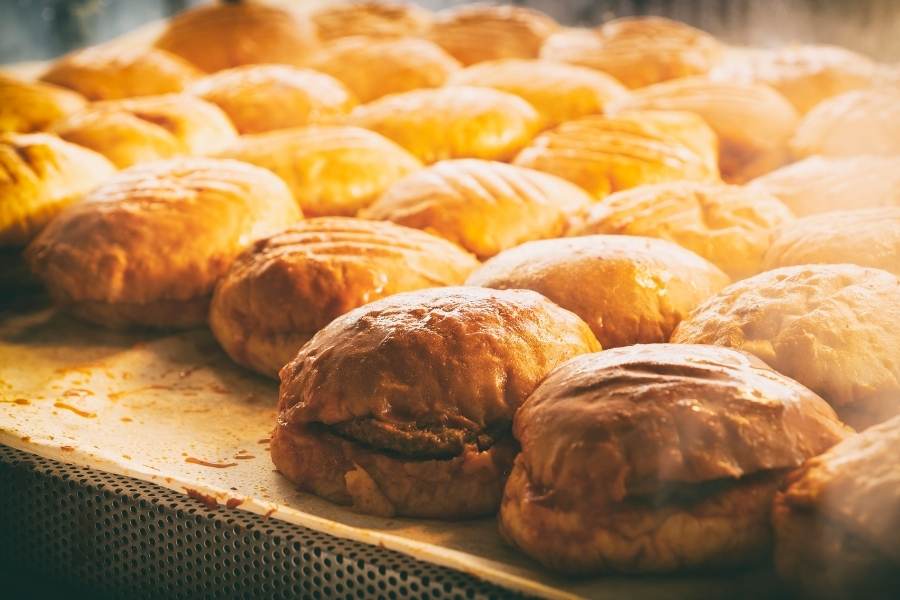 Islak hamburger translates to wet hamburger; however, they are more like sliders than regular hamburgers. Think of them as sliders steamed with garlicky tomato sauce. Islak Hamburger is the ultimate street food, especially among university students at the end of a long night out, as they are remarkably cheaper than any other warm and filling street food option. 
You'll see them mostly around the areas that are popular with the nightlife or bar scenery. They might not have a tempting look, but you won't regret it when you try one. 
4. Simit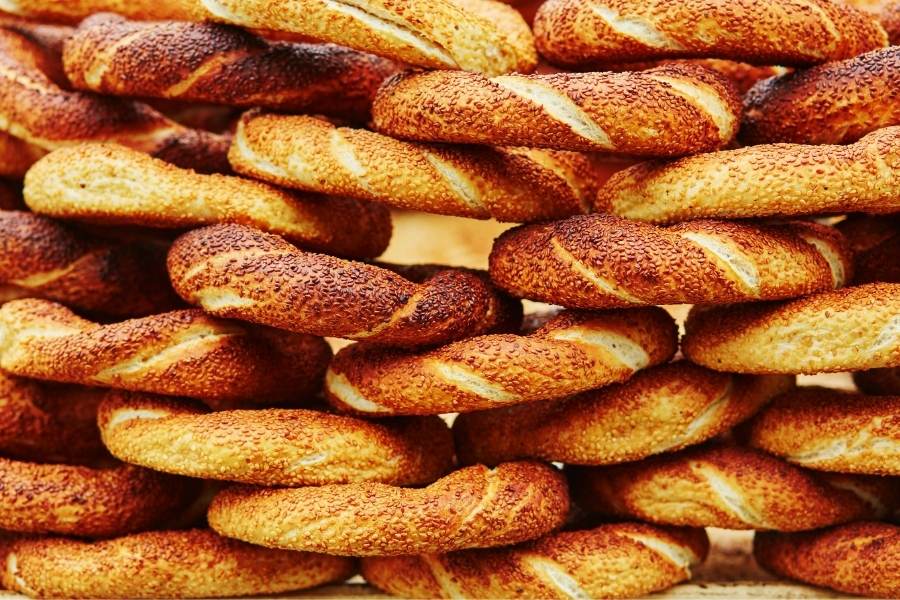 You'll see a simit seller at every corner of Istanbul during your visit. To be honest, not only in Istanbul all over the country but be careful it might take different names in other cities like gevrek in Izmir. 
The best way to describe simit is as a crunchy bagel dipped in molasses and coated with sesame seeds before baking in a brick oven. You can alternatively find the ones covered with sunflower or poppy seeds.
Wherever in the country, simit is a breakfast for most early risers like office workers and students with salty white cheese, tomato maybe some fresh herbs like parsley and black tea. 
If you are lucky, you might find a little bakery that slices a crunchy simit in half and stuffed it with cheese, tomato, herbs, and toast. Doesn't it sound like the best breakfast-to-go ever?
5. Tantuni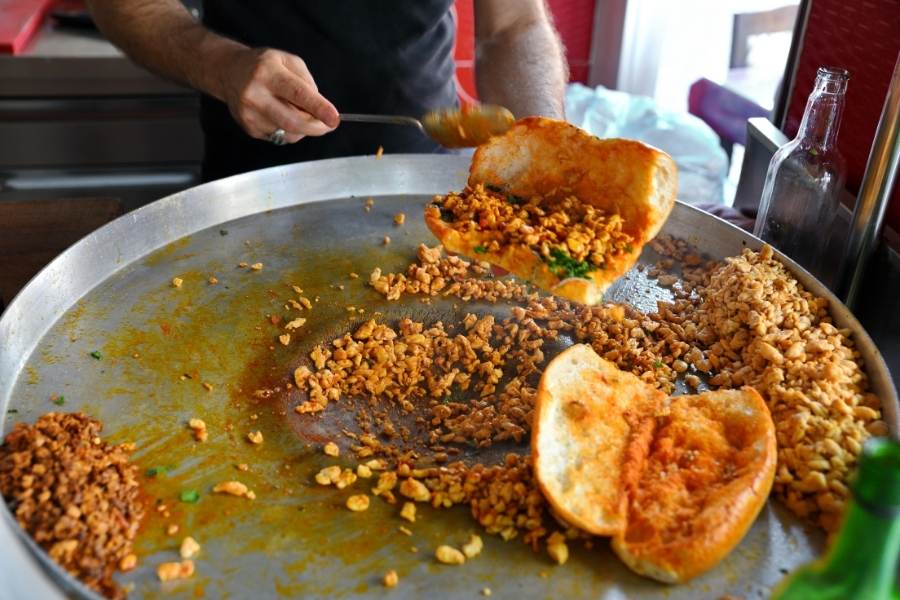 Tantuni is a local delicacy of Mersin, which is a city on the southeastern coast of Turkey. However, tantuni has become popular nationwide with its incredibly thin lavash bread and body warming spiciness. You can think of tantuni as a unique variety of dürüm, filled with a stir-fried combination of julienned sliced beef, tomato, green peppers, and a generous sprinkle of spices. 
Tantuni is usually served with pickled chilies, be careful that they are traditionally mind-blowingly hot, and a slice of lime or lemon to squeeze on your tantuni before each bite. In this sense, some people think of tantuni as a Turkish version of tacos.
If you are not a fan of spicy food, you can ask for a non-spicy version with the magic word of 'acısız.' 
6. Kokoreç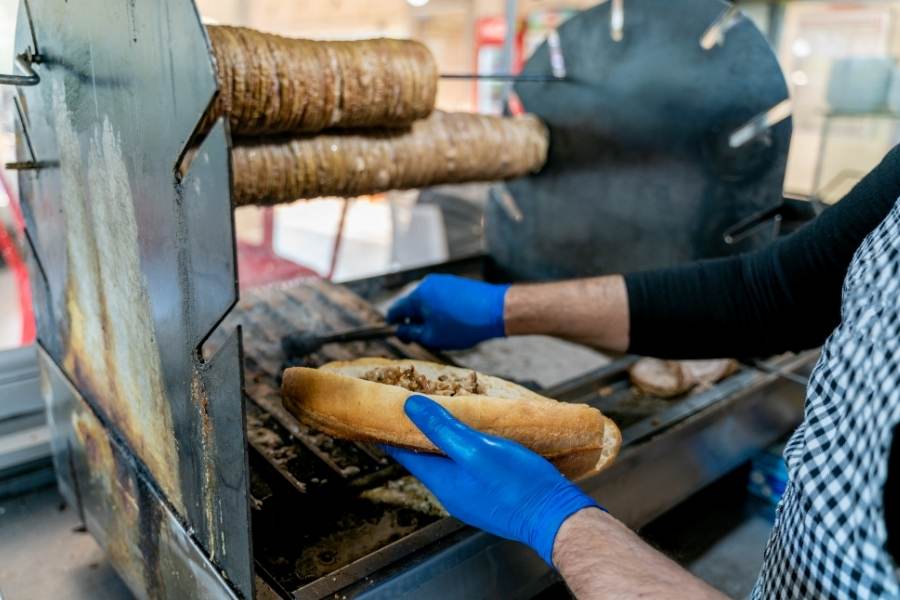 This is it; this is what those long spits wrapped with crunchy-looking meaty stuff called. Even if most Turkish people love kokoreç, it might be a bit on the adventurous side of street food lists. 
It is sheep's intestines cooked slowly, rotating on a coal fire, then cut within a half or a quarter of Turkish bread loaf topped up with spices like salt, cumin, thyme, and chili flakes. Some places add tomatoes in their kokoreç, or some of them thinly slice the meat with tomatoes and mix with spices before putting it into bread.
Knowing what the meat is, some people find kokoreç hard to try; however, it is perfectly ok to try it from a well-known place, check out one of the branches of Şampiyon Kokoreç in Istanbul. Don't forget to have a glass of şalgam (turnip juice) on the side. 
7. Midye Dolma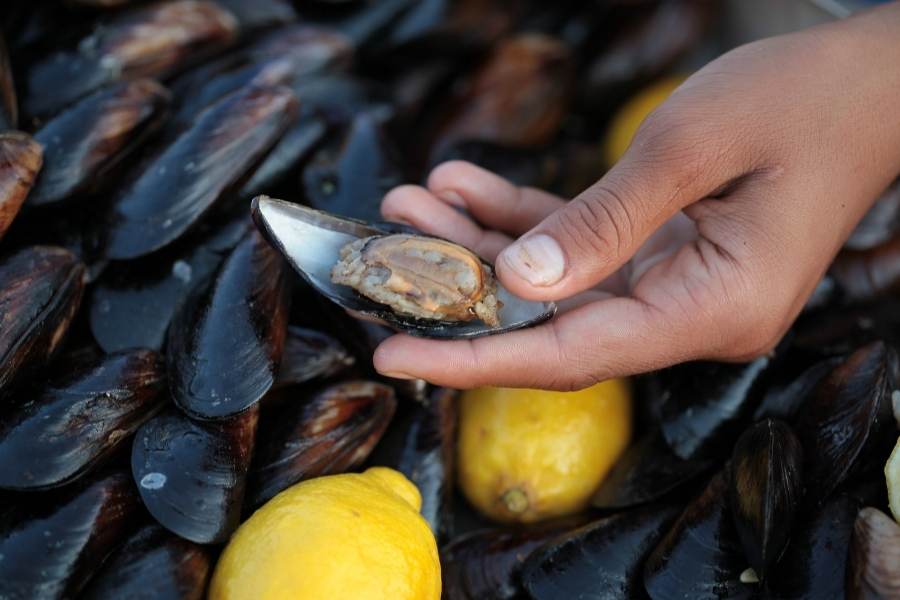 If you are a seafood lover, this is a must-try for you. Midye dolma is known as stuffed mussels. As the name suggests, the mussels are stuffed with cooked white rice mixed with quite a bit of black pepper. 
You can order midye dolma in some seafood restaurants as a cold appetizer. However, it is more delicious if you eat it standing in front of a midye dolma seller's stall while they are opening mussels one by one for you and squeeze a few drops of fresh lemon juice and hand them to you to eat. 
You should stop the seller when you feel like you had enough. Otherwise, they keep opening one after another. Once you give the signal of you are done, the seller will start counting the mussels shells to tell you how much to pay. 
Don't forget to ask them how much they charge for a mussel before starting to eat. 
8. Pilav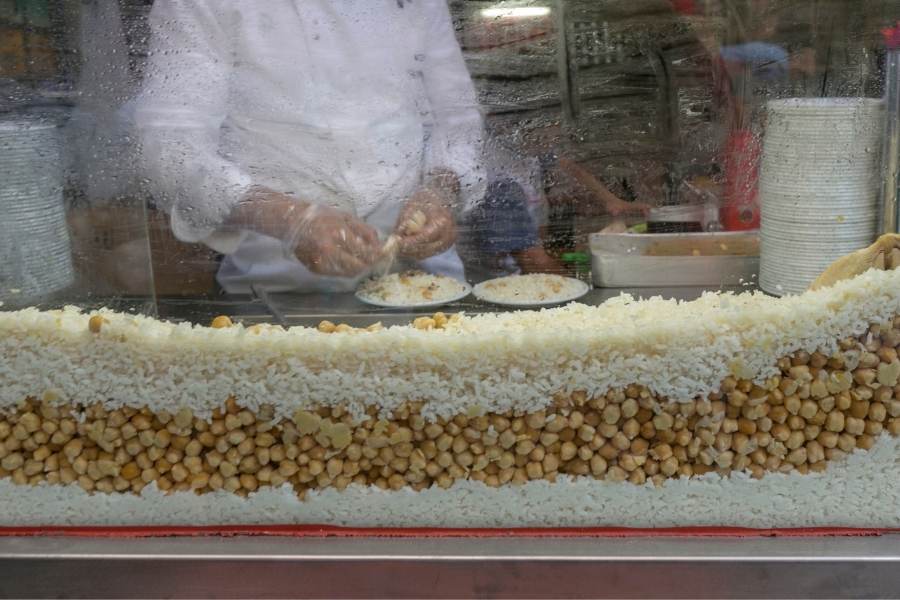 You might get surprised when you see a street seller pushing their glass-covered carts filled with steamed white rice, but it is a call for a quick lunch or snack for Turkish people. 
Pilav is similar to pilaf or palaf in some Middle Eastern or Turkic cuisines. On the other hand, Turkish pilav is plainer than the others as it usually doesn't have any veggies or meat inside.
However, pilav sellers usually have their own specialties. Some of them only sell pilav with boiled chickpeas, and chickpeas are sometimes used as toppings or sometimes directly mixed with pilav. Some of them sell pilav with boiled and shredded chicken again either as a topping or combined with pilav. 
If you are lucky, you can find the one who has all the variations as well as a glass of homemade ayran (Turkish yogurt drink) to go with a generous bowl of pilav.
9. Kumpir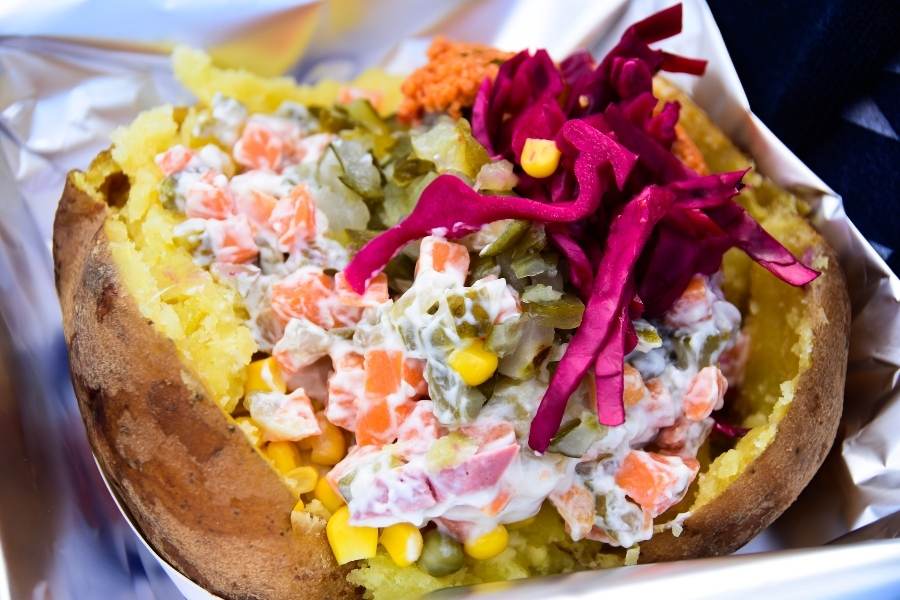 Kumpir is a baked potato filled with various toppings. However, it is almost used as synonyms for Ortakoy in Istanbul. Ortakoy is a seaside neighborhood in between Besiktas and Bebek. Even if you can find kumpir in many places if it is your first time, you have to have it in Ortakoy to feel the atmosphere. 
There are a group of kumpir sellers located on the little cobbled streets toward Ortakoy square. They all have their baked potatoes hot and ready, waiting for you to choose your toppings from the glass fridge in front of you. 
While choosing your toppings, the seller starts getting your baked potato base ready by mashing it together with some cheese and butter. Some favorite toppings for kumpir include corn, Russian or Italian salad, sausage cooked in tomato sauce, pickles, and olives.
10. Kestane Kebap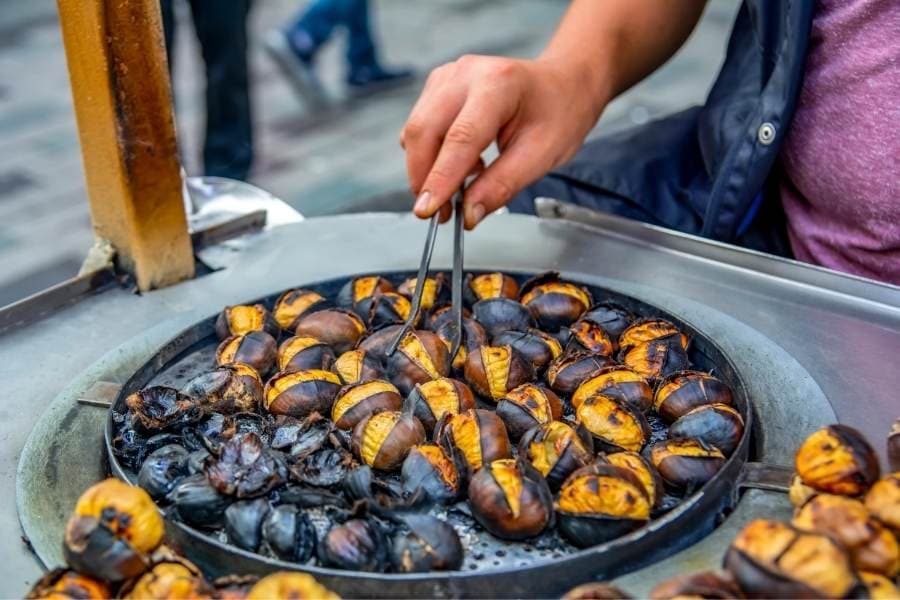 Turkish people call roasted chestnuts "kestane kebap" as chestnuts slowly roast on a coal fire and have a smoky taste. Even if roasted chestnuts are mostly seasonal street food, they are indeed a staple of Istiklal Street in Taksim. 
Not one Turkish person can imagine Istiklal Caddesi without a view of red-roasted chestnut stalls. Equally, none of them can think about this scenery without remembering the warming smell and soft sweet taste of them.
If you visit Istanbul during winter, make sure you get a cone of charcoal roasted chestnuts and enjoy them during your promenade along Istiklal. 
Final Thoughts
Wherever you are in the world, street foods can be intimidating to try at first; however, once you start trying and learning the different aspects of the relation between the food and the culture, you find yourself wanting to discover more. 
Take this list as a starter guide for your street food discoveries in Istanbul, and remember there are always more to try and learn.