A Complete Guide to Istanbul's Coolest Neighborhoods
Uncover Istanbul's Hidden Gems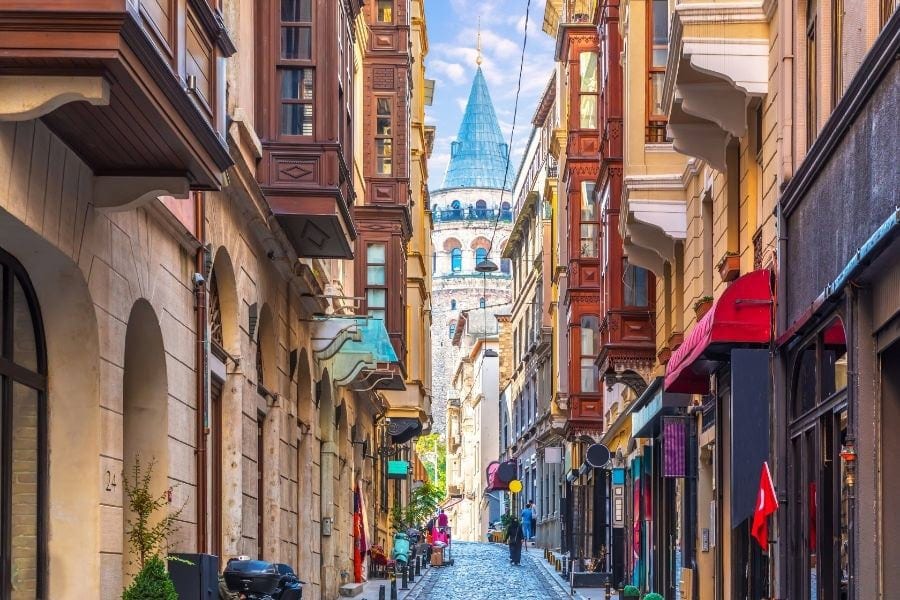 Istanbul is a sprawling city that is uniquely divided into two continents. Each neighborhood is distinctly different from one another and offers something for everyone. With so much to do and so much to see, we've created a rundown list of some of the coolest neighborhoods in Istanbul and some things to do in each one.
These are not all typical touristic neighborhoods but ones that will give you an opportunity to get off the beaten path and explore a new part of the city. 
So, what are the coolest neighborhoods in Istanbul?
The 10 Coolest Neighborhoods in Istanbul
Karaköy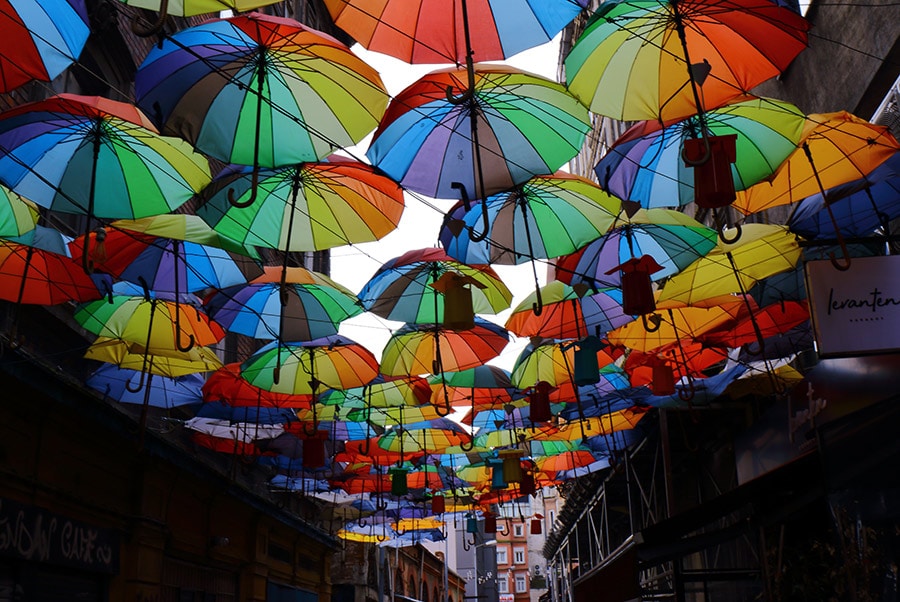 Formerly known as the Galata neighborhood, it was once an important port for the city with working-class laborers and fishmongers lived. Left to deteriorate for next to nothing, Karakoy has recently undergone gentrification in the 2010s and has boomed into a hipster hotspot with trendy cafes, bars, and restaurants and a growing nightlife scene.
Located next to the waterside (just below the Galata neighborhood) here you will find streets bustling with locals and tourists alike soaking in the atmosphere in cafes and while exploring the bustling backstreets.
Things to Do 
Snack on a fish sandwich - make your way near the port near the Galata Bridge to find a street vendor and selling delicious grilled fish sandwiches or "balık ekmek."
Discover street artwork - walk the back streets of Karaköy and discover cool street art made by locally known street artist Leo Lunatic. Hint: look for an angry panda. 
Dine at Karaköy Lokantasi - enjoy a lunch or dinner in an elegant restaurant with a beautifully tiled interior serving traditional Ottoman cuisine. Make a reservation in advance as this is a hot-spot in high-demand.  
Treat your sweet tooth - get your sugar fix with a scrumptious baklava dessert at Karaköy Güllüoğlu, the best place in the city for baklava. Best complemented with a hot Turkish tea (çay) or sweet lemonade (limonata).
Grab a rooftop drink - at nighttime, you can relax with a tasty rooftop drink and a beautiful Bosphorus sea view at Nest.
Ride the ferry - hop on a ferry from Karaköy port to Kadiköy; if you're lucky, you might even spot some dolphins swimming in the Bosphorus.
Cross the Galata bridge - situated between Galata tower and the historical district of Sultanahmet, make a slow stroll across the Galata bridge. Watch the fisherman sort out their daily catch and enjoy photo opportunities of the Bosphorus and colossal mosques in the skyline. You can also make your way along the underside of the bridge for a selection of restaurants serving up freshly caught fish. 
Where to Stay
SuB Karaköy (link to see availability on Expedia) is a very hip hotel with eclectic design choices that stand out as soon as you walk in. The rooms are comfortable and the hotel has got a gym. Karaköy is a great location for traveling around the city. You can either walk to the most famous tourist attractions under the falling leaves or use various public transport options.
Cihangir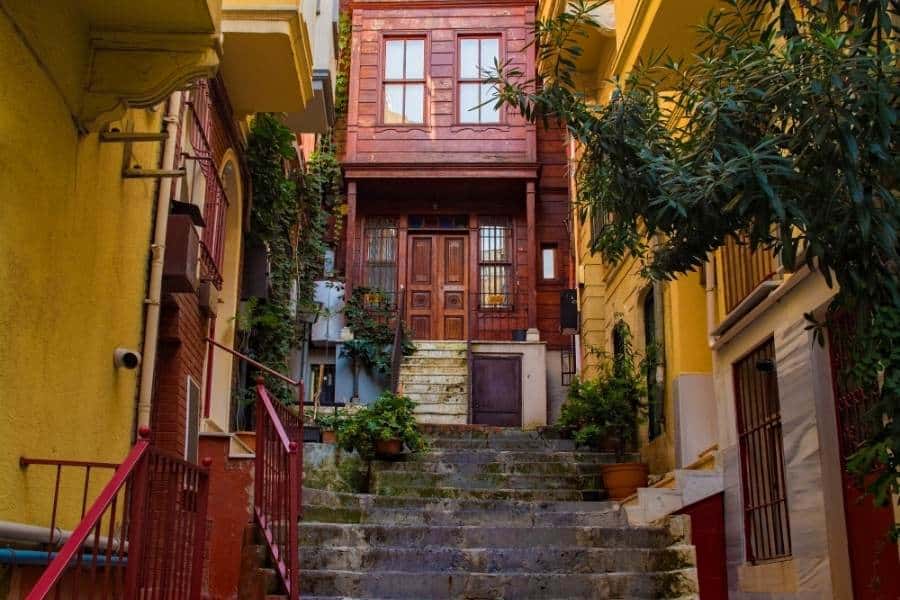 A part of the larger Beyoglu district, Cihangir is a trendy and artistic neighborhood located just south of Taksim Square sat atop a hillside. Here you will find streets lined with trendy cafes, bars, and restaurants, all while maintaining a sleepy yet cool vibe to it. It's home to artists, writers, actors, and expats drawn to the quiet neighborhood with stunning views of the Bosphorus.
Street cats roam this area freely, with a photo opportunity for street art on nearly every corner. 
Things to Do
Pet the cats - Cihangir is famous for its large population of street cats. You can spot them on nearly every corner and inside every cafe doing what cats do best - sleeping and getting into mischief. Most cats are fed and supported by the local community, so they are socialized and always appreciate a good petting. 
Relax in a cafe- take in the atmosphere and watch the world go by in one of the many trendy cafes located on Akarsu Yokusu (street). At nighttime, nightlife goers spill into the streets over a tasty drink and good conversation. 
Visit Cihangir Mosque - built in 1559 to commemorate Sultan Suleiman the Magnificent's son, it was destroyed by fire in 1874 and later reconstructed. Much smaller compared to the more well-known mosques in the city, Cihangir Mosque (camii) is situated atop the hillside giving it a beautiful view of the Bosphorus. 
Have a late breakfast - you would be considered an early riser if you were up before noon here. Breakfast is served in nearly all cafes until late in the afternoon in these parts.
Snap a photo at the rainbow stairs - located next to the Fındıklı tram stop, this Instagram worthy rainbow staircase represents a symbol of unity and happiness for the city, with the original artist's purpose behind painting them was "to make people smile". 
Where to Stay
Urban Suites Istanbul (link to see availability on Expedia) in Cihangir is a great choice if you're looking for the comfort of a home and the amenities of a hotel. These suites offer a great Bosphorus view and the luxury of having your own space instead of a cramped hotel room. They have concierge service and you can order breakfast for a small fee.
Çukurcuma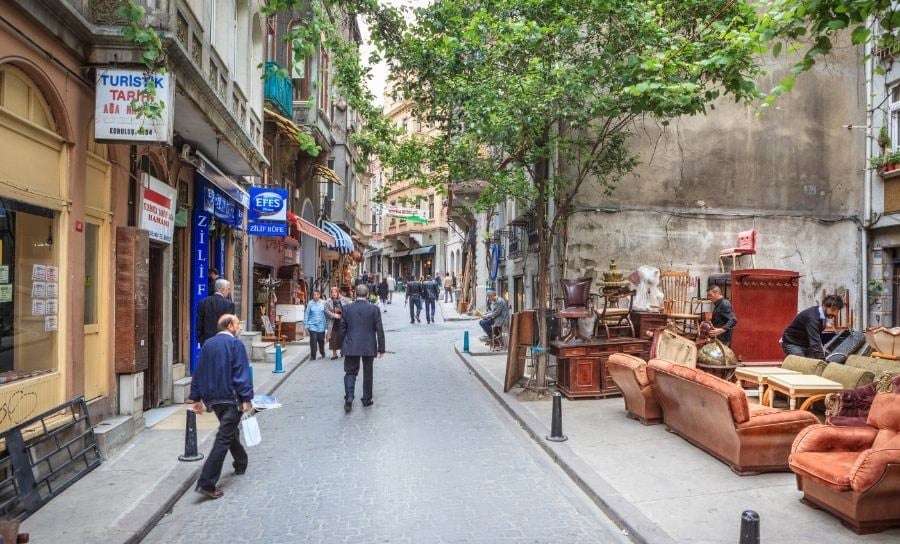 Located right on the edge of Cihangir neighborhood, here you can find some of the best antique dealers in the city. Also a part of the larger Beyoglu district, you can spend time getting lost in this artsy neighborhood full of culture and creativity. Many establishments are regularly opening and closing so you may just discover something new!
Things to Do
Go antique shopping - on Çukur Cuma Caddesi (street) you'll find many antique shops filled with hundreds of objects from the old Istanbul of the 1950s. 
Treat yourself - a trip to Istanbul is not complete without a Turkish bath. Ağa Hamamı is one of the oldest "hamams" in Istanbul. Enjoy a therapeutic scrub down and deep massage. This is the best place to go for an authentic "hamam" experience. 
Visit the Museum of Innocence - visit the literary museum inspired by the novel written by Turkish Nobel Prize-winning novelist Orhan Pamuk was the winner of the 2014 European Museum of the Year Award.  An account of the love story between two Turkish families, this museum offers a fascinating perspective of the city and should not be passed up. 
Visit an Art Gallery - Galeri Artist Çukurcuma features portfolios of artists from all around the world. 
Eat pizza - didn't think you would be eating pizza on your visit to Istanbul? Çukurcuma 49 is a local pizzeria with fresh ingredients, local wine, and a Turkish twist. The brick walls and warm lighting give the restaurant a warm a rustic yet warm vibe. Perfect for a lunch or dinner stop.
Where to Stay
The Trinity Hotel Taksim (link to see availability on Expedia) is at a great location where you can discover the Beyoğlu area day and night. The hotel has small but very stylish rooms, and the old robust buildings on the street will make you feel like you are in between history and now. Also, the staff is very helpful according to the reviews.
Balat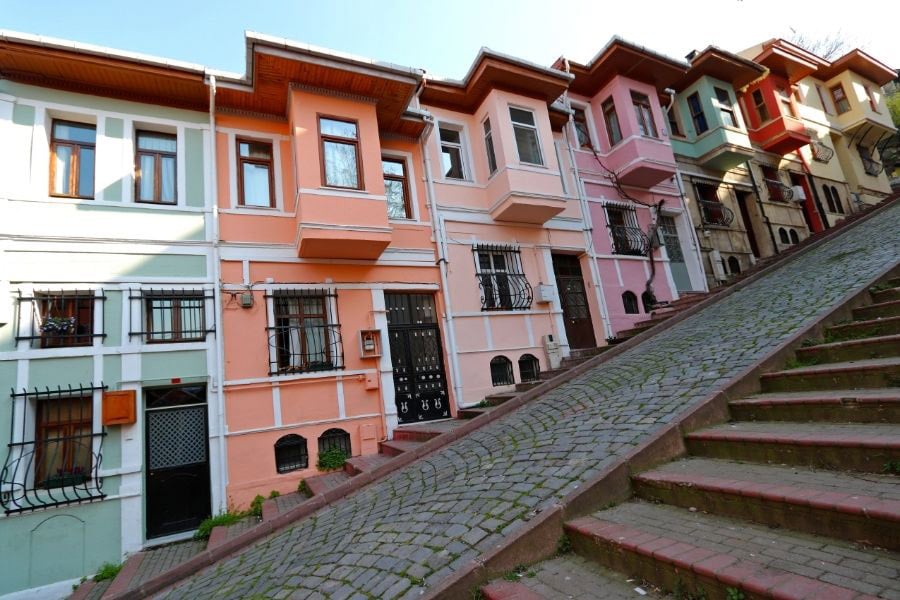 Balat is one of the oldest and most beautiful neighborhoods in Istanbul. Tucked away past the coastline of Eminonu along the Golden Horn, you'll see green parks filled with families and a promenade that snakes along the coastline filled and finishes at the end of the Golden Horn in Pierre Loti Hill.
Formerly a neighborhood for Jewish and Greek Orthodox families, here you can find many churches and synagogues. A neighborhood that has recently been growing in popularity for tourists, you can now find streets lined with cafes, traditional restaurants, art galleries, and vintage shops. The Balat neighborhood is located just an easy walk along the coastline from the Haliç metro stop.
Things to Do
Visit the Greek high school - visible from nearly most parts of the neighborhood, the Phanar Greek Orthodox College is a stunning piece of red brick architecture built in 1881 that is still in use as a school today. 
Explore the churches - located next to each other,  the church of St. Mary of the Mongols and the Virgin Mary Greek Orthodox church both have stunning architecture and colors making them sites not to miss during your visit in Balat. Other churches include The Greek Orthodox Church of St. George the St. Stefan Bulgarian Orthodox Church. 
See the colored houses - view these colorful historic wooden homes that are an iconic part of Balat some of which are up to 200 years old. Take a break on your climb of the sloping streets to admire this beauty. 
Have a Turkish coffee - stop in one of the many cafes or roasteries for a traditional Turkish coffee (Türk kahvesi) as fuel for your journey. 
Eat at Agora Meyhanesi - one of Istanbul's oldest taverns or meyhane, and enjoy delicious eclectic meze dishes from Turkish, Armenian, and Greek Orthodox chefs. Drinking rakı in a meyhane is an overall experience you wouldn't want to miss.
Where to Stay
Dossi Dossi Hotels & Spa Downtown (link to see availability on Expedia) is one of your best options to stay close to Balat. There are not many accommodation options in Balat, and it's not recommended for a first-time visitor to wander around at night in the area. So, Dossi Dossi is a perfect, hip hotel with a nice restaurant, a terrace, and spa facilities a few minutes drive away from the colorful neighborhood.
Moda
Take a short ferry ride to the other side of the city and arrive on another continent. Located in the larger principal Kadiköy district, Moda is one of the most laid back neighborhoods in Istanbul. Istanbul's young business owners have built up local cafes, bars, and shops that don't come with any added glamor or a pretentious vibe.
Wind your way in and out of Moda Caddesi (Moda Street) and explore vintage shops and street vendors selling antique goods. At nightfall, the area comes alive with live music in bars and pubs and young nightlife goers spilling into the streets.
Things to Do
Have Breakfast at Naans - make your way to Naan Bakeshop for breakfast. They also make delicious freshly baked bread, sandwiches, and desserts. 
Coffee at Walter's - grab a coffee at Walter's Roastery, a funky cafe inspired by the Breaking Bad TV series. 
Stroll the seaside - Moda Sahili (seaside) is the perfect place for walking. A trip along this peaceful promenade will give you a view of the Bosphorus from a different perspective. Green spaces in this area will fill up with families looking to relax and enjoy a picnic. 
Relax with some tea - take a break during your seaside stroll at one of the tea gardens located along the coastline. Sip on a traditional Turkish tea (çay) as you take in the sights and sounds. Be careful as they are strong!
Ride a bicycle - rent a bicycle at one of the municipalities bike sharing stations. Explore the green coastline promenade through the Goztepe and Bostanci areas. 
Enjoy live music - at nightfall make your way to Neşet Ömer Sokak (street) to find bars filled with patrons pumping live music until the small hours of the night. 
Where to Stay
Juliet Rooms & Kitchen (link to see availability on Expedia) has got the perfect location for a stroll around Moda, day and night. This cozy hotel blends well with the modern, hip neighborhood. The rooms are a bit small but we don't think you'll spend a lot of time in your room when the beautiful coast with the perfect sunset and nice little cafes and bars in the area are waiting for you.
Beşiktaş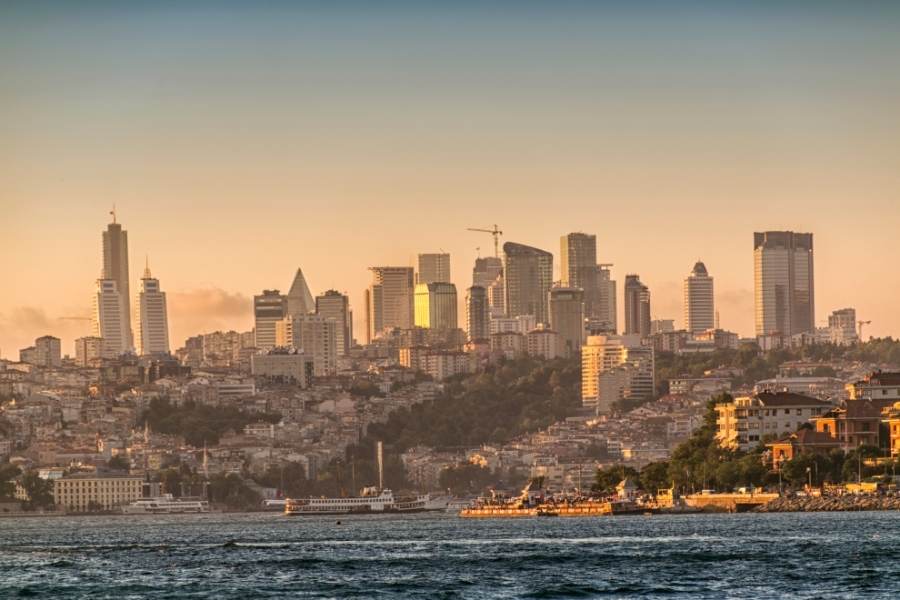 Located on the European side of the Bosphorus, Beşiktaş is one of the oldest and most historic neighborhoods in Istanbul. Famous for its open-air fish market and bazaar, Beşiktaş is home to tons of lively breakfast cafes and affordable restaurants. At nightfall, affordably priced bars and pubs become a common hangout for university student and older generations alike.
Things to Do 
Visit the Naval Museum - the "Deniz Müzesi" hosts the largest collection of naval artifacts in Turkey. 
Visit Dolmabahçe Palace - Turkey's largest palace with more than 300 rooms served as the main administrative center for the Late Ottoman Empire. It features a neoclassical exterior and an ornate gold and crystal interior.
Take a Bosphorus cruise - hop on one of the available tour boats to see the Bosphorus from a different perspective. Alternatively, you can take a transit ferry over to the Asian side of the city. 
Explore the markets - located near the Naval Museum you can visit the open-air bazaar for fresh food and affordable clothes. Don't forget to swing through the popular fish market for some fresh stuffed mussels "midye dolma" and a cold beer.
Watch a football match - one of the oldest clubs in Turkey, Beşiktaş J.K., is the local football team beloved by its supporters. On matchday pre-game, you'll find supporters dressed in club colors black and white singing and chanting in the bars and streets of Beşiktaş. Recently built in 2016, nearby Vodafone Park holds 40,000 fans and has one of the most electric atmospheres you can find on matchdays. A memorable experience for a sports fan of any kind. 
Where to Stay
The Pearl Suites (link to see availability on Expedia) is located in the heart of Beşiktaş, but at a safe distance from the daily rush of the neighborhood. Staying here you can be close to public transport and the sights. The area is a bit pricey in general, but this hotel offers peace and quiet, cleanliness and safety in a central location for a relatively less amount.
Ortaköy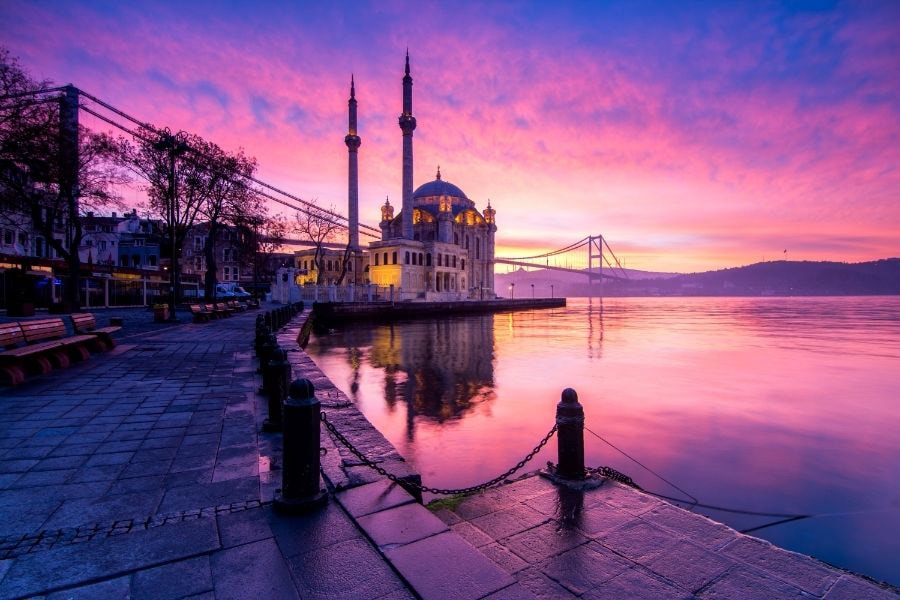 The Ortaköy neighborhood is one of the more lively neighborhoods, located just north of Besiktaş right under the Bosphorus Bridge. A bustling main square is filled with tourists snapping seaside photo opportunities and snacking on street food. Also a popular location for nightlife, Ortaköy is a neighborhood that you should not skip out on. 
Things to Do
Visit Ortaköy Square - in the heart of Ortaköy, you can sit and watch the crowds while you have a tea or coffee alongside a beautiful view of the Bosphorus.
See Ortaköy Mosque - you won't be able to miss Ortaköy Camii (mosque) which is located within clear view from the square. Here you'll see tourists and locals alike lined up to take an iconic shot with the Ortaköy Mosque and Bosphorus Bridge in the background. 
Have a potato - "kumpir" as the locals call it, is a baked potato stuffed with nearly every fresh ingredient under the sun. Snack on one while you sit in the square admiring the atmosphere. Hint: bring napkins. 
Get lost - wander the streets to find many cafes, bars, pubs, and souvenir shops. 
See the history -  historical places of worship include Ayios Fokas Church from the Byzantine Era and Etz Ahayim synagogue. 
Dance the night away - enjoy some of the best nightclubs Istanbul has to offer. At RUBY you can spend the night on the waterfront overlooking the Bosphorus Sea and Bridge while dancing until the late hours.
Where to Stay
Nevv Bosphorus Hotel & Suites (link to see availability on Expedia) is situated at the heart of Ortaköy, and you can see the famous Ortaköy mosque and the Bosphorus bridge from this chic hotel. Most people enjoy the long walk to Dolmabahçe Palace from Ortaköy, it's so easy to reach all the sights from there. The location is also great for those who want to indulge in luxurious nightclubs on the coast.
Kuruçeşme & Bebek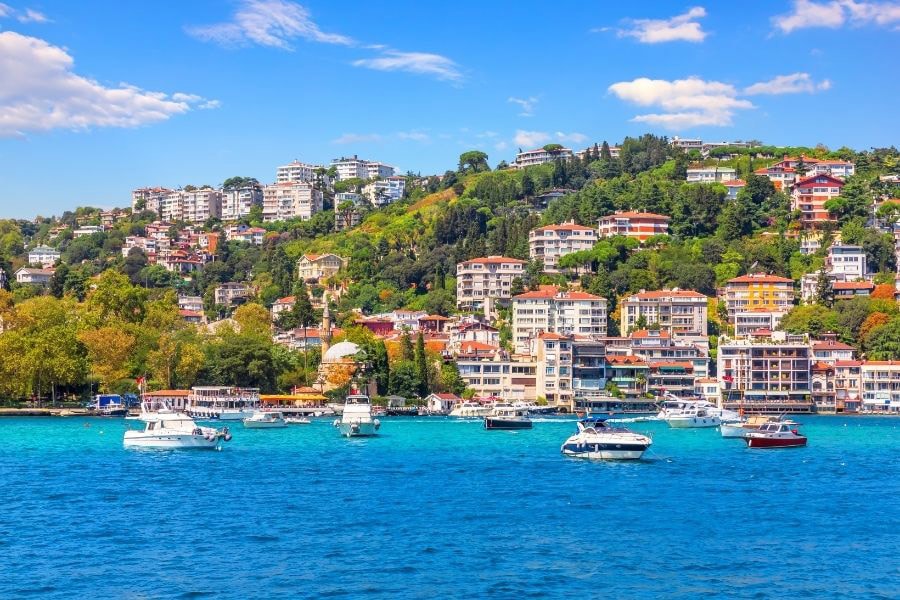 The coastline of the Bosphorus, from neighborhoods Kuruçeşme to Sarıyer, is one of the wealthiest areas in the city. In both Bebek and Kuruçeşme, you'll find plenty of restaurants for fine dining, fancy cafes, opportunities for shopping, and of course nightlife, with some of the most popular nightclubs strung along the waterfront here. 
Things to Do
Walk along the Bosphorus - start in Kuruçeşme and make your way north. Enjoy the fresh sea breeze on a hot afternoon and marvel at the expensive yachts parked along the waterfront. 
Have brunch - enjoy a full brunch with a waterside view at La Sirene Bebek. Choose from a traditional Turkish "kahvaltı" (breakfast) or your standard morning time favorites. 
See the Egyptian Consulate - this extravagant waterfront mansion was built in 1902 by Italian architect Raimondo D'Aronco and reflects the ornate style of architecture from the Late Ottoman time period. 
Shop until you drop - shop at fashion boutique stores including Tru, Mapa, and Yargıcı all located along the principal coastline road.
Dinner at Bebek Balıkçısı - this high-end seafood restaurant has an open-air terrace with splendid sea views of the Bosphorus.
Party on the waterfront - spend a night out at one of Istanbul's most popular upscale nightclubs and restaurants, Sortie Club. Come dressed to impress and ready to spend, as you can enjoy high-class dining and party experience late into the night, all while overlooking a breathtaking view of the Bosphorus. 
Where to Stay
These neighborhoods are very cool and chic, but also very luxurious. And the coastal traffic can be horrible sometimes. You won't have a lot of options when you decide to stay in a hotel in the Bebek area, so we recommend staying somewhere close but more central. Le Meridien Istanbul Etiler is a good option, since it's still in a nice and upscale neighborhood but has more transportation options. It also offers a panoramic view of the city and hotel amenities like a roundtrip airport shuttle, a poolside bar, a rooftop terrace, and an onsite spa.
Arnavutköy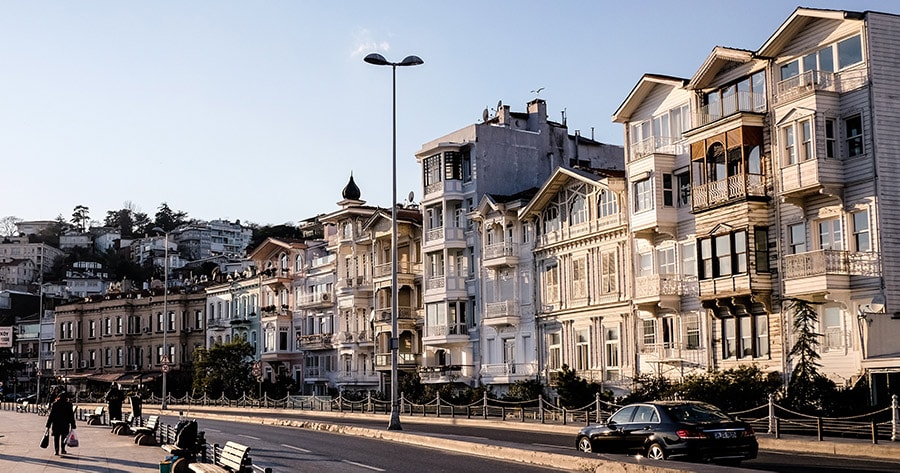 Known as the heart of Istanbul's chic nightlife, Arnavutköy is a picturesque upscale neighborhood located just south of Bebek, on the coastline of the Bosphorus. Here you will see amazing waterfront mansions and yachts parked along the coastline.
High-end restaurants serve up traditional fish dishes and hip cocktail bars pump music into the night all with stunning views of the Bosphorus. In fact, many venues on Bebek Arnavutköy Caddesi (street) become so full that patrons spill into the streets sipping on their drinks late into the night. 
Things to Do
Enjoy a rooftop cocktail- Alexandra Cocktail Bar offers great cocktails and an opportunity for one of the best rooftop Bosphorus views in the neighborhood. Get here early though, as it's first come first serve for a good spot!
Do lunch at a gastro bar - ANY is the premier neighborhood gastro bar which is a casual eatery during the day and turns into a cocktail happy crowd come nighttime.  
Seafood dining - Adem Baba offers fresh seafood dishes and mezes at a reasonable price. Be sure to complement your fish with a glass of raki on ice, Turkey's national drink. Don't forget to make a reservation as this place is in high-demand on any given evening. 
Where to Stay
Since there are not many budget-friendly and recommended hotel options in Arnavutköy, and the coast traffic can get in the way of fast travel from the hotel, we recommend staying in a nearby neighborhood. Hotel Belezza (link to see availability on Expedia) is a budget-friendly, value hotel option in Beşiktaş, from where you can travel around the city easily. And you'll like the colorful, cozy rooms at this hotel.
Galata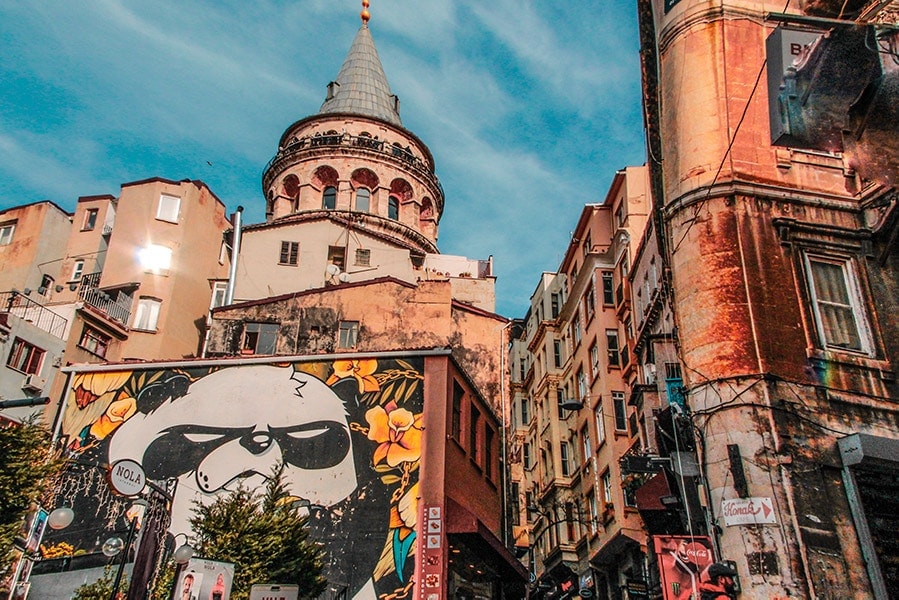 Galata is technically a part of the larger Beyoğlu district and is marked by the iconic Galata Tower (Galata Kulesi) which can be seen from most parts of the city. Located north of the Golden Horn perched atop a hillside, it has a distinct and historic feel to it with cobblestone streets and neoclassical buildings making it one of the oldest neighborhoods in the city.
Also known as Pera neighborhood, make your way down the hill through Galip Dede Caddesi (street) and explore funky instrument shops, relaxing cafes, and high-class restaurants and hotels. With so many great places to eat and drink Galata is a lively neighborhood for nightlife which is frequented by tourists and locals alike. Centrally located, Galata is within walking distance to neighboring areas Taksim Square and Karaköy. 
Things to Do
Explore boutique shops - on Sahkulu Sokak (street) you will find dozens of boutique shops for clothes, accessories, antiques, artwork, furniture, home decor, and even instruments. 
Climb Galata Tower - once a fire observatory in the 18th century due to its 360-degree view, Galata Tower is a symbol of the city of Istanbul. Climb the medieval stone tower for a stunning panoramic of the Golden Horn. If you don't want to wait in line to climb, you can still have a creative photo opportunity from any nearby street in the neighborhood.
Ride the through the Tünel - a historical underground funicular that connects neighborhoods of Beyoğlu and Karaköy. Updated and restored over the years, this rustic cable car system is an architectural feat and a 90-second blast from the past.
Sip some wine - Sensus Wine Boutique Galata offers a wide selection of locally produced Turkish wines and a rooftop terrace to enjoy a view of the skyline.
Visit Istanbul Modern - located not far from Şişhane metro stop in a temporary space (the former Karaköy space is under construction), Istanbul Modern features modern and contemporary works from Turkish artists. A must-see for any art lover. 
Visit the Crimea Church - hidden behind trees near Serdar-ı Ekrem Caddesi (street) you'll find Crimea Memorial Church. Built to honor the British soldiers who died during the Crimean War, you can rest in the peaceful gardens and admire the medieval structure.
Jazz up your night - Nardis Jazz Club offers live jazz music on stage 7 days a week. Come early as this place fills up quickly. 
Where to Stay
Anemon Hotel Galata (link to see availability on Expedia) is located right by the famous Galata Tower and you can discover both the Beyoğlu area, the Golden Horn, and the Old City region with all the famous attractions from here. The hotel itself is a trusted establishment decorated in an old-timey style, serious and elegant. But this was what was cool in the past, right?
Final Thoughts
With Istanbul being home to more than 15 million people it's easy to get lost amongst the crowd of people and sea of choices. If you are a first-time visitor you may want to check out neighborhoods such as Sultanahmet or Grand Bazaar as they are located in the historical center within walking distance of most of the main tourist attractions. 
Istanbul is a dynamic city where many establishments are always changing, so we hope you can one day discover something new yourself. We have done our best to give you a perspective of some of the coolest neighborhoods off the beaten path. We hope this neighborhood guide has been useful for you and you enjoy your adventure in Istanbul!