8 Best Vegetarian Turkish Dishes
Experience the flavors of vegetarian Turkish cuisine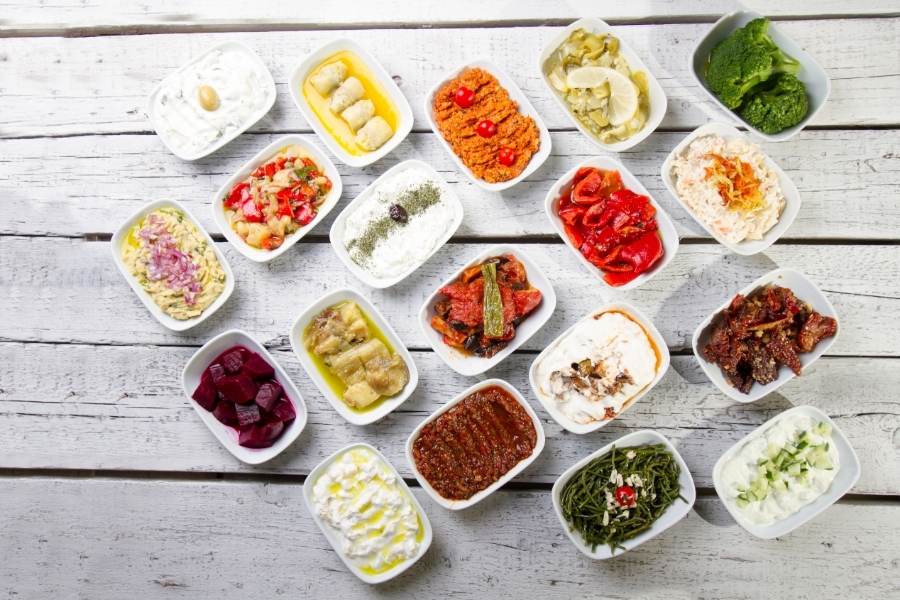 When it comes to Turkish cuisine, everyone knows about the famous kebabs. But there are also many delicious vegetarian and vegan options in Turkish cuisine for those who do not eat meat or animal products. Here's a list of the best vegetarian Turkish dishes that are most commonly cooked in every household in Turkey, and served in most restaurants. 
Most of the delicious dishes on this list are also suitable for vegans. We'll start with snacks and starters, then move on to the main dishes. You can have some of these foods for breakfast as well.
And some starters can replace a meal when you're sitting at a kebapçı (kebab shop), or a restaurant with no vegetarian meal options. We hope you try and enjoy all of them.
So, what are the best vegetarian Turkish dishes?
8 Best Vegetarian Turkish Dishes
1. Gözleme / Turkish Quesadilla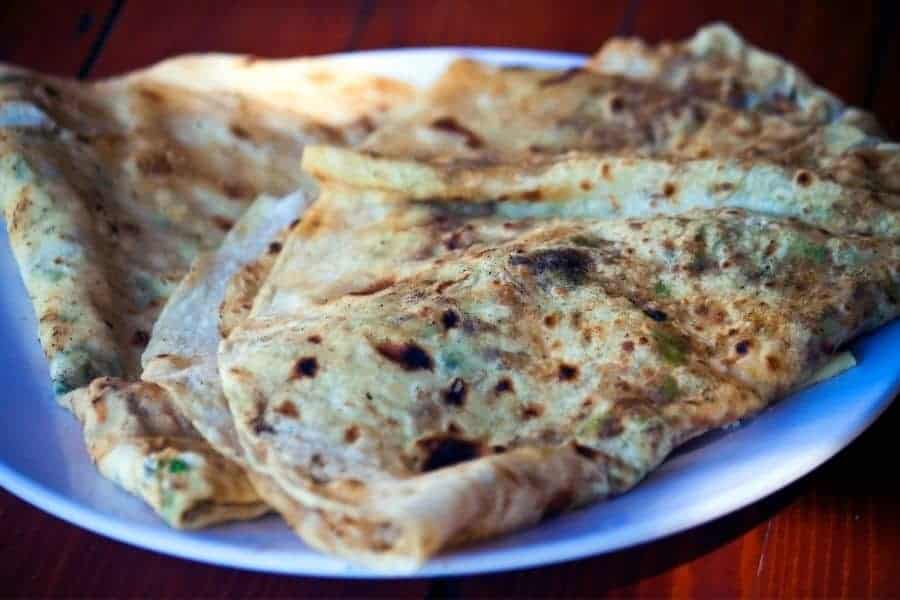 Gözleme is often translated as "pancake", but it's actually more like a Turkish quesadilla. Yufka, a very thin sheet of dough, is filled with food like cheese, spinach, potato, eggplant, or almost anything you can think of. Then it's cooked on a griddle. It's delicious and great for breakfast or a light lunch.
As vegetarian options, you can go for a peynirli (cottage cheese & onions), kaşarlı (melted yellow cheese), patatesli (potato), otlu peynirli (cheese & seasonal herbs, plants, and vegetables like chard or spinach cooked with onions), patlıcanlı (eggplant & onions) gözleme. You can always ask for a combination of whatever fillings they have available.
You can find gözleme in bakeries, pastry shops, cafes, roadhouses, or buy them from stalls at markets, the seaside, or around tourist attractions in small touristic towns. They go best with Turkish black tea or ayran (yogurt drink) and usually served with sliced tomatoes and cucumbers.
2. Kısır / Turkish Bulgur Wheat Salad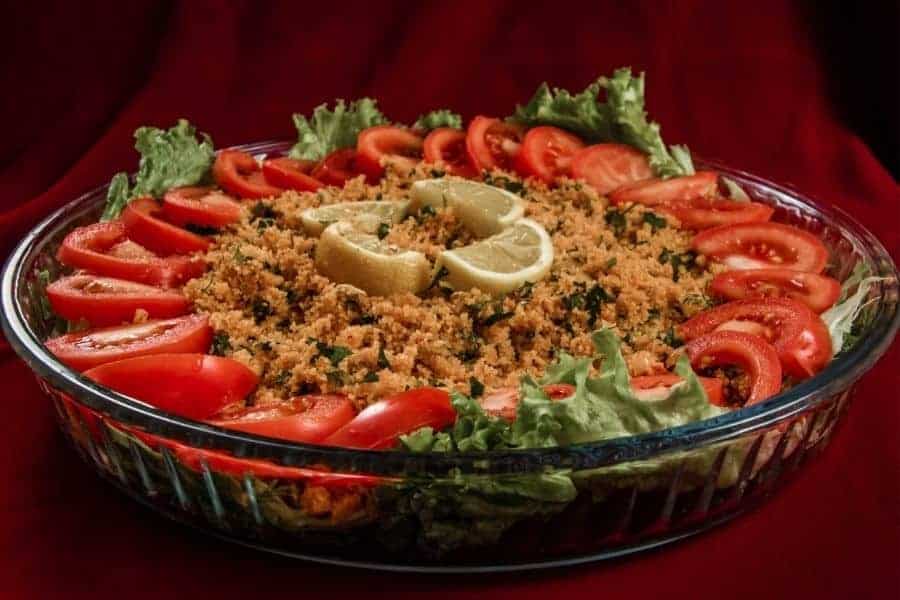 Kısır is a flavourful bulgur salad that can be eaten as a meal of its own or as meze (hors d'oeuvre). It's made from fine bulgur, pepper and tomato pastes, salt, pepper flakes, garlic, pomegranate molasses, lemon juice, tomatoes, scallions, or spring onions, pickles, other herbs and spices like fresh mints and cumin. It's one of those dishes that's made differently in every household or region.
It's healthy, tasty, easy to make, and filling. You can find it in some restaurants served as an hors d'oeuvre or at the salad bar. It's served with lettuce and lemon slices, and of course, go great with black tea. The best time to have this dish is Spring or Summer since you can find fresh ingredients during those months.
3. Çorba / Soup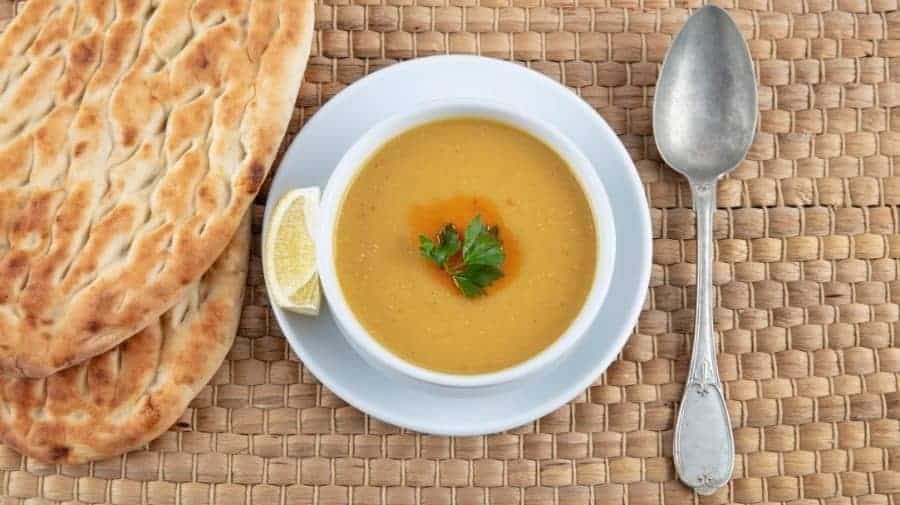 Turkish people can make soup with almost anything! That's why, if you are a vegetarian or a vegan, you need to be careful while ordering soup at a restaurant.
Although most soups in Turkish cuisine are suitable for vegetarians and vegans, some vegetable or legume soups can be made using broth or stock, or eggs. So, always ask about the ingredients before you order soup.
Vegetarians should ask if the soup is made with et suyu (broth from red meat) or tavuk suyu (broth from chicken). Vegans should also ask about the terbiye of the soup, the egg yolk and lemon sauce added to the soup.
And, now, some of the best vegetarian Turkish soups: Sebze çorbası (vegetable soup usually made from zucchini, carrots, celery, potatoes, onions, and garlic), mercimek çorbası or Ezogelin çorbası (both lentil soups), tarhana çorbası (a traditional soup made of sun-dried mixture of yogurt, tomato, paprika, flour and herbs, and spices), yayla or yoğurt çorbası (yogurt soup with rice or wheat), domates çorbası (tomato soup), mantar çorbası (mushroom soup).
Turkish people usually have their soup as a starter, so it can be found in most restaurants. You can also order half a portion saying "yarım çorba" or "az çorba" if you'd like to try the same but feel like it's too much for one meal. In some parts of Turkey, people also have soup for breakfast in winter.
4. Dolma / Stuffed Vegetables & Yaprak Sarma / Vine Leaf Rice Rolls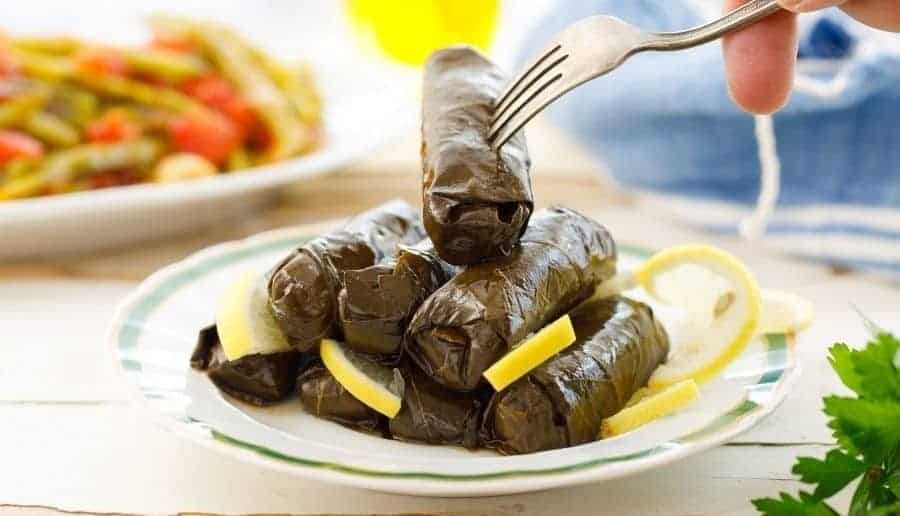 Dolma is a vegetable dish, generally made by stuffing zucchini, bell peppers, eggplants, or tomatoes with a rice filling. The filling sometimes has meat in it, so ask before you order. If you see "zeytinyağlı" before the name of the dish, it means it's made with olive oil to be served cold, so it usually doesn't contain any meat. So, go for "zeytinyağlı dolma" to be safe.
Yaprak Sarma is made by wrapping vine leaves around a rice filling. This dish is best enjoyed with a few drops of lemon juice. These tasty rolls are usually served as appetizers or hors d'oeuvre. Sometimes mulberry leaves are also used instead of vine leaves.
The filling used for dolma and sarma traditionally includes rice, onions, and spices. When made to be served cold and without any meat, people usually add currants, pine nuts, and some cinnamon for a slightly sweet flavor to zeytinyağlı dolma. In some regions of Turkey, people use bulgur with or instead of rice, and pomegranate molasses as a sauce.
5. Taze Fasulye / Fresh Green Beans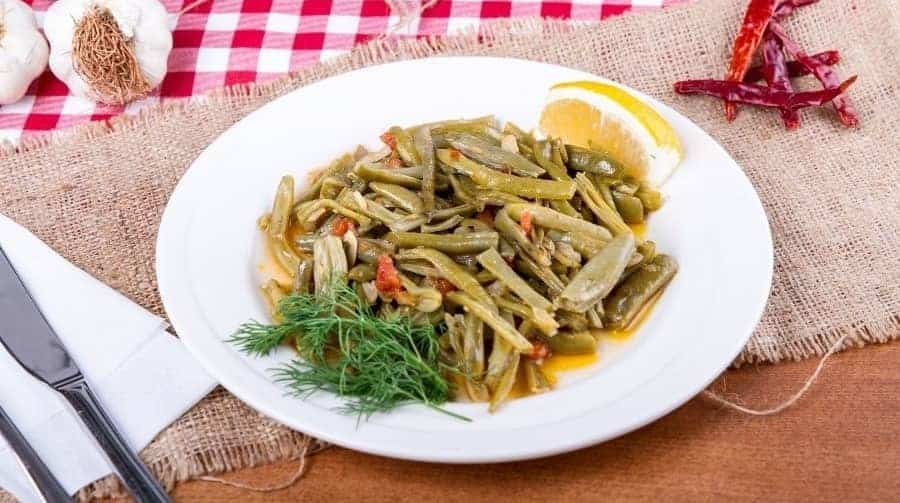 This is a delicious dish made from fresh green beans, onions, garlic, and tomatoes. The olive oil adds this simple dish zest, so you should taste zeytinyağlı taze fasülye if you can. Pirinç pilavı (rice) or bulgur pilavı (bulgur dish) usually accompany beans as a side dish in Turkey. Some people also prefer to eat green beans with some yogurt.
This main dish is also a part of hors d'oeuvre plates in Turkey. Sometimes green beans are also cooked with meat when served hot during the winter.
6. Kuru Fasulye / White Bean Stew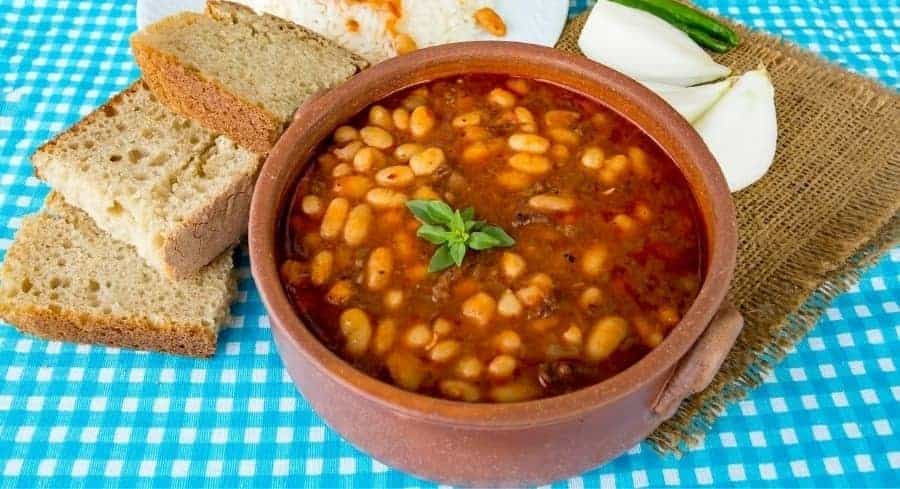 This is a traditional Turkish white bean stew made with onions, garlic, olive oil, tomato and paprika paste. It's filling and nutritious. _Pilav (_rice or bulgur dish) and turşu (pickles) are the two inseparable side dishes that go perfectly with white beans.
This stew can also be made with red meat, so make sure you ask before ordering. You can find this dish in most traditional restaurants in Turkey.
There are also some historical restaurants that only serve bean stew cooked in earthenware casserole dishes. Although you can find it anytime, it's mainly a winter dish for Turkish people.
7. Imam Bayıldı / Stuffed Eggplant Dish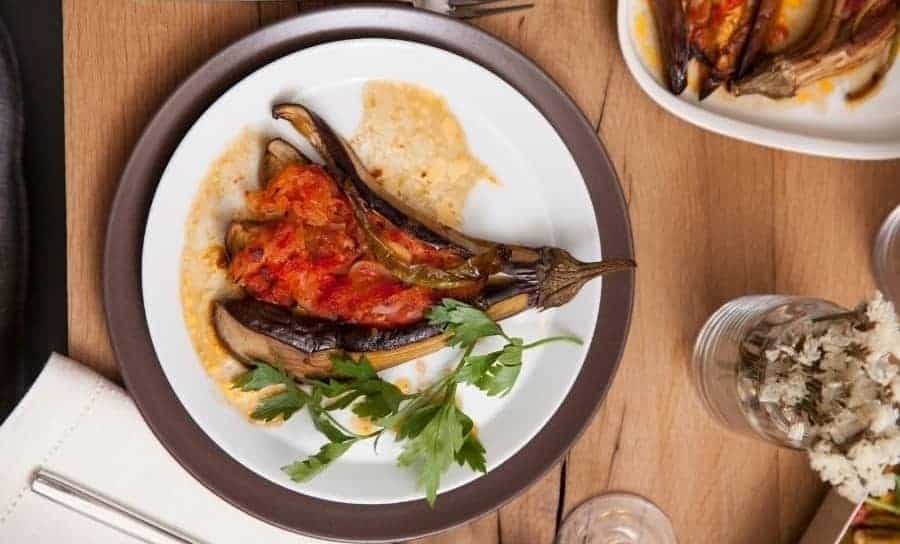 Imam Bayıldı literally means "the imam fainted". As the legend goes, the name comes from an imam (a Muslim worship leader) that fainted twice because of this dish! Once after he learned that his wife had used all the olive oil for just one dish, and once after tasting the dish and seeing how delicious it was!
This is a dish of flat eggplants stuffed with tomatoes, onions, garlic, and herbs and spices, cooked in olive oil and served cold with freshly cut parsley sprinkled on the top.
This dish is also served with rice or bulgur. Cacık (made with yogurt, water, cucumbers, mint, olive oil, and occasionally garlic) also goes well with eggplant dishes in Turkish cuisine.
8. Sebze Güveç / Vegetable Casserole
Savory fresh vegetables cooked in earthenware casserole dishes. This dish is usually made from zucchini, carrots, mushrooms, potatoes, peas or green beans, onions, and garlic. The ingredients may vary according to the season, but the taste never fails to amaze!
It is sometimes served with melted cheese on top, and rice as a side dish. The rich melted yellow cheese (kaşar peyniri in Turkish) makes this dish extra delicious. Most restaurants in Turkey serve these casseroles.
Afiyet Olsun!
"Afiyet olsun" is a Turkish phrase meaning, "Enjoy your meal" in general terms. But it's said both before and after a meal in Turkey because it literally means "may you be healthy," meaning "I hope this food gives you health."
If you enjoyed the food and want to compliment the cook, say, "Elinize sağlık," meaning "may your hands that cooked this meal be healthy," or "God bless your hands."
There are many other alternatives for vegetarians in Turkish cuisine, from various types of salads, kızartma (fried vegetables usually served with yogurt and tomato sauce), a series of vegetable dishes, and meze (a selection of hot and cold dishes typically served as an hors d'oeuvre) that goes well with alcoholic drinks.
On this list, we tried to make a collection of the best vegetarian Turkish dishes that you can easily order while eating out. We hope that you try and enjoy them!