8 Best Beaches in Kaş
Experience the beauty of Kaş's beaches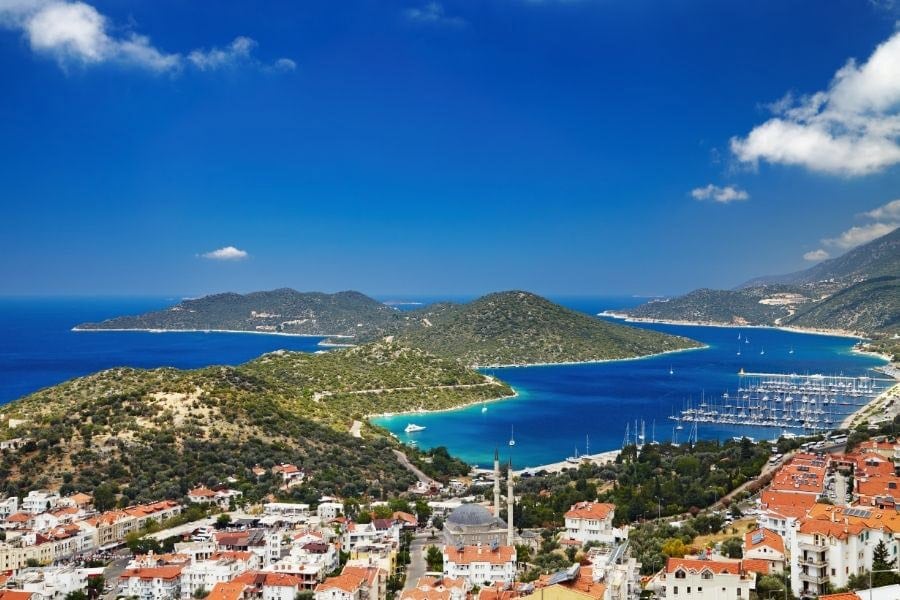 The Aegean sea merges with the Mediterranean by Turkey's southwestern coasts, and Kaş is located on this meeting point.
Kaş is about 100 miles (190 km) to the west of the Antalya province of Turkey. Accessed by flying into Dalaman (DLM) or Antalya (AYT) Airports, this ancient Lycian town used to be a small fishing town until it was discovered by divers, yachtsmen, and holiday-goers. Its natural beauty is still unspoiled, and it's a favorite location for scuba divers and yachtsmen from all around the world.
Kaş is famous for its vivid underwater life, rocky coastline, cool crystal clear waters. There are more than 15 dive centers and diving schools offering diving trips to the 50 dive spots in the vicinity.
The town is also great for swimming, but there aren't many long or sandy beaches in the area. That's why we've made a list of the best beaches available.
So, what are the best beaches in Kaş?
8 Best Beaches in Kaş
1. Küçük Çakıl Plajı / Little Pebble Beach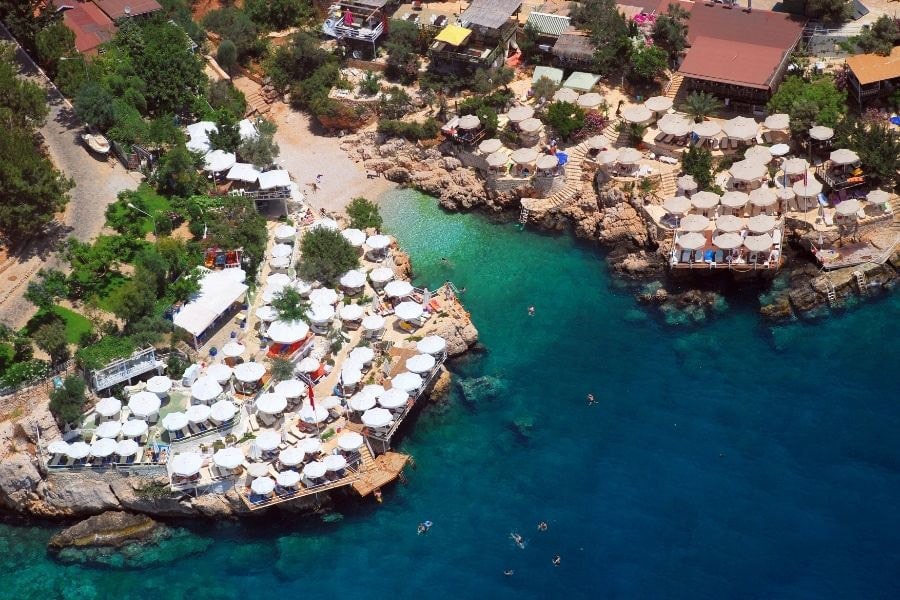 Kaş is a beautiful summer town with beautiful bougainvillea-covered narrow streets, artsy shops, cafes and bars, and local fish restaurants. But it's a harbor town, not a beach resort.
There are two main beaches in the center of the town, and as the name suggests, this pebbly beach is the smaller one. Maybe the smallest beach around.
The two pebbly beaches, Küçük Çakıl and Büyük Çakıl (the second beach on our list) are the only beaches to swim within the center of Kaş for those who like to walk into the sea rather than jumping from rocks or platforms.
Küçük Çakıl beach is just a ten-minute walk away from the harbor. It's the closest beach to the town center, and it's the best one in Kaş for children.
Rocks and platforms surround this small, enclosed beach; we might as well call it a cove. It's not visible from the road, so look for the wooden sign that'll lead you to the beach.
2. Büyük Çakıl Plajı / Big Pebble Beach
Büyük Çakıl beach is the larger of the two pebbly beaches closest to the center. It's the best beach to sunbathe and swim comfortably in close vicinity to the town center. There's even some sand at one end of the beach.
You can walk, hitchhike, take a minibus or a taxi to get to the beach from the town center. It's 13.5 miles (2.5km) from Kaş harbor; it takes 7 minutes by car and about 25 minutes if you walk.
There are cafes and restaurants on the beach. Ada Beach is the oldest facility owned by a sweet local family, and you can use their sunbeds and beach umbrellas for free if you order from their café or restaurant.
There are also a few bungalows to spend the night right on the beach, for about $50 USD per night. Make sure you make an early reservation.
3. İnceboğaz / Çınar Beach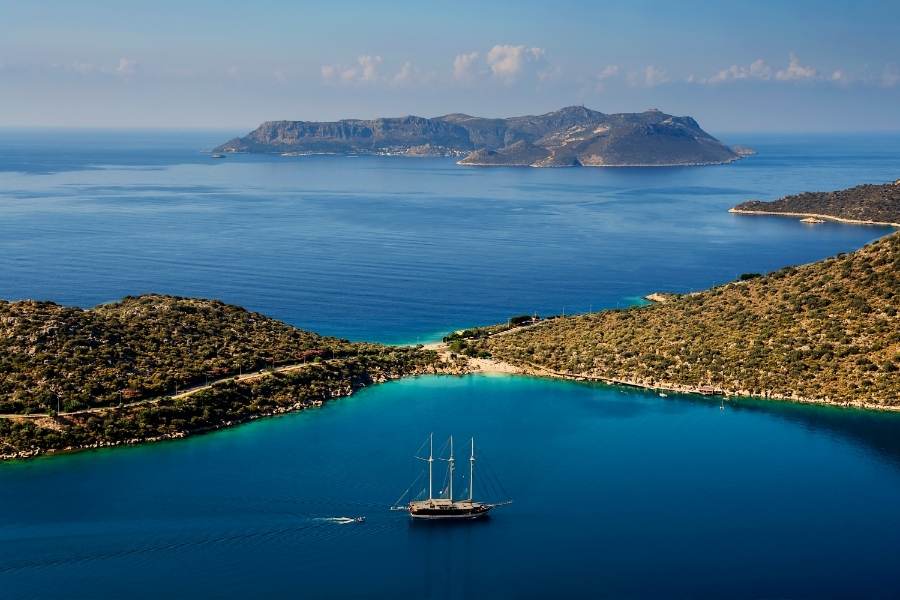 Also called Çınar Beach, İnceboğaz sits on the way to the Çukurbağ peninsula in Kaş. It's a 5-minute drive from the harbor, and you can take a minibus to get there.
It's right across the marina. The sea is calm and warm with a shallow entrance, and there are white pebbles on the beach, which makes it perfect for children.
You can rent a sunbed and beach umbrella for about $5.00 USD and order food and drinks from the beach café.
4. Kaş Halk Plajı / Kaş Public Beach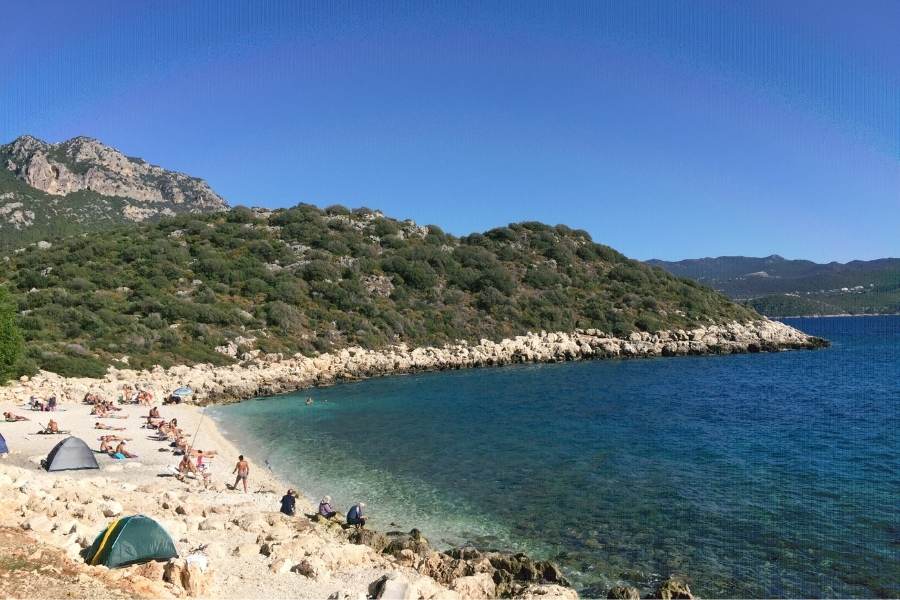 This public beach is right behind İnceboğaz; the road to the Çukurbağ peninsula runs in between the two beaches. It's also called Belediye Plajı (Municipality Beach) as the facilities are run by Kaş municipality.
There are sunbeds and beach umbrellas for rent; there's a restaurant right behind the beach, and a playground for children.
The beach is the same as in İnceboğaz, perfect for swimming with children in turquoise waters.
5. Limanağzı Beach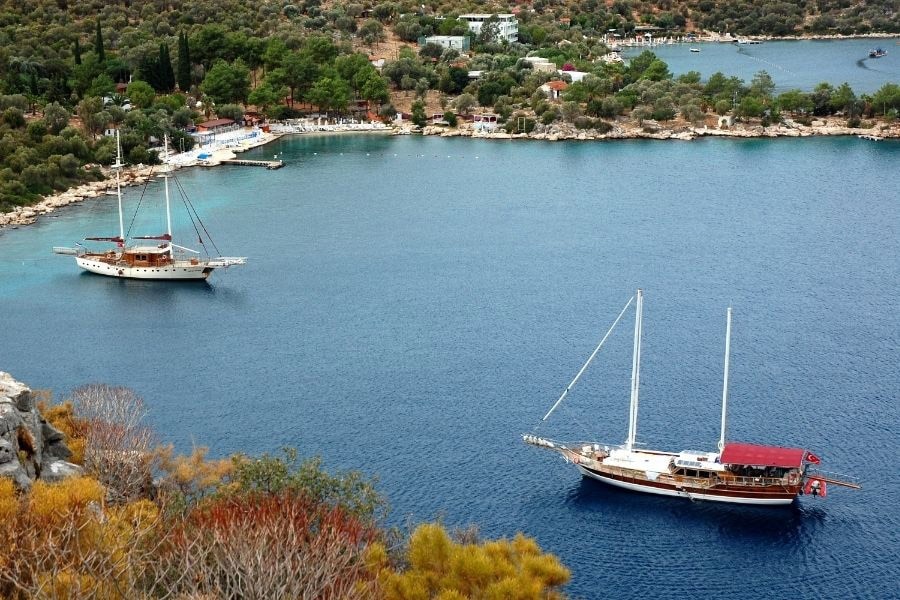 This beach is 20 minutes away from the Kaş harbor by car, and it's a bit harder to reach. So, taking a boat to this beach might be more comfortable. But swimming here and snorkeling among Caretta Caretta turtles in these clear waters is definitely worth the trouble.
There are large pebbles on the beach; the sea entrance is shallow and suitable for kids. There are restaurants and facilities on this beach.
6. Akçagerme Beach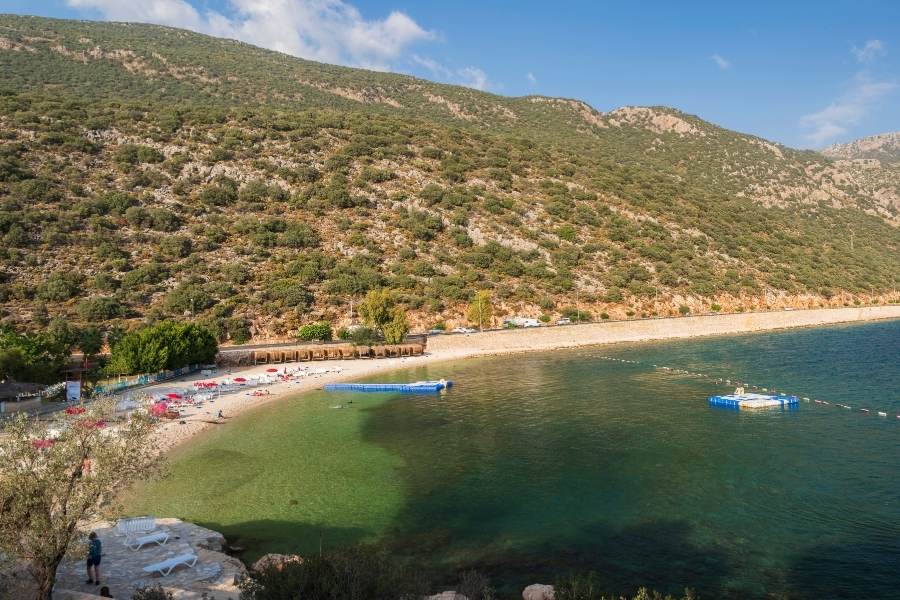 This is by far the best beach in Kaş for children. Here, the sea is warm and calm; the beach is longer than the others on the list; the entrance is pebbly and shallow.
There's also an aqua park, tennis courts, sunbeds and umbrellas for rent, and a restaurant with reasonable prices. The beach is also wheelchair accessible.
It's 2.5 miles (4km) away from Kaş town center, only 7 minutes by car, and you can take a minibus there.
7. Kaputaş Beach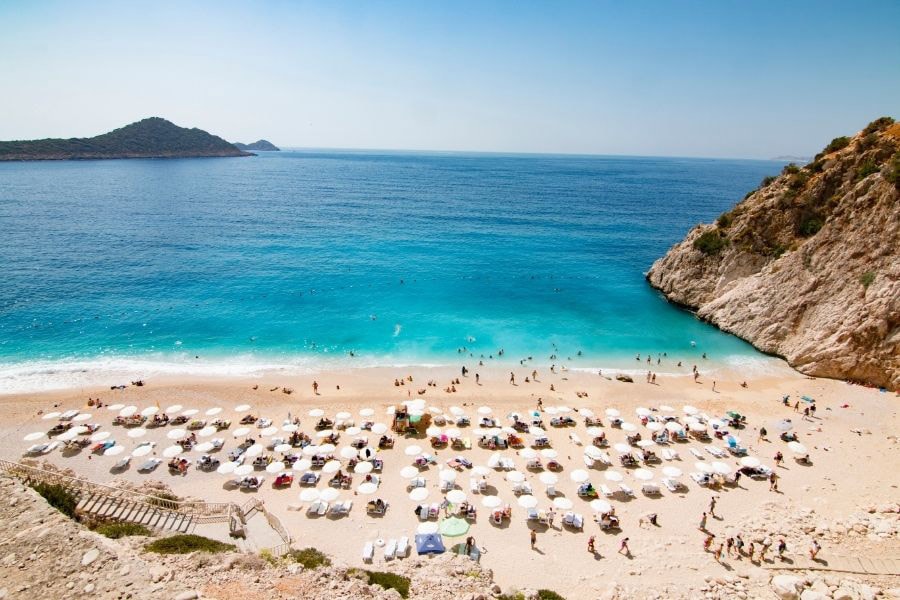 Kaputaş Beach is the most famous beach in the area. It lies under the coastal road, in between cliffs. That's why it's also called Mavi Mağara (the Blue Cave). You reach the beach from the road by taking 187 steps on a steep staircase.
Kaputaş Beach is 13 miles away from Kaş town center, and that's about a 25-minute ride. It's actually closer to the Kalkan neighborhood than Kaş. It's 2.5 miles away from Kalkan, only a 5-minute ride. You can hop on a minibus commuting between Kaş and Kalkan to get to the beach.
Kaputaş is a small, sandy beach open to the winds, so the sea is always wavy. The sea gets deep instantly, and there are strong waves. Thus, this beach is not the best place to swim comfortably.
It's also not very safe for children. But the turquoise waters bubbling with waves are a fascinating sight to see.
Facilities on the beach are run by the local municipality. There is a cafe, changing rooms, bathrooms, and showers on the beach as well as rental sunbeds and beach umbrellas.
8. Kalkan Beach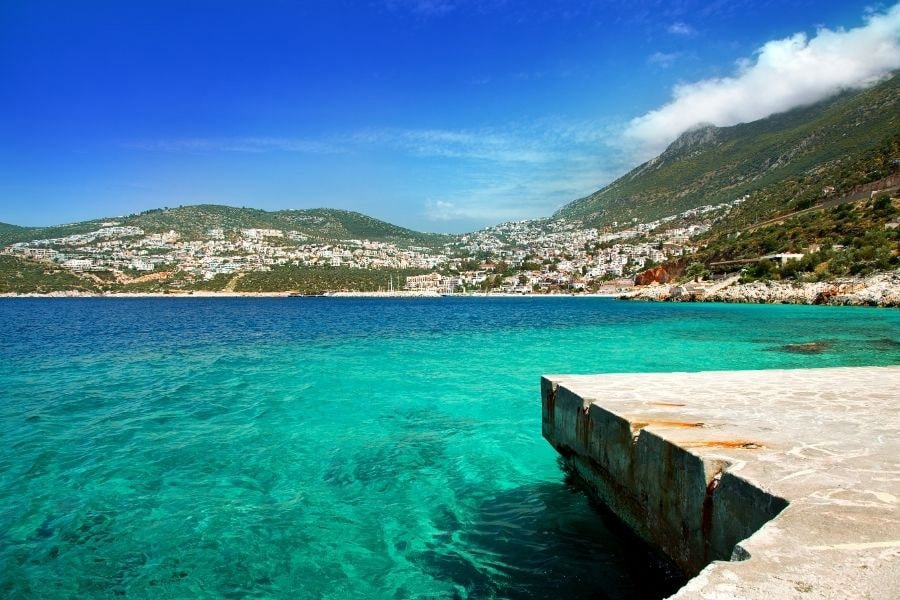 Kalkan is another smaller town in the district, about 15.5 miles (30 minutes) away from Kaş town center.
To the left of the Kalkan harbor, there's a blue-flagged white pebble beach with crystal clear water. It's perfect for swimming and snorkeling and safe for children. There are facilities at the beach, changing cabins, toilets, and rental sunbeds.
There are restaurants, shops, and cafes just 2 minutes away from the beach. But this public beach is relatively small and gets very busy in summer.
How to Get to Kaş
The town of Kaş is easily accessible by flying into Dalaman Airport (DLM) or Antalya Airport (AYT) followed by a private shuttle or bus transfer (2-3 hours). Popular airlines in Turkey (Turkish Airlines) offer flights to these destinations from Istanbul and abroad throughout the year.
Final Notes
Kaş is a great town for a quiet summer holiday in nature. You can spend all day swimming, snorkeling, or diving, or relaxing under the trees, and enjoy the night at the town center.
The restaurants and bars at the shorefront will meet your need for entertainment. Kaş also has some great bars for rock and jazz music fans, unlike many holiday resorts in Turkey.
We made a list of the best beaches in Kaş for you. We tried to include the beaches that are suitable for families with small children as well.
And here's a final reminder about Kaş: Although Kaş is in Antalya, the warmest district in Turkey, the water temperature is considerably lower here. So make your plans and pack your bags accordingly. We hope you enjoy your holiday in Kaş and return home with great memories.