What's the Best Destination in Turkey for Families?
Embark on a memorable family holiday in Turkey, where stunning coastlines, cultural wonders, and outdoor adventures await your family's joyous exploration.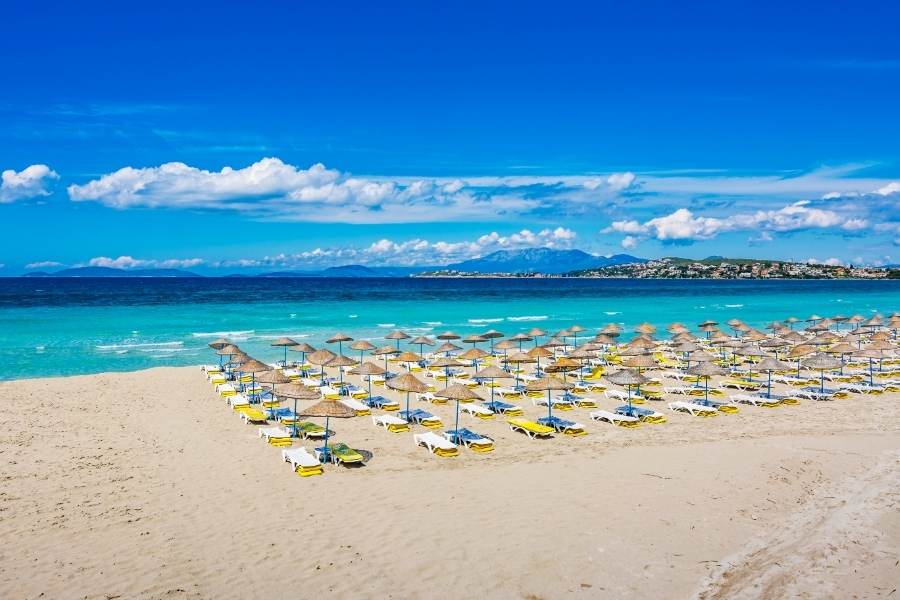 Picking a destination for a family holiday has never been easy! Let's have a look at the best places in Turkey for families to make your summer planning a bit easier.
So what's the best destination in Turkey for families? Considering Çeşme, Bodrum, Antalya, and Fethiye have unique coastlines, pristine beaches, and heritage sites with the Mediterranean on one side and Aegean on the other, they will be great holiday destinations for your family.
Want to know more? Here are the best places in Turkey for families for each type of holiday needs. 
Where in Turkey Is Best for a Family Holiday?
Turkey homes a wealth of family holiday destinations varying in accommodation, activity, and even culinary options.
So it is better to ask yourself what type of holiday your family wants to have and pick your destination among the best places for families in Turkey.
If you prefer a relaxing family holiday by the seaside in the comfort of a resort and enjoying local or international feasts prepared by the best chefs, you can consider some options in Bodrum.
Or you might alternatively want to check into your all-inclusive hotel in Antalya and enjoy your worry-free holiday with great possibilities of sightseeing in case you want to explore the area. 
On the other hand, if you prefer a more adventurous holiday and fill your days with little excursions and outdoor activities as well as enjoying the sun and turquoise water of the Turkish coasts, you'll want to check out Fethiye for your family holiday.
There is no doubt that you'll catch a glimpse of Turkish culture wherever you go in Turkey. However, Çeşme would be an excellent option for those who wish to be part of Turkish people's daily lives in a coastal town, be more exposed to the culture, and experience the unique local delicacies.
Regardless of the type of holiday you dream of, Turkey has something for you and your family. Let's look at the striking features of some of the top family holiday destinations in Turkey for different holiday tastes below and find out where in Turkey is best for your family holiday.
A Place to Unwind: Bodrum
Bodrum is located on the west coast of Turkey and a fantastic place to relax and unwind while enjoying the crisp and blue Aegean sea.
The town of Bodrum is built around the central castle of St Peter, which adds to the historical charm of the city and creates a joyful contrast with the blue and white-painted Bodrum houses. 
Bodrum is an excellent location for families who enjoy chic resorts, laid-back coastal villages, long beaches, peaceful coves, and lively towns.
Even if there are various resorts and hotels in the center, Bodrum offers more with its neighboring seaside villages such as Bitez, Göltürkbükü, Yalıkavak, Turgutreis, Gümüşlük, and Gümbet.
Each of these villages has its charm and attracts different crowds. Yet, they all offer an array of beachfront hotels and cafes with fantastic views and various types of water sport activities or lessons for kids.
Apart from enjoying a good swim and fantastic dining options in upmarket restaurants, you can take on what Bodrum offers for grasping the sense of local life. For doing so, you can either visit local open-air vegetable markets or jump a dolmuş ( a kind of shared taxis that run set routes) to see some of the remote coves.
Alternatively, you can book a full-day cruise to enjoy the scenery of Turkey's glorious Bodrum Peninsula. Or if you want to have a bit of a change of view, you can join a day trip to the Greek island of Kos to look at Bodrum from the across.
Best Hotel in Bodrum for Families
Su Hotel (link to check availability on Expedia) located in Bodrum city center offers the serenity of the white and blue Mediterranean vibes and adds a little color to it. It has spacious soundproof rooms with private balconies, a swimming room, and a very nice garden to relax in. It is within walking distance of Bodrum Marina, Bodrum Castle, the beach, and all the bars.
Get Outdoorsy: Fethiye
Fethiye is an ideal place for families who want to enjoy the pristine beaches as well as a bit of outdoor adventure. As Fethiye has various attractions to visit, it's better to stay somewhere in the center to travel to other parts of the city easily and enjoy the beaches close by. 
Çalış Beach is the closest beach to the city center, and the area can serve as a perfect base for your Fethiye holiday. Even though Çalış is a fantastic beach with its rustic charm, Fethiye has become world-famous with the Blue Lagoon situated in the town of Ölüdeniz.
Ölüdeniz amazes crowds with its crystal clear water, fascinating views, and the opportunity of paragliding from the mountain of Babadağ. 
The town of Kayaköy in Fethiye also offers a glimpse of a near collective Turkish and Greek history. Kayaköy, also called the ghost town, is a preserved museum village, not far from Ölüdeniz.
When in Kayaköy, you can walk around Greek-style houses and churches, check small local craft places, and enjoy homemade Turkish snacks like gözleme.
Butterfly Valley and Saklıkent National Park should also be on your list when in Fethiye. Butterfly Valley, with its rich flora and fauna, and Saklıkent National Park with its rock formations and deep canyon, are perfect spots for appreciating the region's natural beauties.
Butterfly Valley is also open for outdoor activities, from camping, hiking, canyoning, and canoeing to scuba diving.
Lastly, don't forget to visit the Fethiye Fish Market, where you buy fresh seafood from a fishmonger and take it to a restaurant to cook it for you. While waiting, go through the restaurant's menu for side dishes and drinks to complement your freshly cooked seafood feast.
Best Hotel in Fethiye for Families
Hotel Ölüdeniz (link to check availability on Expedia) offers the best of Fethiye, as it's right at the heart of Ölüdeniz. You can walk to the beach, swim right there or take a boat tour. The hotel also makes it fun to stay in with its swimming pool and garden surrounded by pine trees, ping pong and pool tables, fitness facilities, and a playground.
A Local Feel: Çeşme
Çeşme is a popular weekend destination for the locals living in Izmir. Because of the locals' high demand, Çeşme has preserved its local taste better than any other holiday destination.
Therefore, it's a fantastic destination for families who enjoy tracing the culture of places and learning the ways of living, even before mentioning the magnificent beaches and unique local eateries. 
Çeşme has genuinely stunning beaches where you can see the sun shining on the sand under the water. You can easily find tranquil beaches for your family to enjoy, like Altınkum and Boyalık beaches.
Especially, Ilıca beach serves as an excellent option for families with younger children as the sea is shallow and quite a way out. 
On the other hand, amazing Ayayorgi Bay offers plenty of private beach options surrounded by green scenery. Even if most beaches are named as beach clubs at the Ayayorgi, they also cater to kids with kids' menus and play areas. They indeed turn more like clubs after the sun sets.
Not far from Çeşme, you'll find Alaçatı as a journey back in time with its old houses and cobbled streets. Alaçatı has various upmarket restaurants that serve fantastic seafood dishes together with local delicacies that you can't find anywhere apart from this particular area. 
Even if you can't get enough at your local restaurants near where you stay, Alaçatı is definitely worth a trip for the taste of its mastic jam or wandering around the cobbled streets with your mastic ice cream in hand.
Best Hotel in Çeşme for Families
Dolina Boutique Hotel (link to check availability on Expedia) takes you to the best beach in Çeşme, Ilıca Beach, in a few steps. It is also a few minutes away from the famous and beautiful Alaçatı, surfing centers, Oasis Aquapark, and Çeşme center by car. This hotel is pet friendly and has got a swimming pool, rooms with private balconies, and small kitchens. Perfect for families!
A Bit of Everything: Antalya
Antalya is one of the most popular foreign tourist destinations in Turkey. Considering its warmer seawater, stand-out resorts with various all-inclusive offers, and its old city district, its popularity is not surprising to anyone. 
As the gateway to Turquoise Riviera, Antalya has plenty of beach options from one of Turkey's longest beaches, Lara beach, to Konyaaltı beach, adorned with magnificent views of the Beydağları mountains.
Besides, those beaches are also fully equipped with water sports facilities for adding more fun to your beach days as well as keeping your children happy and active. 
On the other hand, the minute you put your foot in the old city, Kaleiçi, you'll be surrounded by a splendid Roman-era harbor with fantastic mountain views.
You should also consider a little trip to Kurşunlu Waterfall National Park to witness Antalya's breathtaking nature or to Hadrian's Gate for having a close look at Roman architecture.
Antalya can easily be considered a place where modern and classic meet by preserving their charms and complementing each other's beauty and style. Whether you look for a relaxing holiday in a luxury resort or a holiday full of culture and discovery, Antalya has something for you and your family. 
As Antalya is ready to cater to different needs and interests, it's an incredible destination for families who have varying needs and interests.
Best Hotel in Antalya for Families
Özkaymak Falez Hotel (link to check availability on Expedia) located by a long, sandy beach is a family-friendly hotel with lots of amenities such as 4 outdoor tennis courts, aerobics classes, children's pool, indoor and outdoor pools, a spa, a fitness center, live shows, entertainment, playgrounds, free children's clubs and many more. It's so easy to keep yourself and your children busy here.
Closing Thoughts
Turkey is a vast and diverse country that always impresses crowds with its splendid culture, historical sites, natural beauties, and varying local food across the regions. 
All these make it evident that Turkey has plenty of options for every type of family and every kind of holiday. However, what makes Turkey unique for your family holiday is the hospitality and Turkish people's love of children.
It would be best if you were used to warming welcomes; make yourselves ready for even warmer ones for your trip to Turkey.