8 Best Things to Do in Fethiye (Plus Day Trip Ideas)
Fethiye's Ultimate Summer Adventure Guide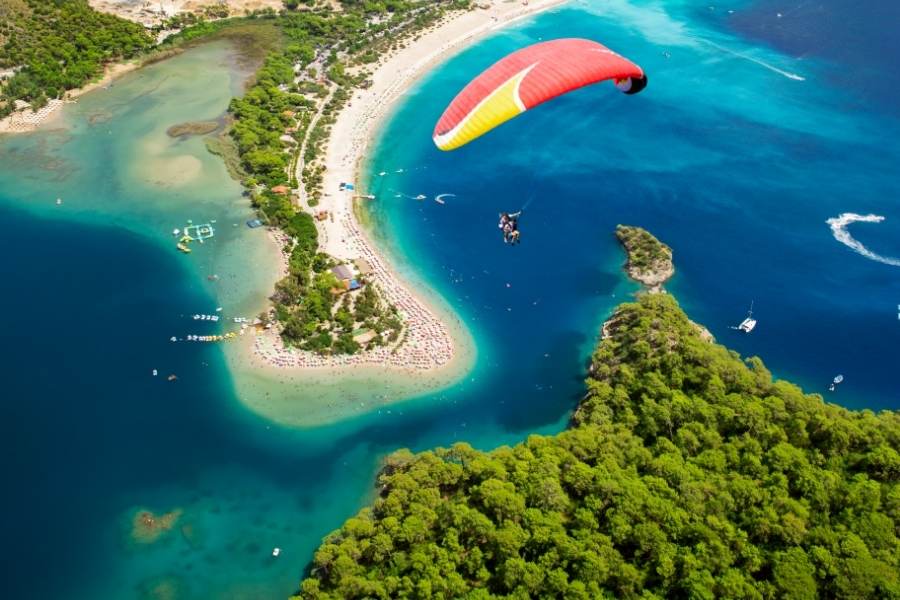 Almost anyone visiting Turkey during summer considers Fethiye an ideal destination. This southern coastal town has it all: amazing beaches, and extraordinary nature, sightseeing opportunities, historic ruins, and adrenaline-filled activities.
Offering various options to spend your days, Fethiye is one of those rare locations that can make everyone happy. You can have a lazy summer sunbathing, drinking, enjoying the view, or relax at yoga. Or you can also explore your options and go snorkeling, paragliding, trekking, dancing, or following the trail of ancient civilizations or Caretta Carettas. Our list will show you the highlights of this amazing town.
So, what are the best things to do in Fethiye?
8 Best Things to Do in Fethiye
1. Swim in the Blue Lagoon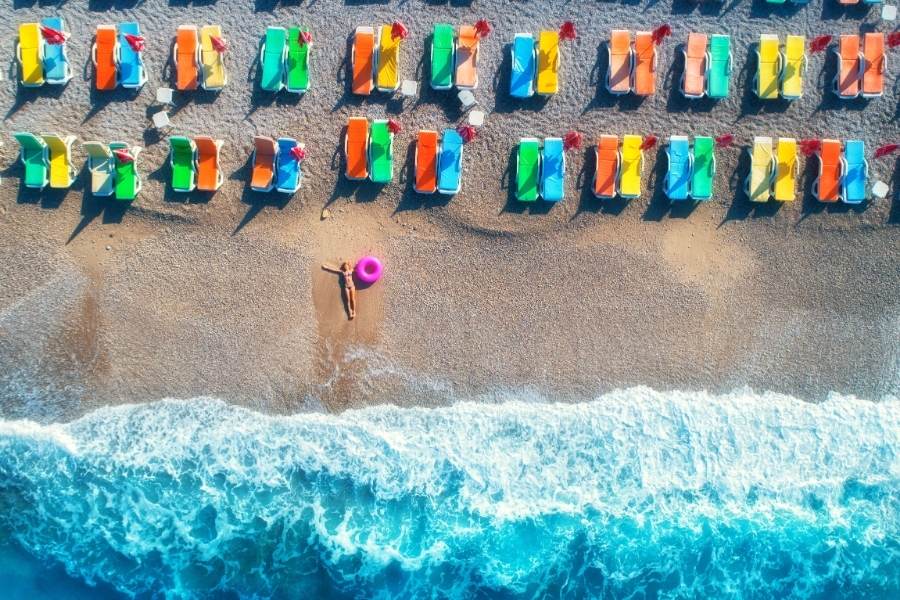 Considered the most beautiful beach in Turkey by most, Blue Lagoon is the must-see beach in Fethiye.
This beach is actually a lagoon in a national reserve park. A mighty mountain and green trees provide a background to the golden sand that meets the crystal clear turquoise waters.
Blue Lagoon, or Ölüdeniz as the locals call it, can make every type of beach-goer happy. The beach curves up to form a shallow seawater lake on one side, making the beach a safe playground for children.
The other side opening to the sea is perfect for swimming. The sandy beach is great for sunbathing and enjoying the view.
2. Glide Over Belcekız Beach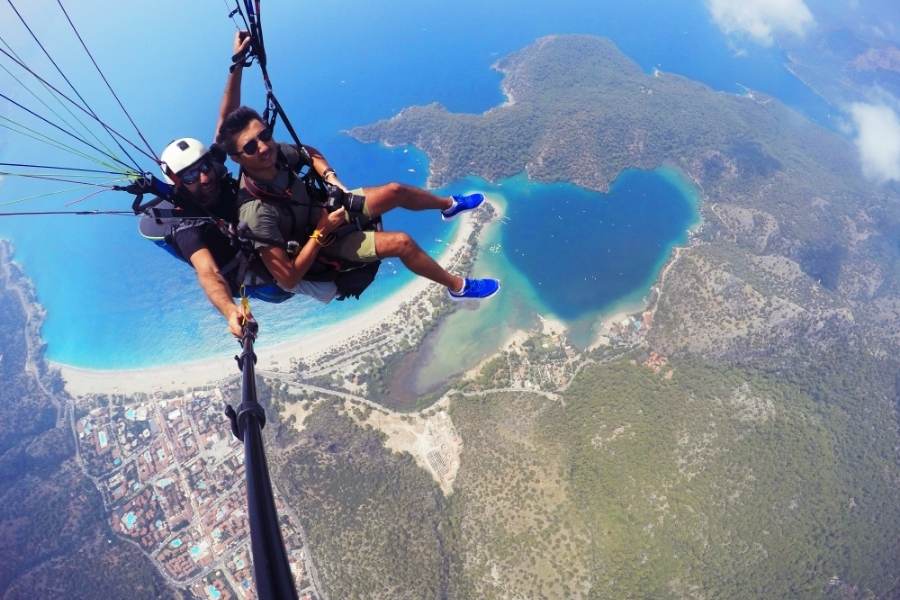 Paragliding is a popular activity in Fethiye. The Belcekız/Belceğiz beach that's right next to the Blue Lagoon lies at the Babadağ Mountain's foothills.
This mountain makes the perfect spot for flying over the extraordinary Blue Lagoon view. And you land right on the beach where you can enjoy a dip in the wavy, deep, turquoise waters.
Don't miss this unique, once-in-a-lifetime experience during your visit to Fethiye. You can book a paragliding session at the Belcekız beach, and one session costs about $50 USD.
3. Sail on a Pirate Ship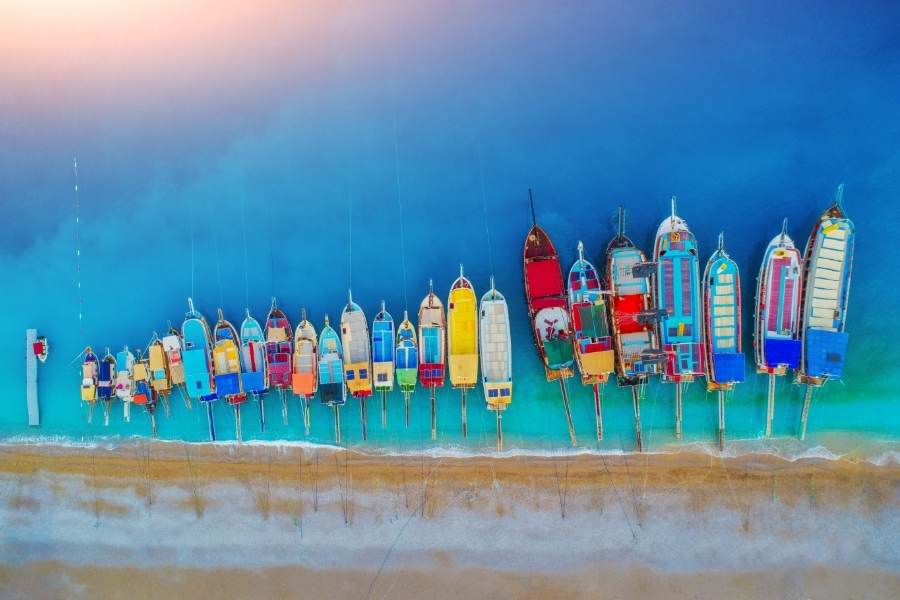 Standing at the Belcekız beach in Ölüdeniz, it's impossible to miss the big, black pirate ship right out of the Pirates of the Caribbean. The large figurehead invites you to a fun journey on the open sea, and the ship takes you on a daily cruise to the wonderful bays and coves in Fethiye.
Try to book your trip ahead during the high season. But don't worry if you cannot book a trip on the Dragon, the famous pirate ship of Ölüdeniz. There are many other boats waiting on the beach to take you on a fantastic sail.
The daily boat trips depart at 10:00 am and offer lunch on the ship for its passengers. You'll have the chance to visit five coves and beaches, each one more beautiful than the last.
The boats first head across to the world-famous Kelebekler Vadisi (Butterfly Valley). The next stop is Akvaryum Koyu (Aquarium Bay), which is perfect for snorkeling. Deve Plajı (Camel Beach) is an interesting stop named after the rock formations.
Soğuksu Koyu (Cold Water Bay) gets its name from freshwater springs coming out from the mountain under the sea. Gemiler Adası (Saint Nicolas Island) has a rocky beach with crystal clear waters and ruins of a church dating back to the 5th century.
The trip ends at about 4.30 pm. The daily boat trip costs about $15-20 USD, including lunch. Drinks, snacks, and swimming shoes are offered on the boat at an extra cost.
4. Party on a Sunset Boat Trip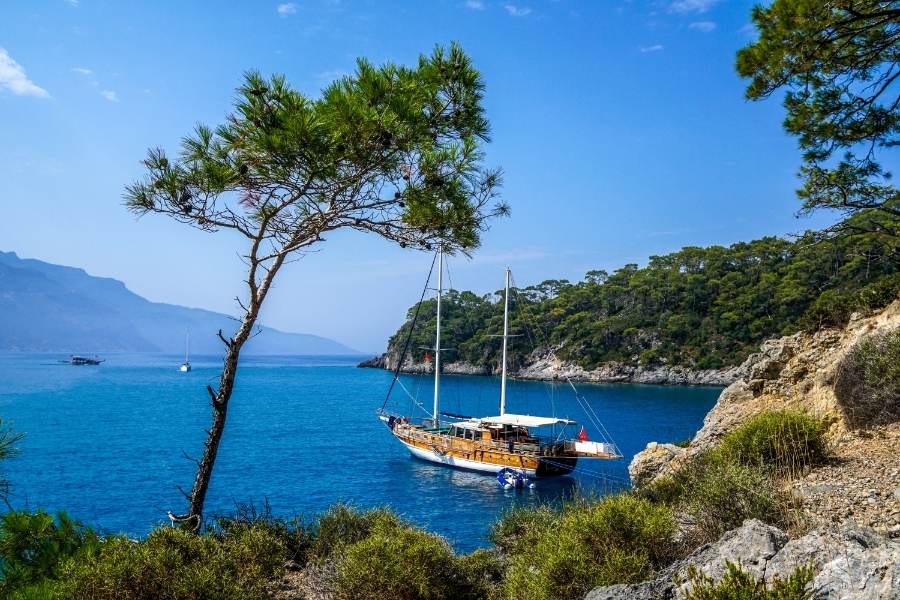 You can also set sail at night when you're in Fethiye. Sunset boat trips bring together the romance and fun, a nice dinner, and partying.
The boats depart from Ölüdeniz at 6.00 pm. The evening starts with chill-out music and a refreshing swim. A tasty dinner of barbequed chicken, salad, rice, and Turkish _meze_s are included in the price. You can also enjoy drinks, but at an extra cost.
After dinner starts all the fun, including a foam party on the deck. You can dance and enjoy the starry night until 11 pm. Families are welcome on the sunset boat trips. The trip costs about $5-10 USD per person.
5. Enjoy an Unforgettable Breakfast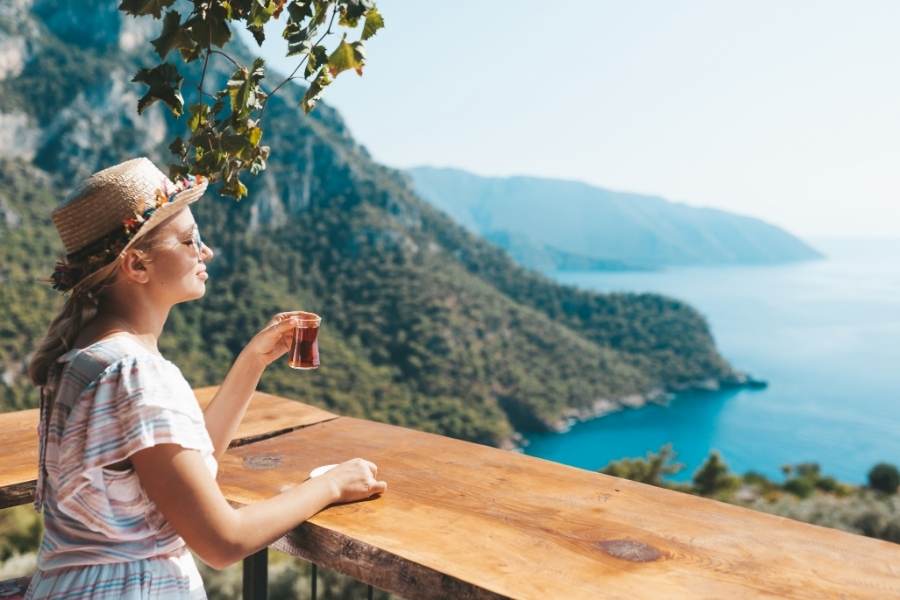 The Faralya village overlooking Kabak Bay invites you to the world's most scenic breakfast. The fabulous view of the turquoise sea from this green village is a must-see when you're in Fethiye.
The Faralya village and the hippie-vibed Kabak Beach offer a dream vacation for lovers of nature. Boutique hotels and bungalow rentals have open-air terrace restaurants, presenting you with the breathtaking canyon view below and the sea stretching out to the horizon.
Whichever restaurant you choose, you'll have a wonderful breakfast in the open air, surrounded by green trees and a rainbow of flowers. The bonus is that most of what's on your plate will be coming from the surrounding villages, all fresh and natural.
After breakfast, you can walk down the path and reach Kabak beach to enjoy the sea that you've seen from above.
6. Go on a Yoga Retreat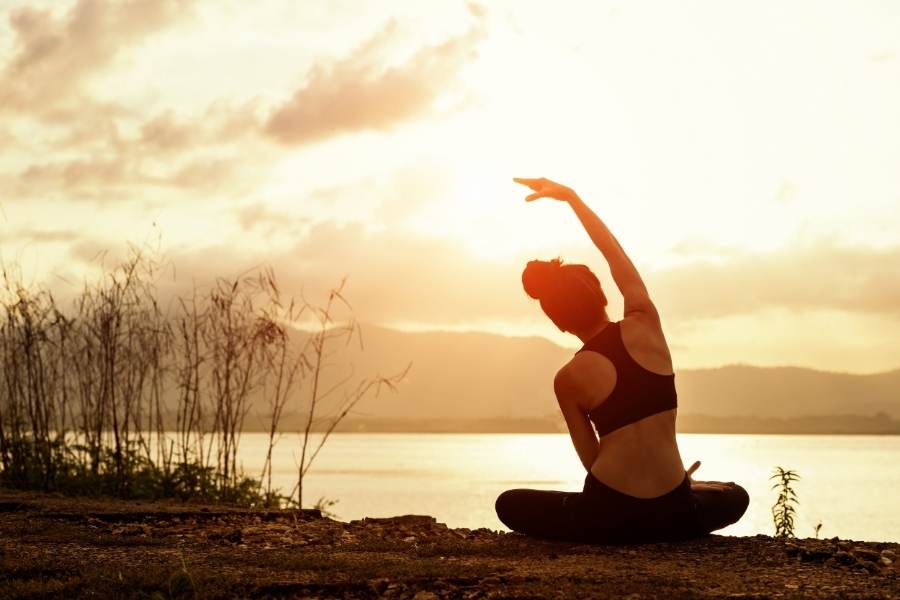 After having a delicious breakfast with an extraordinary view in Faralya (see number 5 on our list), you might want to immerse yourself more in the peaceful vibe of this magical village.
Some of the boutique hotels in Faralya over Kabak Bay offer yoga retreats, and we cannot think of a better place for such a tranquil experience.
Go on a yoga retreat in this secret paradise and let nature embrace you, freeing you of all the stress and anxiety of the modern world.
Kabak Bay is within walking distance from the retreats, and some hotels in Faralya also have infinity pools, like Olive Garden Kabak. You can check out their yoga retreat for an enchanting holiday that will nurture both your body and your soul.
7. Take a Walk in a Ghost Town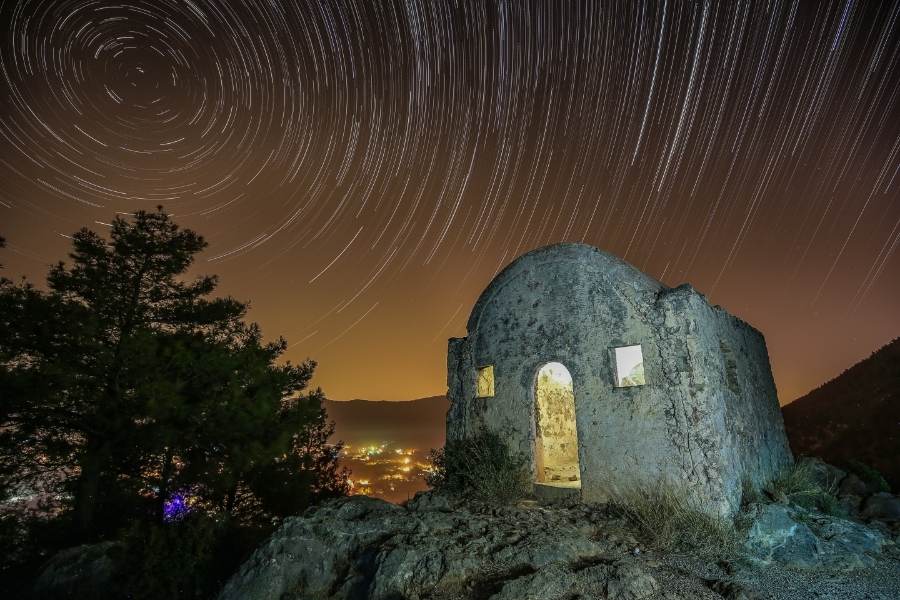 Don't worry, there's nothing spooky about this town. Kayaköy (meaning "the Rock Village") is an old village full of abandoned stone houses. Visiting this town will add a unique experience to your holiday and a lot of Instagram-worthy pictures.
You can take a minibus from Ölüdeniz or Fethiye center to get to this ghost town. Quirky little arts and crafts shops and stalls and Lebessos Wine House (link to read reviews on Trip Advisor) welcome you at the village entrance. But as you walk further into Kayaköy, you're alone with the faint ghosts of the past.
This village was abandoned due to the population exchange in 1923, following the Greco-Turkish war. When a severe earthquake hit the village in 1957 and destroyed most of the buildings, the town perfectly blended into its surroundings, offering us a stunning view.
Stroll around the village and take your time to breathe in the serene atmosphere of this village that is frozen in time. The chapel at the top of the village presents you with a panoramic view of the valley and the sea.
Walking around the ruins in Kataköy, you'll find yourself reminiscing about the memories of people whom you never knew.
If you want to shake off the nostalgia and return to the present day, and you're in for a surprise, just follow the signpost that reads "Gemiler Adası."
After a relaxing walk among the trees, you'll find yourself in a beautiful bay surrounded by pine trees. Swimming in the crystal clear waters of Gemiler Beach will be the perfect way to end this peaceful trip.
8. Trek Through Saklıkent Canyon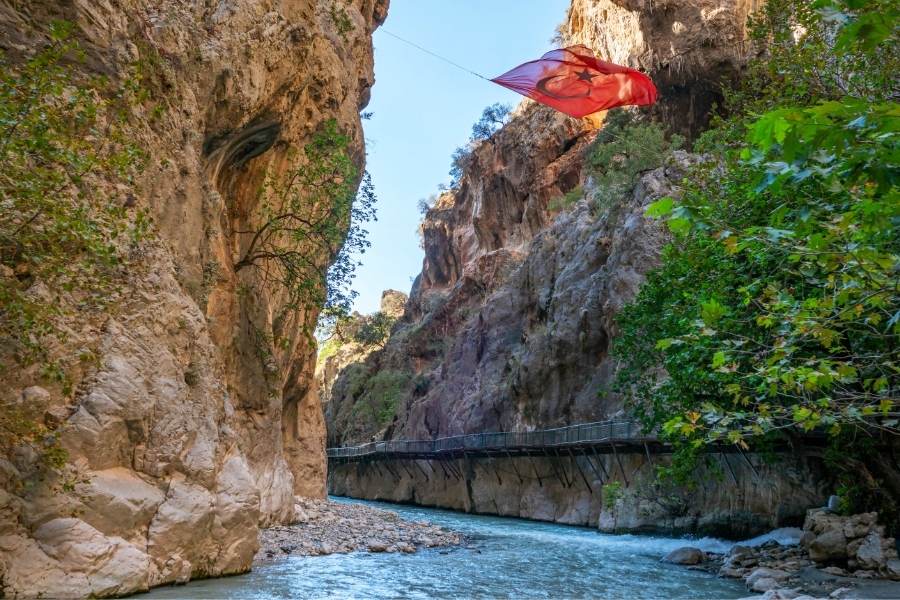 Situated 40 minutes away from Fethiye city center, this 980 ft deep, 11 miles long canyon is one of the world's deepest. With a full-day tour that you can book from Fethiye, you can explore the canyon and the ancient Lycian city of Tlos.
Trekking through the gorge in Saklikent National Park is a full-day adventure. Don't forget to wear or bring along your swimwear, swimming shoes, or trekking sandals and make sure your footwear is nonslip as you'll spend a lot of time walking in the water.
The ancient city of Tlos is believed to be the home of Pegasus. Here you'll see the ruins of a large stadium for 3500 people, Roman baths, temples, tombs, and even a 19th-century Ottoman citadel.
The tour also includes a short visit to Yakaköy, the modern village where you can enjoy your lunch and buy some handmade souvenirs.
Where to Stay
Blue Star Hotel (link to see availability on Expedia) in Ölüdeniz has an excellent location, it's only 3 mins walk to Belcekız Beach and the Blue Lagoon. It also has a swimming pool if you ever get tired of the amazing beaches in Fethiye. The hotel is surrounded by green hills but is very central. There are lots of restaurants and bars around but you'll feel safe walking at night.
Green Pine Beach & Bungalows (link to see availability on Expedia) is what you need if you want a hotel that is one with nature on a private beach. Sure, it doesn't offer some of the usual luxuries, but you get to stay on the Blue Lagoon itself. These beach bungalows are for the young and the romantic.
Final Thoughts
Fethiye is one of the most popular holiday destinations in Turkey, both for tourists and locals. Although it's famous for its crystal clear turquoise waters and sandy beaches, there's so much more to do in Fethiye than swimming and sunbathing.
It's best to open yourself to possibilities while visiting somewhere new, as you can discover more than you expect.