What to Wear on Your Holiday in Turkey
What to wear on your holiday in Turkey? Find out about appropriate clothing, dress codes, and weather conditions to ensure a comfortable and respectful trip.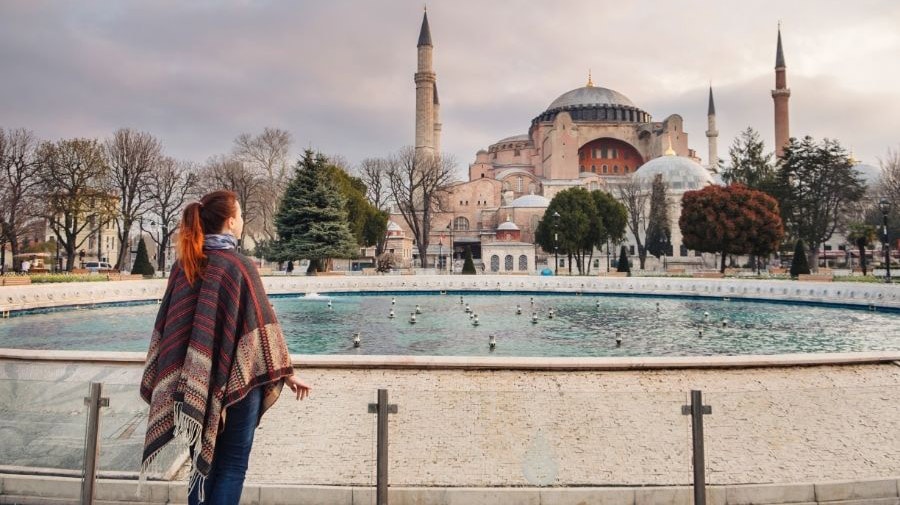 Many people who plan to visit Turkey wonder what clothing is considered appropriate to wear while on holiday. You want to be prepared, and you don't want to offend anyone with the way you dress.
So, what should you wear on your holiday in Turkey? You can wear what you want in Turkey, as it is a secular country and people free to dress how they choose. If you plan to visit a mosque, you should adhere to some specific dress rules before entering a place of worship.
Depending on the time of year you travel for your holiday, you may also need to be prepared for different temperatures. If you plan on visiting a mosque, there is also a specific dress code you should follow.
We will outline different situations and what you can wear on your holiday. 
Dress Code in Turkey
There are no strict restrictions on dress or clothing in Turkey. Turkey is a secular country where people are free to wear whatever they please. Turkey is a melting pot of different cultures and mindsets, with some liberal regions and neighborhoods and some more conservative. 
If you are in Istanbul, chances are your travels will take you to a cool neighborhood such as Galata, Karaköy, Cihangir, Kadıköy, Nişantaşı, Bebek, or Arnavutköy, where people are liberal when it comes to the way they dress. As these are more trendy neighborhoods, you will see nearly all types of styles and fashions. 
There are other neighborhoods in Istanbul which are more conservative such as Fatih or Üsküdar. It's best to dress more modestly if you plan to visit, to avoid unwanted attention or stares. 
If you plan to visit tourist areas in Istanbul such as Sultanahmet and Grand Bazaar, it's best to dress in a way so you can do your sightseeing and explore the area with comfort. These areas are walking-friendly with many shops, restaurants, and attractions.
A comfortable pair of footwear is important as you may be waiting in line and climbing stairs while entering different sights. You may want to stay away from wearing open-toed shoes or sandals as your feet can get dirty from the streets. 
While going out to dinner in the evening, the dress is usually "smart casual." Of course, if you are dining at a fancy hotel or upscale restaurant, you may want a dress or jacket. Many upscale bars or nightclubs in trendier areas such as Nisantasi, Bebek, and Arnavutkoy, may require a more strict dress code, so come dressed to impress.
If you are traveling in Central or Eastern Turkey, you may want to dress more modestly as cities there can be more conservative and less used to seeing international tourists. 
Prepare for the Weather
Turkey is a massive country with a diverse climate throughout its regions. If you are traveling in summer (June-September), expect the weather to be hot anywhere between 30-40 degrees Celsius (85-105 Fahrenheit).
T-shirts, tank tops, shorts, dresses, skirts, and hats are all appropriate in the hot weather. Cool cotton or breathable clothing and hat will make your days out sightseeing more comfortable.
In fall (October-November), there may be some rain and it can be chilly in the evening, so bring a warm jacket, sweater, or windbreaker.
You may be thinking Turkey is all sun, all year round. Not true. Winter (December-March) can be quite cold with temperatures around 3-11 degrees Celcius (35-60 Fahrenheit) dipping down to below freezing and snow not being uncommon in Istanbul, Ankara, and Cappadocia.
Bring your heavy winter jacket and prepare to layer up to fight against the cold air and wind the Anatolian winter brings. 
If you are traveling in spring (April-May), prepare for sun breaks, and potential cold spells with wind and rain can come at a moment's notice. Pack a rain jacket or shell and bring your umbrella to stay dry. 
Beach Holiday
If your holiday is at a resort or seaside town such as Bodrum, Antalya, Fethiye, or Izmir, you won't have to worry about dressing modestly as these places are very liberal, especially during peak season in summer. Short shorts, dresses, skirts, tank tops, bikinis, swimsuits, sandals, and flip-flops are all the norm in the hot seaside weather here. 
Beachwear is typical to that of a Western European country, and it's not uncommon to see women who prefer to sunbathe topless on the beach. When coming directly from one of the amazing beaches in your swimwear, cover-up before entering any bar or restaurant. Take care of your skin and wear protective sunscreen to avoid looking like a burnt tourist. 
What to Wear in Mosques
Turkey's beautiful mosques are open to both Muslim and non-muslim visitors. All visitors are required to remove their shoes before stepping onto the mosque's carpet. This is for more practical reasons than religious, as Muslim worshippers kneel and touch their foreheads to the carpet, so it's important they stay clean. 
As mosques are a place of worship, you should wear modest and conservative clothing that does not expose a lot of skin. 
Female visitors are required to wear pants, a dress, or a skirt that covers past the knees, a shirt or blouse that covers the shoulders and upper arms, along with a headscarf to cover hair. 

Male visitors are required to wear pants to cover their legs and a shirt that covers the shoulders. 
At the Blue Mosque in Istanbul, they offer free garment robes and headscarves to wear during your visit if you did not come prepared or simply wanted to wear something more comfortable during your sightseeing. 
At the more popular mosques in Istanbul, there may be a separate entrance area for non-worshipping visitors. Respect for those worshipping should be practiced at all times. Keep a quiet voice and move slowly while keeping your phone on silent.
Avoid taking photos with a flash, and do not photograph anyone while in prayer. It's impolite to walk in front of worshippers while they are performing their prayer rituals; walk around or behind them instead.
What Women Wear in Turkey
As a female foreigner visiting Turkey for your holiday, you can dress the same as you would if traveling in a Western European country. However, there are some things to consider as a female visitor, and it's important to note the way local Turkish women dress may vary greatly across different cities and regions and depend on their cultural attitudes.
In more liberal areas of cities such as Istanbul, Ankara, and Izmir, women will dress freely in what could be considered Western or "secular" clothing. While women from both young and old generations may wear a more conservative "tesettür" - a long topcoat covering arms and legs completely along with a headscarf. 
In traditional Islamic societies, women dress more modestly when in public. You may see some women wearing a "burka" or a full-body black covering with a veil. These may be visitors from Islamic countries, or some may be Turks who practice more traditional Islamic dress traditions.
Final Thoughts
In most situations, you should not be feeling any limitations to the way you want to dress while traveling in Turkey. When visiting and entering mosques, always follow required dress rules as you would out of respect for any place of worship.
Turkey is a secular nation with many diverse attitudes and beliefs towards the way people dress. Always be respectful that these different attitudes exist. This may seem obvious, but remember that the way you dress will determine first impressions and how locals perceive you. 
Regardless of the season, be fully prepared for the weather conditions as well. We wish you comfortably dressed travels while on your holiday in Turkey!