Is Istanbul Safe for Solo Female Travelers?
Discover Istanbul: A Safe Haven for Solo Female Travelers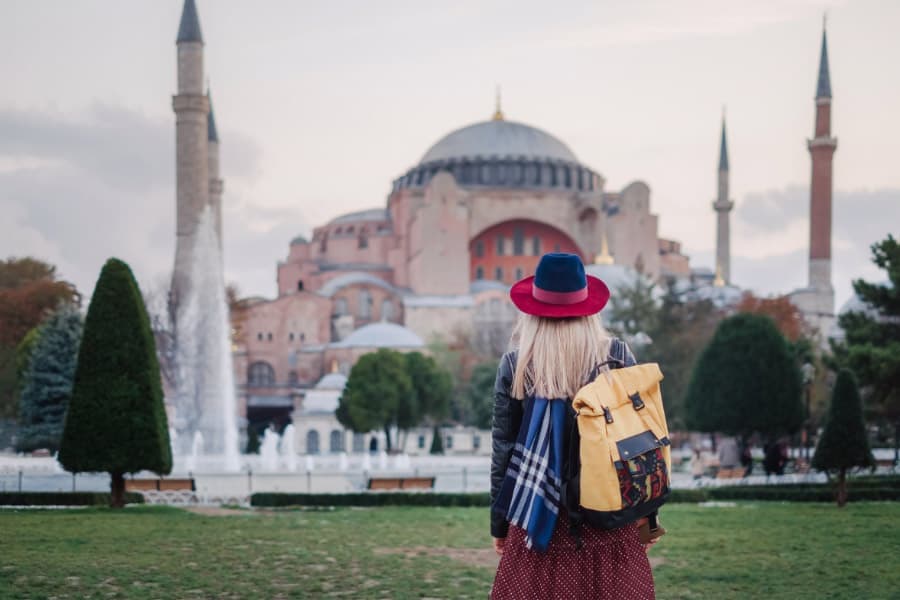 Turkey's cultural capital is a majestic blend of cultures that should be on every traveler's bucket list, but is Istanbul safe for solo female travelers? Here you'll find everything you need to know about solo female travel in Istanbul.
So, is Istanbul safe for solo female travelers? If you learn the local culture and use common sense, Istanbul is a safe destination for solo female travelers. Opt for more modest clothing, avoid dark alleys at night, and don't wear flashy jewelry.
So, what are some tips to ensure you have a safe trip to Istanbul? We'll tell you common misconceptions about the culture and how to feel safe during your visit.
Why Do People Think Istanbul is Unsafe for Solo Female Travelers?
Istanbul is a vibrant blend of Eastern and Western cultures that lies on the continental divide between Europe and Asia. Yet, I often hear people saying that it is too dangerous to travel alone in Istanbul.
Most of the arguments that Istanbul is unsafe for solo female travelers are due to Western media. Unfortunately, the news is often biased against Muslim countries and focuses on the negatives. This fear-mongering has led many people to believe that Istanbul is an unsafe place.
Turkey has been the site of some historic unrest. In 2016, the country faced a terrorist attack and a political coup attempt that led to increased security at tourist destinations.
The current Syrian crisis has greatly affected Turkey's tourism. While the Southeastern border of the country is deemed unsafe and has seen terror attacks, the rest of Turkey is largely unaffected by the violence. Still, concern about Turkey's proximity to Syria has led to a significant decrease in tourism that can be felt in the northern city of Istanbul.
Istanbul's reputation as a safe destination for solo female travelers has suffered because of these events.
But you need to consider these events in the larger scheme of things. The USA has a higher crime rate than Turkey, yet most females feel safe solo traveling to the Western nation.
You may also have heard that Turkey has a high crime rate against women. The unfortunate truth is that, yes, Turkey has a high incidence of crime against females. But this crime is almost entirely domestic or family violence. 
In fact, it is considered more dangerous for men to solo travel in Turkey.
There are no recent reports of solo female travelers being the victims of a violent crime in Turkey or Istanbul.
Before you believe the negative misconceptions that many have about Istanbul's safety, do your own research. Think about where these opinions are coming from. Then ask yourself what you would need in order to feel safe.
Tips to Feel Safer Solo Traveling in Istanbul
Istanbul isn't a scary or violent place. In fact, one may feel safer in Istanbul than in major US cities. The greatest complaint from tourists is pushy salespeople and struggling to bargain.
Here are some tips to help you feel safer when as a solo female traveler in Istanbul:
Wear more modest clothing (i.e. long skirts, no cleavage)
Don't wear flashy jewelry or carry expensive bags
Don't go down dark alleys or wander alone in strange places late at night
Don't get too drunk or act aggressively
Avoid unmetered taxis. Take a taxi via the local BiTaksi App (offered in English) or have your accommodation arrange transport
Watch your bag in the touristy areas, especially Sultanahmet
Preplan your routes or have a map on your phone to avoid getting lost
Get travel insurance. It's better to be safe
Check your country's travel advice for visiting Istanbul
Know where the tourism police department is: between the Hagia Sofia and the Basilica Cistern in Sultanahmet
Although Istanbul is less conservative, following Turkish cultural norms will help you draw less attention to yourself. 
Pickpocketing is the biggest crime in Istanbul. Flashy, expensive goods draw robbers' attention to you. Leave your jewels at home and be watchful of your surroundings, especially in touristy areas.
Being confident goes a long way to make solo female travelers feel safe in Istanbul. The old town has a lot of confusing twists and turns. Preplan your routes to look like less of a lost tourist. Be firm in turning down sellers and unmetered taxis that will try to overcharge you.
For an extra sense of security, learn your government's regulations before visiting Turkey. Be aware of where you can get police help. Purchase travel insurance in case anything goes wrong. 
Don't let this list scare you. As long as you use your common sense and be mindful of your surroundings, Istanbul is safe for solo female travelers. 
If you worry about getting scammed while traveling, some travel insurance providers may even offer fraud/scam coverage up to a certain amount.
Remember to always buy travel insurance when planning a trip to Turkey, just to be safe!
World Nomads has a large selection of travel insurance available.
Getting a quick quote from World Nomads is simple - just click the button below to get started!

What Is Istanbul Like for a Solo Female Traveler?
Istanbul is the only city in the world that straddles the continental divide between Europe and Asia. This has led to an incredible blend of cultures and pockets of eclectic neighborhoods.
Istanbul is an incredible place for solo female travelers. There are endless things to do -- like visiting the Hagia Sophia, taking a traditional Turkish bath, or exploring the funky neighborhoods on the Asian side of the Bosphorus.
Some women have reported experiencing negative attention from men in Istanbul, such as catcalls on the street. 
Due to the gender dynamics of the Muslim culture, solo female travelers are considered odd in Turkey. Sometimes men are confused by a woman traveling on her own, and will continually question you about it. But Istanbul is so busy that most people don't actually notice that you're alone.
Because Istanbul is the most popular tourist city in the country, it also has the highest rate of English speakers. The further you get from the touristy locations by the water, the fewer English speakers you will find.
Turkish people are so hospitable that even if you can't speak their language, they'll still work to have a conversation with you. They will go out of their way to converse with you through hand gestures and context.
If you're lost or feel unsafe, the Turkish people are incredibly helpful. They'll often step in to give you directions before you can even ask. If you look confused, shop owners will quickly come to your aid and help direct you.
You don't have to worry about feeling odd eating alone in Istanbul. The city is one of the best in the world for street food. Head to Taksim Square for amazing kebabs and delicious stuffed mussels locally known as "midye."
Although people warn about negatives for women traveling alone in Istanbul, most women feel completely safe. You can wander far from tourist areas, wear tight jeans, and get lost without having to worry about your safety.
Women who have actually been to Turkey only have kind words to say. They experience incredible hospitality from the Turkish people and marvel at the majesty of Istanbul.
Safe Places to Stay
Kadıköy is definitely one of the safest districts of Istanbul for women. It is also one of the quietest. 39 Kalamis Marina Hotel (link to see availability on Expedia) is situated away from the city buzz. It offers you the view that the name suggests and a fresh breeze. Kalamış neighborhood even has a song dedicated to its peaceful environment. You can take coastal walks near this hotel, spend a night out at Kadıköy bars or board a ferry to get to the Old City to see all the tourist attractions.
Beyoğlu is a unique district with various pieces like a puzzle, but there are safe parts to consider. Pera Rasso Hotel Boutique Hotel (link to see availability on Expedia) in Beyoğlu is a family-run hotel with excellent reviews. It's in a busy area but on a quiet street; it is within walking distance to all Taksim venues so you can safely and quickly arrive at your hotel after a long day or a night of fun. It's also in very close proximity to the Old City and means of transport.
With the famous Ortaköy mosque and the Bosphorus bridge as the view from your window, Ortaköy is a safe that is close enough to the main attractions of the city. Nevv Bosphorus Hotel & Suites (link to see availability on Expedia) is situated at the heart of Ortaköy. You can enjoy a nice walk from Ortaköy to the great historical Yıldız Parkı or to Dolmabahçe Palace in Beşiktaş and it is easy to reach all the sights from there. The location is also great for indulging in luxurious nightclubs on the coast.
Closing Thoughts
Negative misconceptions prevent a lot of women from exploring this incredible city. Istanbul is a very safe city for solo female travelers. Do your own research on safety, avoid the Syrian border while visiting Turkey, and take precautions like getting travel insurance to make yourself feel more comfortable.
It's easy to travel safely through Istanbul on your own. Use common sense and respect the local culture by dressing more modestly. Avoid dark alleys and wearing expensive items.
If you need help, the Turkish locals are some of the friendliest people you'll ever meet. Don't miss out on the best things to do in Istanbul because of misinformation. The city is so incredible that you'll quickly forget you were ever questioned visiting on your own.