Do People Speak English in Turkey?
Discover the English-speaking side of Turkey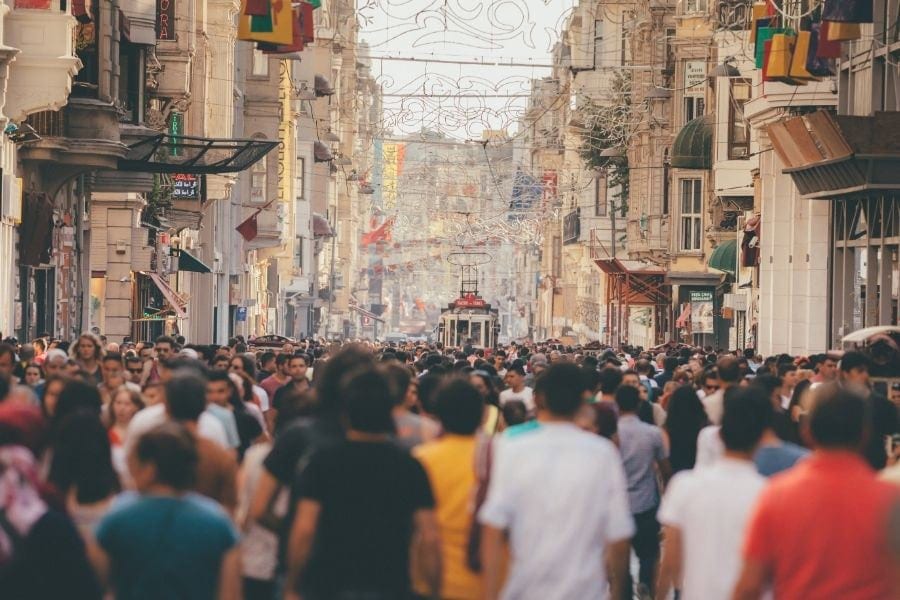 If you're planning to visit Turkey, you may be wondering whether or not people there speak English. When you're in a foreign country, communication is key for business or pleasure.
So, do people speak English in Turkey? English is widely spoken in touristic cities of Turkey, such as Istanbul, Ankara, İzmir, Antalya, and Muğla. Most educated young people speak English to a certain degree since English lessons are integrated into the Turkish education system.
Let's find out if you can communicate fluently in English with people in Turkey.
Who Speaks English in Turkey and Why?
Attracting more than 51 million foreign tourists in 2019, Turkey is the sixth-most-popular tourist destination in the world. With this many foreign visitors and ever-growing global business connections, the Turkish government, tourism and business professionals, business owners, educators, students, and most citizens place great emphasis on learning English, the global language.
English is a must for an academic career in Turkey. Most institutions and corporate companies in Turkey are hiring people that speak English for nearly all positions, even if their day-to-day job does not entail using the English language.
Public workers get language allowances and bonuses if they speak English. So, speaking English is almost like a prerequisite for any successful career in Turkey.
You can find professional translators, interpreters, tour guides, English language teachers, and multilingual tourism professionals in almost all cities in Turkey. But if you aren't planning to get professional language services, guided tours, or book your trip through a tourism agency, can you communicate with local people around the country? Yes, you can!
But your communication might sometimes be limited, depending on your location. So, how do people learn English, and how well do they speak this language?
English Language Education in Turkey
Over the last two decades, English language education has been extended to all public schools in Turkey, starting at the preschool level. Turkish students of all ages get English lessons.
Moreover, the medium of instruction is English in the most prestigious universities in Turkey, and they have a one-year English preparatory class that is compulsory for some students. There are also private colleges, language schools, and private tutors teaching English at all levels.
However, not all graduates can speak fluent English. This is mostly due to the traditional, exam-based approach of the Turkish education system.
Students generally lack the time or motivation to practice speaking skills. Without practice, even advanced level students might struggle while speaking in English.
As a result, although they have the educational background and necessary training, many Turkish people refrain from speaking English. But most of them have a basic understanding of the English language, so they'll understand you if you speak a bit slower than your normal pace. 
Even if they don't speak fluent English or have any formal education, Turks will be willing to communicate with you and help you as much as they can if you approach them. They are famous for their hospitality; the language barrier can't stop them from trying to help you or trying to get to know you or your culture.
Where Can You Find Fluent English Speakers in Turkey?
So, where can you find the people that speak fluent English? Mostly in İstanbul, Ankara, and İzmir throughout the year and the touristy coastal towns of Antalya and Muğla during the summer. 
In these cities, you can ask for directions or basic information about the city in English, and you'll definitely find someone to help you, or the locals will. In case of emergencies, some members of the police force and the health services usually speak fluent English in touristy areas. And you can find English-speaking doctors in hospitals.
Most café and restaurant menus, travel brochures, informative documents, and city maps and some business signs are also in English in these regions. And at least some staff members can answer any further questions about the menu or the service provided.
The majority of university graduates with an intermediate or advanced level of English live and work in big cities like Istanbul, Ankara, or Izmir. 
Izmir, Antalya, and Muğla are popular international holiday destinations, so people working there at hotels, restaurants, and shops during the summer speak fluent conversational English. Their language skills are mostly specific to their fields of work.
In most banks in Turkey, you can find at least one employee or manager to help you with your transactions. This number can go up in more developed or touristy regions, such as the summer holiday destinations like Fethiye and Marmaris in Muğla and Antalya city center. 
Visiting coastal cities and towns in Turkey, you can find English-speaking people mostly around famous tourist attractions and popular beaches.
Almost all four or five-star hotels, restaurants, and other businesses in these regions employ fluent English-speakers for the summer period. Most of them also speak Russian, German, and Arabic, and, to a lesser degree, other languages.
When you are in a more rural area or a less crowded part of a small town, you might not find many English speakers. But people will always do their best to communicate with you.
You can handle everyday conversations using one of the many online and mobile dictionaries or translation tools like Google Translate.
A Global Metropolis: Istanbul
Istanbul is a truly cosmopolitan city, a tourism center, and an international trade hub hosting thousands of visitors from different parts of the world.
There are world-famous historical tourist attractions, museums, and shopping malls in Istanbul, appealing to all people from different parts of the world. So there are many professionals working in business, retail, service industry, tourism and hospitality, and education sectors that speak fluent English.
There are numerous international companies based in Istanbul. So people speaking different languages mostly use English as a common language in this international work and trade environment.
Below is a list of some neighborhoods in Istanbul where you can find fluent English speakers:
Sultanahmet / Hippodrome area is the historical capital of Istanbul with many tourist attractions. A year-round tourism season forces the local business owners and workers to speak English even if they don't have formal education. Even little Turkish children around this neighborhood can speak everyday English, trying to lure you into the shops and restaurants or sell you something!
Business and trade districts and neighborhoods with various shopping opportunities such as Beyoğlu, Eminönü, Karaköy, Beşiktaş, Şişli, Nişantaşı, Maslak, Levent, Etiler, Kadıköy, Bağdat Caddesi (Bağdat Avenue), and Ataşehir. 
Central neighborhoods such as Taksim, Cihangir, and Galata in Beyoğlu, Harbiye in Şişli, Karaköy, Bebek, Ortaköy, Beşiktaş, Kadıköy, and Moda. You can find university students, professionals, academicians, artists, tourism, and retail workers that speak fluent English in these areas. Expats also dwell in these neighborhoods.
Major university districts such as Hisarüstü and Bebek that the Boğaziçi University campus is in, Beyazıt (Istanbul University), Maslak/Sarıyer (Istanbul Technical University), Yıldız/Beşiktaş (Yıldız Technical University). These areas also host international exchange students.
Employees of big shopping malls (in Turkish alışveriş merkezi or AVM in short) usually speak fluently enough to cater to your needs. Some examples are: Cevahir AVM and Trump Towers in Mecidiyeköy, Akmerkez in Etiler, İstinye Park in Sarıyer, Kanyon and Metrocity in Levent, City's in Nişantaşı, Zorlu Center in Beşiktaş, Marmara Park in Beylikdüzü, Forum Istanbul in Bayrampaşa, Palladium AVM in Ataşehir, Tepe Nautilus in Kadıköy, and Akasya AVM in Üsküdar.
In a nutshell, people working in the service industry or retail around touristic sites might not indulge in a sophisticated philosophical argument in English with you. But they can give you directions or help you with your daily needs and transactions.
Closing Thoughts
Turkish hospitality knows no limits, so the language barrier cannot keep you from maintaining your daily life or enjoying your holiday in most parts of Turkey. But finding people who speak English definitely helps, and people do speak English in big or touristic cities in Turkey.
One last tip for establishing better communication with locals in Turkey: Learn a few simple Turkish words! People love it when you show even the tiniest effort to learn their language or culture; it makes them feel respected. So say simple things like "Merhaba!" (Hello!) or "Hoşça kalın!" (Goodbye!) to locals, and they'll go above and beyond for you.