How to Spend 24 Hours in Istanbul (Official Layover Guide)
Your official layover guide to spending 24 hours in Istanbul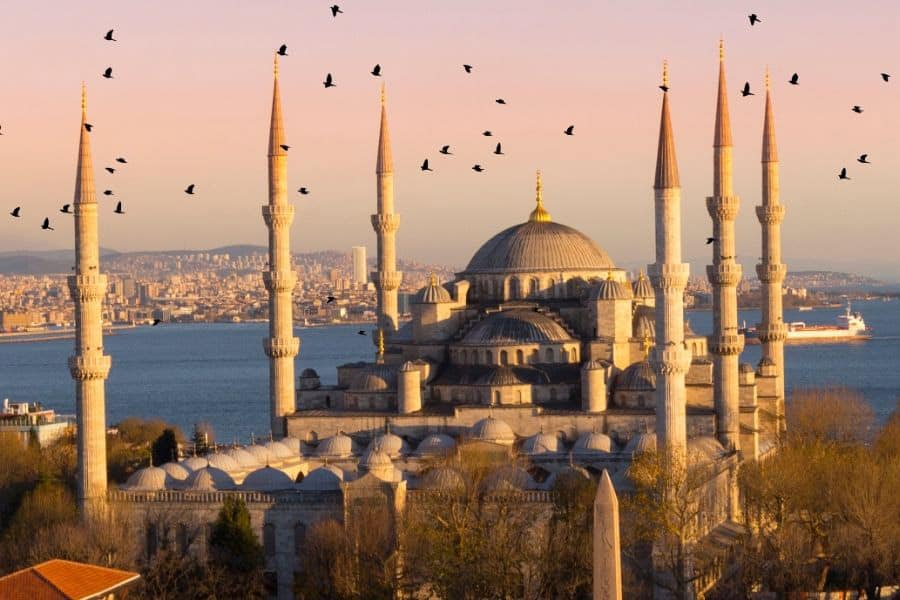 If you're reading this, you're probably lucky enough to pay a quick visit to Turkey's gem, Istanbul. We'll provide you with everything you need to know on how to spend 24 hours in Istanbul in this official layover guide.
So, how should you spend your 24 hours in Istanbul? Visit the Sultanahmet district, where a majority of the best historical and architectural landmarks are. Enjoy your evening in the Beyoğlu district. But make sure you book your airport transfer so you can make the most of your time.
Istanbul has 15 million inhabitants and is a busy junction connecting Europe and Asia. So it is essential to know your way around town when you have limited time.
The Best Way to Spend Your 24 Hours in Istanbul
The best way to spend your 24 hours in Istanbul is to visit the historical district of Sultanahmet.
Also called the Hippodrome or the Old City, it was the capital of the Byzantine and Ottoman empires. So it is home to the most popular tourist attractions and historical landmarks in Istanbul: old churches, mosques, palaces, bazaars, city walls, and museums, all standing up to the test of time.
The Sultanahmet area is 25 miles (40 km) from the new Istanbul Airport, which is the main international airport in the city. Considering the heavy traffic, it would be wise to plan your transfer ahead to make the most of your time spent here.
Avoiding the Layover Rush
Layovers are often stressful, but they don't have to be. Planning is key if you don't want to spend hours stuck in an airport or frantically rush around a busy city worrying about missing your next flight.
We're here to help you plan your 24-hour layover in Istanbul effectively. And since Istanbul is a big and crowded city, we'll start with transportation.
There are two major airports in Istanbul. The new Istanbul Airport, one of the largest airports in Europe, is located about 2 hours away from the city center. Sabiha Gökçen Airport on the Asian side also has international flights. But this airport also lies on the outskirts of the city.
So be prepared to spare at least five hours of your day for transportation to avoid the hectic run to catch your next flight.
As you only have one day to explore Istanbul, you might want to book a private transfer to the city center. There are many transfer options available online and at the airport, but booking before landing will always save you a lot of time. Taking airport shuttles or a private shuttle provided by your hotel is a more inexpensive option to consider.
You can also use public transportation to avoid traffic. However, if you don't know your way around the city, the hassle of the crowded subways and buses might strip you of your energy to make the best of your short stay in Istanbul. Remember, sightseeing involves a lot of walking.
If you're flying with Turkish Airlines, you're in luck! You can take up their offer to take a free city tour.
Passengers with a connecting international flight in Istanbul with a layover between 6-24 hours can use the free Touristanbul service. They offer a free tour bus ride from and to the airport, a guided tour of the most famous tourist attractions, and even some free souvenirs.
If you opt for that free tour, it'll cover both transportation and sightseeing. Different sightseeing options are available depending on the time you have. So, it is a very effective way to spend your day during a layover.
You can sign up for Touristanbul at the Hotel Desk in the International Arrivals Terminal of Istanbul Airport. But if you're a more independent traveler, just keep reading! We'll be your guide.
If you don't like to spend the night at airport hotels, choosing a hotel in Sultanahmet would also save you a lot of time. The neighborhood is home to some of the most famous historical attractions and offers various accommodation options. Staying there will help you spend your 24 hours in Istanbul in the most effective way.
Now, let's see what you can do in Istanbul in a short time.
Exploring the Old City
Visiting Sultanahmet, you'll see that there's a lot to discover. The core of the old city encompasses many historical landmarks, such as the Topkapı Palace, Aya Sofya Mosque (Hagia Sophia), The Blue Mosque, The Hippodrome (Sultanahmet Square), The Basilica Cistern, and most importantly The Grand Bazaar.
These are the must-see sights to visit when you have a limited amount of time, and they take at least five hours in total to explore.
Topkapı Palace - home to the Ottoman sultans in the 15th and 16th centuries. The palace complex has hundreds of chambers, but seeing the Harem and the treasury will be enough to get the gist about life in the old empire.

The Hagia Sophia - dates all the way back to the Byzantine Empire, and is a historic religious and political symbol for both Christianity and Islam. In 2020, it began to serve as a mosque as well as a museum. So you can still visit it and see its famous dome and mosaics, as a place of worship, the dress code to enter is strictly enforced. Women are required to cover their hair and shoulders and legs. Men must cover their legs as well.

The Blue Mosque (Sultanahmet Mosque) - gets its unofficial name from the hand-painted blue İznik tiles adorning the interior and is a grand building with six minarets, five main domes, and eight secondary domes. It's open to tourists, but see the notes about visiting mosques above.

Hippodrome of Constantinople - was the sporting and social center of the Byzantine Empire. Not much is left from the main structıre, but you can still see the German Fountain, the Egyptian Obelisk of Thutmose III, the Serpent Column, and the Walled Obelisk as you walk around Sultanahmet.

The Basilica Cistern - has a dome that rises on 336 columns coming from ancient temples. The Byzantine cistern no more serves its original purpose but is visited as an "Underground Palace" with a mystical atmosphere.

The Grand Bazaar - no visit to Istanbul is complete without wandering through this labyrinth-like market filled with traditional Turkish goods. First built as a small warehouse in 1461, it has grown to become the bustling market it is today. Make sure you time your visit as you can get carried away by the colorful stalls. And don't forget to bargain!

The Spice Bazaar (Mısır Çarşısı) - one of the most colorful, fragrant, and delicious markets you will ever see. Finish your tour of old Istanbul by stopping here to taste some of the best flavors Turkey has to offer.
You can also visit the Archeological Museums with a vast collection of ancient artifacts from the Romans, Greeks, and Byzantines. But if you're interested in exploring the museums, you need to make time for it as the quickest visit will take at least two hours. You might skip the Topkapı Palace visit to have the time you'll need to visit the museums.
The historical highlights of the Old İstanbul will take much of your day. So we recommend quick meals that'll give you enough energy to discover the city without taking much of your time.
Discovering Turkish Cuisine in a Nutshell
Looking for something quick but authentic for breakfast? Try the famous duo simit & çay, a.k.a the Turkish bagel and tea, and some cheese and olives to go with it. It's a simpler version of the traditional Turkish breakfast that even the street vendors offer.
At lunch, you can have a luscious meal to discover Turkish cuisine. In Sultanahmet, you'll see the historical restaurants serving famous meatballs served with boiled bean salad.
Don't worry if you're a vegetarian or just not in the mood to try something new. There are also many other restaurants serving delicious meals from almost any part of the world.
Now that you're full, you might not want to spend the rest of the day walking around in haste not to miss anything. There's another way to absorb this ancient city's historical scenes.
A More Relaxing Alternative
If you want to cut your Old City tour short, you can go for a relaxing Bosphorus Cruise. After 5 minutes by tram or a pleasant 20-minute walk from Sultanahmet, you'll feel the breeze of the Bosphorus and see the Eminönü Pier. From there, you can take a 90-minute cruise that will give you the rest you need and much more.
As the city connects the two continents through the Bosphorus, it is uniquely integrated into daily life in İstanbul. You can admire the historical and architectural structures lacing the shoreline from the ferryboat, sipping some Turkish tea or coffee. The cruise offers a glimpse of the city as a whole.
In the evening, you should check out Istiklal Street in the Taksim area. The street offers a nice dinner, some live music, and maybe even dancing if you still have the energy for it!
A Night to Remember
When you only have 24 hours to spend in Istanbul, you must spend the night on Istiklal Street. Strolling along the famous street, you can shop almost 24/7, wine and dine, go to a bar, or listen to live music. This world-famous street in Taksim is very easy to reach from Sultanahmet or Eminönü.
For a night to remember, you can choose one of the great cafes, pubs, live music bars, and nightclubs in the Beyoğlu district. Asmalımescit and Nevizade Streets, the Flower Passage, and French Street offer a fine dining experience with entertainment.
You can enjoy a traditional Turkish meal, some snacks, or meze (Turkish tapas) with your alcoholic drink. One can find both local and international options when it comes to music and food here.
Only the Essentials
Istanbul is an ancient, eclectic city with many wonders. It can take years to thoroughly explore and discover the hidden gems of this mysterious city.
We hope this quick guide on the must-see places of Istanbul, has been useful to make your 24-hour layover one of the most memorable and convince you to return!