A Complete Guide to Istanbul for Solo Female Travelers
Discover Istanbul's beauty and culture with confidence on your solo journey.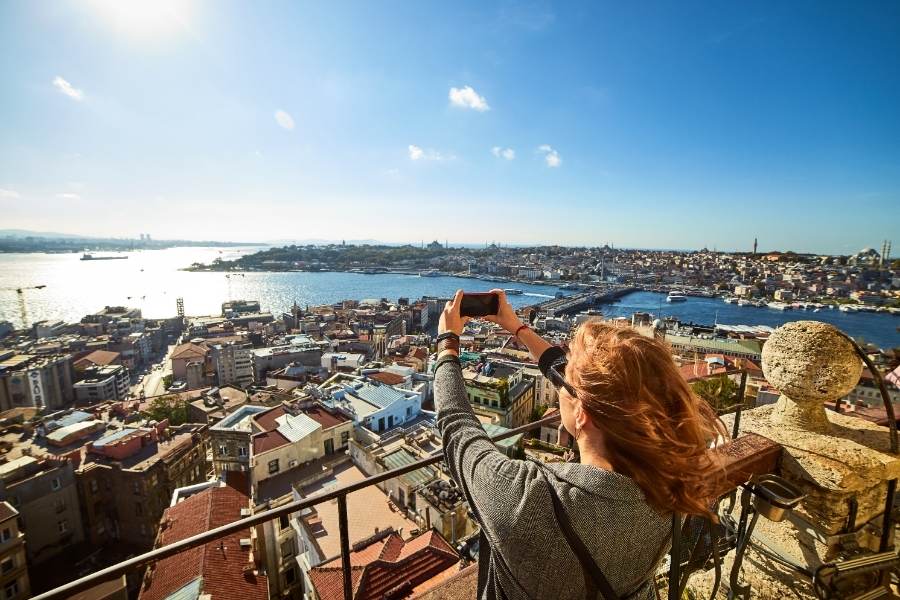 As the only city to exist in Europe and Asia, Istanbul is a must-see destination. This guide to Istanbul for solo female travelers will teach you how to stay safe, what to see, and what to wear so you can have a worry-free visit.
Learn how to have an incredible solo visit to Istanbul with the help of this travel guide. We'll discuss how to stay safe, what to wear, where to stay, and more common concerns from female travelers.
So, what are the most important things for a solo female traveler to know before they visit Istanbul? 
Safety Tips for Solo Female Travelers
Turkey suffers from a lot of safety misconceptions from Western media. In reality, Turkey is a very safe country for travelers.
The biggest crime against tourists in Istanbul are pickpocketing and scams. Pickpockets target tourists around significant tourist sites, such as the Blue Mosque and Topkapi Palace. They look for open bags, expensive cameras, and people that aren't paying attention to their belongings.
You can stay safe by being extra diligent in these areas. Keep a hand on your bag. Avoid wearing expensive items that draw attention, like jewelry. 
As with any travel destination, you have to behave appropriately to avoid danger. Use common sense to avoid situations like wandering dark alleys alone or accepting rides from strangers you don't know. If you drink, set a limit, so you don't lose your wits.
You'll feel safer in Istanbul if you avoid common tourist scams that reduce your travel budget. Don't take unmetered taxis or let your taxi driver give you a tour. They'll overcharge you.
Avoid unofficial guides offering tours at sites. Pre-book all of your guides through your hotel or a travel booking site.
To stay healthy as well as safe, remember to always buy travel insurance when planning a trip to Turkey. It'll help you if you lose anything or get ill.
World Nomads has a large selection of travel insurance available.
Getting a quick quote from World Nomads is simple - just click the button below to get started!

Local Men and Solo Female Travelers
A common concern for solo female travelers in Istanbul is how men will treat them. This fear comes from the perception that the predominant religion in Istanbul is Islam; however, the city is secular. These skewed views of Muslim men from Western media can scare solo female travelers.
It's important for solo female travelers to know the truth about how local men treat solo female travelers in Istanbul to help solve these fears.
So, how do local men treat solo female travelers? For the most part, no different than they would any other tourist.
Men in Istanbul will call out to tourists to get them to buy their wares. They can be pushy salesmen in the bazaars. 
But they can also be the nicest people you'll ever meet.
There are always a few bad apples who misinterpret revealing clothing as promiscuity, which is why it's important to know what to wear in Istanbul. However, most men in Istanbul are used to female travelers thanks to the city's tourism.
Solo female travelers are still new phenomena in Turkey. The men don't always understand that a woman would want to travel on her own.
It is better to say you are traveling with a friend when asked. You don't need a fake wedding ring or to invent an elaborate story. Tell them that you are traveling with friends who are at your accommodation.
If you ever feel unsafe due to a Turkish man, firmly tell them that they are making you uncomfortable. If they don't stop, find a nearby shopkeeper or hotel owner and ask for help. Istanbul citizens want to protect their tourism, so most will help you contact authorities or chase the man off.
What to Wear in Istanbul
Clothing is the most common concern for solo female travelers visiting Istanbul. 
If you've never visited a non-Western country before, you may not know what to expect. Other religions have different views regarding dressing modestly or wearing head coverings. 
Why is it important to dress a certain way in Turkey? Traditional Islamic cultures believe in dressing modestly.
As Turkey is a secular nation, you will see locals who dress conservatively and more progressively, sometimes showing skin while others cover all of their bodies. If you opt to show more skin, be aware that you could possibly attract unwanted attention from men. 
It is safer to dress modestly. Plus, it can help save you from getting a sunburn in the hot summer sun.
You don't need to wear a burka or head covering daily in Turkey. Women only need to cover their heads to enter mosques. Pack a scarf or pashmina to use as a headwrap that you can carry for when you visit a mosque, but leave your head uncovered the rest of the time if you wish.
Pack long, loose clothing that covers you well. Avoid see-through items or tight-fitting clothing like leggings. The less bare skin you show, the less negative attention you're likely to attract.
Long pants or skirts are a great option, and the skirts look great in photos. Avoid tank tops or camisoles that bare your shoulders and back.
You will see women who don't follow these rules in Istanbul. They may never have a problem, but of course, we advise that solo travelers err on the side of caution. 
What to Pack for Istanbul
Packing is one of the hardest parts of travel. It's especially hard when you're visiting a country you aren't familiar with.
Common misconceptions of Turkey have led to women bringing summer dresses in winter, assuming the country is all desert.
Avoid a packing mishap or the need for an unexpected shopping spree by following these helpful packing tips for Istanbul:
Turkey isn't a desert country. It gets all four seasons, including a snowy winter. Check temperatures before you visit, but be prepared to pack layers for the cooler seasons.
Although Istanbul is a liberal city in Turkey, it's best to dress modestly. Pack loose harem pants or culottes that don't hug your legs. Wear flowy dresses in summer, which will help you nail those Instagram shots.
Pack a scarf you can use to cover your head in mosques. The Islamic religion requires women to have their heads covered in places of worship. You don't need to wear it for the rest of the city, but you will need it in the mosque. If you don't own one, you can buy a pretty pashmina from the bazaar that will also make a great souvenir.
Pack good walking shoes. Istanbul is a historic city, and many of its areas are cobblestoned or uneven from years of use. If you wear heels, you're likely to get stuck. Good walking shoes will also help you get around the city for cheap by avoiding the need to take transit when your feet hurt after a few blocks.
Bring an anti-theft bag. Travel companies make excellent anti-theft bags that look like regular backpacks or crossbody bags. You'll be able to look cute without drawing attention to yourself, all the while keeping your belongings safe. Since pickpocketing is one of the biggest crimes in Istanbul, it's worth the money to avoid losing your items.
Don't forget your normal travel essentials, like a camera, sunglasses, and a hat for sunny days, your phone for offline maps, and a portable battery pack for when you need to recharge on the go.
Don't bring your most expensive jewels or any flashy branded items that would attract the attention of pickpockets looking for rich targets. Leave those at home and practice your minimalist wardrobe while in Istanbul to stay safe.
Getting Around Istanbul
Istanbul is the biggest city in Turkey, with over 15 million residents in 2020. It's also physically big, with tourist sites spread out from the Golden Horn to Sultanahmet and beyond.
So how do solo female travelers get around the city to see these sites?
The easiest and cheapest way to get around Istanbul is to walk as much as possible. You'll avoid crowded buses at rush hour and the city's terrible traffic if you take to the pavement.
Obviously, you can't always walk to your destinations.
When you need to travel further around the city, use the city's public transit. Istanbul has the third oldest metro in the world. It connects the European and Asian parts of the city beneath the sea, a fun way to get between the continents. 
For 4 TL, you can use the metro, trams, and buses to go everywhere in the city. Get an Istanbulkart for 6 TL to nearly cut your fares in half.
Buses cover the largest area of the city, but they often get caught in the city's rush hour traffic. Avoid them during high transit times, and opt for trams or the metro if you can.
You can drive in Istanbul, but it's ill-advised. There is almost no parking, the drivers are crazy, and the traffic is rated some of the worst in the world. 
If you need to, get taxis to help you get to obscure destinations you can't reach by public transport. Ask your hotel to call you one to avoid taxi scams.
A unique way to get around Istanbul is to take the ferry or a sea bus. These water-transit methods will let you see the city from a different perspective, travel in style, and avoid those crowded roadways. 
What to Do in Istanbul
Istanbul is an incredible blend of cultures and histories, which has led to an incredible amount of things to see and do. 
You could easily visit Turkey and never leave Istanbul, finding dozens of new things to do each day.
These are the best things for a solo female traveler to do in Istanbul:
Visit Topkapı Palace
Take a tour of the Blue Mosque
Go underground to view the famous Basilica Cistern
Tour the Hagia Sophia and learn its incredible history
Meet some of the cats of Istanbul (bonus if you find the one in the Hagia Sofia).
Cruise the Bosphorus
Take a day trip to the Golden Horn
Watch the fishermen fish on the Galata Bridge
Visit Galata Tower for 360-degree views of Istanbul
Get a traditional Turkish bath
Shop for spices in the Grand Bazaar
Take the metro to the Asian side of Istanbul
See Western influences in Istiklal Street
Head out of the downtown area to view the Walls of Constantinople that once surrounded Istanbul
Get a taste of the nightlife in Ortakoy 
See part of an Ancient Wonder of the World at the Archaeology Museum
Istanbul has many private tour operators that can take you around if you're feeling unsure about getting around Istanbul or touring these sites on your own. Ask your accommodation provider if they can recommend one, or find your own through a tour company like Intrepid.
Getting a guide will help you get a sense of the country's history. You'll learn incredible things, such as tulips originated in Turkey.
What to Eat in Istanbul
Turkish food is some of the most delicious you'll find. There's a reason kebab shops have longer hours than every other restaurant in the Western world.
People love coming to Turkey to eat, but they don't expect the rich variety of flavors that they find.
There's more to Turkish food than just kebabs!
To find the best food in Istanbul, leave the touristy Sultanahmet area to find cheaper and more authentic food. Check out restaurants in Eminönü, Beyoğlu, Beşiktaş, Kadıköy, or Üsküdar for the more traditional fare with excellent flavors.
But what do you eat when you're there?
These are some of the best dishes you have to try in Istanbul:
Meze - A platter with a variety of dips, salads, meatballs, and vegetables served as a snack or appetizer.
Kebab - Served from every meat you can imagine, a kebab is shredded meat. Best eaten with bread and vegetables. Great for a late-night snack.
Pide - The Turkish version of a pizza with cheese or cheese and ground meat. 
Balık ekmek (fish bread) - It's a mackerel sandwich on white bread with some vegetables. Best had near the Galata Bridge.
Karnıyarık: An eggplant stuffed with ground meat, vegetables, and herbs. Generally served with rice for a filling and delicious meal. 
Simit: The Turkish response to pretzels. Get these bread rings at most tourist sites. Simit is a dense, chewy bread in a ring, topped with sesame seeds. Eaten plain or with fresh cheese.
Köfte: A sausage-shaped meatball seasoned with onion and herbs.
Menemen: A vegetarian Turkish omelet.
Künefe: A cheese dessert with shredded phyllo, soaked in honey syrup and topped with clotted cream.
Baklava: A Turkish pastry with phyllo, walnuts or pistachios, and syrup or honey. It's sticky, sweet, and completely addictive.
Dondurma: Turkish ice cream is made with a special enzyme that helps keep it firm. You'll find it a bit chewier than normal ice cream, which allows the vendors to famously churn the ice cream in the air or stick it on a pole without it melting.
Turkish Delight: A gelatin cube with various flavors and sometimes nuts. The most common is a rose flavor. Dusted in icing sugar that you can lick off your fingers after eating far too many.
What to Drink in Istanbul
Turkey isn't just famous for its food; it's also famous for its alcoholic and non-alcoholic drinks.
Check out the best drinks you'll find in Istanbul:
Şalgam - A juice from the şalgam vegetable (a turnip), mixed with carrots, beets, and lemon salt. This drink is tangy and salty. It pairs well with Rakı as a chaser for alcohol. 
Cay (black tea) - Real Turkish tea is strong and black, not the apple tea served to tourists. It's best sipped slowly in the morning to give you plenty of energy for the day.
Turkish Coffee - Coffee with a punch. Great for any caffeine addict looking for their morning jolt. This espresso-sized drink will power you for a day or more with a few sips. Watch out for grounds. You leave the remnants of the drink to read your fortune on the coffee grounds.
Ayran - A dairy drink similar to the taste of natural yogurt but with the consistency of cream. It's made by mixing water and yogurt for a smooth, satisfyingly cool drink. Best paired with a Turkish kebab. 
Rakı - Famous Turkish alcoholic drink. Rakı is made from grapes and aniseed. Usually served with water and ice mixed in to make a milky-looking drink. Best enjoyed after a long day of work (or touring). 
Salep - The best drink for winter in Turkey. Salep (or sahlep) is made from an Orchid Genus Flower and hot milk. 
Where to Stay in Istanbul
There's so much to see and do in Istanbul, but you still need a place to sleep.
Most first-time visitors opt for a hotel in the Sultanahmet district. It's an easy place to stay with its plethora of hotels and close proximity to major tourist sites. 
If you're willing to be a bit more adventurous, head to some of the city's other neighborhoods for a more local experience. You'll find that prices drop significantly when you leave the downtown core.
Consider these other neighborhoods when planning where to stay in Istanbul:
Luxury solo female travelers should head to Taksim or Nişantaşı for upscale accommodations and trendy restaurants. Akka Suites Taksim (link to see availability on Expedia) is located near Istiklal Street, therefore it is in the heart of nightlife and all that jazz. The Beyoğlu district is also great to have easy access to the Golden Horn, tourist attractions, and Dolmabahçe Palace, which is located right by the Bosphorus in Beşiktaş. This hotel is perfect for young visitors, at age, and at heart.
Beyoglu has a wealth of options for budget travelers, with the most backpacker hostels in the city. Novus Pera Hotel (link to see availability on Expedia) is an excellent option if you're looking for a hotel with a great location and good value. This hotel is very central; you can walk to many attractions or use public transportation to explore all the famous sights of the city. The brick wall interiors give this hotel a unique atmosphere.
Galata is one of Istanbul's coolest neighborhoods, with amazing nightlife. You can find apartment rentals and hotels for a reasonable price in the area. Royal Galata Hotel (link to see availability on Expedia) near Karaköy is in a very central location. The location offers various public transport options. You can also take a walk towards Taksim or by the sea and reach the main attractions of the city in a short time.
Karaköy is a new hip area in Istanbul. It has stylish restaurants, amazing views of the city center, and really interesting apartment rentals for less than Sultanahmet. Ferman Port Hotel (link to see availability on Expedia) in Karaköy brings the Bosphorus inside the hotel building itself. The glass seagulls hanging from the ceiling and the breathtaking sea view from its terrace restaurant make this hotel a part of the Bosphorus itself. It is also within walking distance from ferryboats, the tram, and all the major sights. You can also easily reach Taksim from here.
Cross over to the Asian side of Istanbul (Kadıköy) for accommodations and food at nearly half the price. You'll find high-scale hotels, hostels, and apartments with easy access to tourist sites. Redstone Hotel (link to see availability on Expedia) in Kadıköy is for those who wish to stay on the quieter side of the city for great value, but still want to explore all around town easily. Staying here, you can use the ferry and other public transport options to visit the famous sights of Istanbul but find some peace and quiet away from the crowds.
When choosing where to stay, pick somewhere in a neighborhood that interests you. Ensure your building is close to a transit stop so you can get around easily. It's best if there's a restaurant nearby for those tired nights when you need something steps from your door. 
In Istanbul, it's safe to rent apartments from sites like Airbnb. Many people rent our spare rooms or full apartments as extra income, which allows you to live like a Turkish local for your visit.
Closing Thoughts
Istanbul is one of the best destinations for solo female travelers. This guide holds all of the secrets to having a worry-free adventure in the city. 
Without anxiety over your safety or what to wear, you'll be able to enjoy the city's delicious foods and historic sites. Enjoy the best Istanbul has to offer on your solo trip.