Is Istanbul Safe?
Discover the safety of Istanbul and enjoy your trip with peace of mind.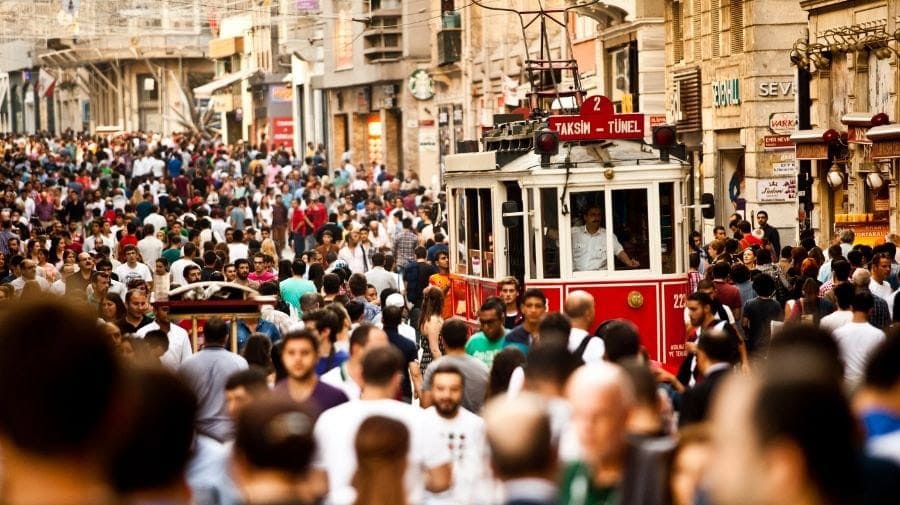 Whether you are a backpacker on a budget, a digital nomad, or a well-organized travel guru, chances are you dream of visiting Istanbul one day. But you may find yourself questioning the overall safety of the city.
So, is Istanbul safe?  Istanbul is completely safe for you as long as you are careful with the way you travel. Get familiar with local customs, avoid certain neighborhoods, and respect people, and you will have nothing to worry about.
Let's discuss what you can expect when you first visit the city.
Istanbul Is Safer Than You Think
Being one of the most happening places in the world, Istanbul is no exception when it comes to concerns about safety. Thanks to its architectural masterpieces, well-developed transport system, and culturally diverse classes, it also promises a lot of chaos that you have to pay attention to while traveling.
Though it's safer than you probably think, there are certain things you should mind while traveling to Istanbul.
One of the main reasons that you should be careful with certain touristy and crowded neighborhoods, such as Sultanahmet Square or Istiklal Street, is that these areas connect completely different walks of life in one place.
This and the hustling and bustling routine of everyday life alongside the economic difficulties prepare the ground for petty crimes and scams.
Home to 15.52 million people, including migrants, the work ethic by which the Turkish tourism industry is operated is questionable at many levels. Especially after midnight, Taksim Square becomes a hunting ground with rip-offs. Try to avoid strangers who invite you to have a drink at a certain place unless you want to end up paying a huge bill.
Keep your wallet, phone, and other important belongings in close sight. Make sure the zippers are properly closed if you are wearing a backpack. Most importantly, do not carry your passport with you; a copy of it will be enough if you have to show it to the authorities, although this seldom happens as the city police are accustomed to tourists.  
After a long day touring the city, the last thing you want is to experience the hustle of a bus or metro ride. That's why you might choose a taxi ride. But remember that some taxi drivers might quote a higher fare for your ride when they spot your non-Turkish roots. To avoid this, open Google Maps, and follow the route to make sure you are on the right track.
The same happens when you are shopping in the local bazaars. Souvenirs and traditional art pieces, jewelry, and rare spices are among the favorite items tourists like to buy, yet they are priced unfairly by most shopkeepers. So, don't forget to check for the prices at a few shops and bargain.
Additionally, you find beggars and random strangers stopping you in the way and narrating to you their sad life stories only to ask you for monetary help.
The best way to avoid all such experiences is by traveling with a local to guide you. Also, learn a number of useful Turkish phrases in order to communicate and negotiate with the locals when shopping. You can also get help from mobile dictionaries.
The overcrowded places and traffic will also overwhelm you, especially if you want safe traveling. The best way to handle this mismanaged chaos is to select hotel accommodation near the tourist places you plan to visit.
Even though such hotels are more expensive, they will save you from the overly charged transport fares. Also, try to avoid planning a hectic routine as it steals away the joy of the trip.
And if you happen to experience any kind of unfortunate events or get scammed during your visit, keep in mind that there are some travel insurance providers that may even offer fraud/scam coverage up to a certain amount.
Remember to always buy travel insurance when planning a trip to Turkey, just to be safe!
World Nomads has a large selection of travel insurance available.
Getting a quick quote from World Nomads is simple - just click the button below to get started!

What About Terrorism?
Terrorism has become a global threat, leading us to be more cautious, especially while traveling.
Metropolitan cities are more prone to attract terrorist activities, and it's no surprise that Istanbul has gotten its fair share of acts of terrorism. Fortunately, the government has successfully dealt with the attacks, and terrorism is not a day-to-day threat in most Turkish cities.
Some people have second thoughts about traveling to Turkey because of its portrayal as an extremist Islamic country. But this does not reflect reality at all. Turkey is a secular and progressive country and a member of the G20.
The country hosts millions of tourists from various countries every year, most of which are frequent visitors, and Istanbul is a truly cosmopolitan city.
The best way to solve all such concerns is to read a bit about Turkish history, its transition to a modern state, and check out some current news programs.
You can always go online to find some local Turkish people to see how they live and even communicate with them to get a closer look and deeper understanding of their culture before traveling.
When it comes to airway travel security, Turkey implements strict safety measures in Istanbul's two international airports, Sabiha Gökçen Airport (SAW), and Istanbul Airport (IST).
The new Istanbul Airport will be the biggest in the world when it's fully completed. So, airport security is proportionately very tight. The staff is helpful and courteous, and security checks have been designed to ensure the security of each traveler without making them feel uncomfortable or targeted.
One of the main problems that have often worried travelers is the language barrier. All airports and metro stations in Turkey have signs and announcements in both Turkish and English as well as English-speaking staff, but you cannot expect to hear and see English at all public transport options.
The easiest way to be prepared to travel in Turkey is to educate yourself with the basic Turkish travel vocabulary. 
You can also install language translating apps on your mobile phone before you travel to Turkey. Often these apps have the option for speech translation and will be the saving grace to any and every embarrassing situation.
If you happen to have any problems communicating, you can always request the airport staff to provide you with a translator.
How To Stay Safe in Istanbul
As you already know,  Istanbul is divided into two parts, the European and the Asian side. Each side has countless densely populated suburbs. The European side has most of the touristic sites, and the Asian side is commonly known as the residential side.
What is unique about Istanbul is that these two completely different sides create a unique combination of lifestyle and culture, making Istanbul utterly mesmerizing.
On the other hand, this unique blend is the same reason why you should be extra careful while traveling. Istanbul is full of individuals coming from very different cultures, even within the country. So, sometimes lifestyles clash, and disputes happen.
Most streets in Turkey, especially in Istanbul, are monitored through security cameras and police patrolling to make them secure. Still, sadly, most female tourists (and locals alike) often complain about the "catcalling" culture and continuous stares of Turkish men they encounter, while male tourists can find themselves in street fights in a matter of minutes in some parts of the city. 
All these create a sense of insecurity, although these kinds of behaviors are not specific to any one suburb. That's why we've compiled a few tips to avoid such circumstances:
Avoid the backstreets and suburbs of Taksim after midnight. 
Respect the dress code of mosques and other places of worship (no exposed legs and upper body, a scarf slightly covering the head).
Try not to wear clothes that expose your body in certain conservative districts of Fatih or Üsküdar neighborhoods; you can ask your hotel front desk for tips on this.
Areas like Eminönü and Fatih can be extremely crowded. Try visiting them early in the morning.
Avoid people offering you a free ride or free tours.
Watch out for common scams in major tourist areas (Sultanahmet, Grand Bazaar, and Taksim.
For extra precaution and safety, it is recommended for every traveler to have a mobile equipped with safety apps.
Closing Thoughts
Despite all these ups and downs, Istanbul remains a rising city of the modern world with its beautiful landscapes, unique culture that combines the oriental east and the modern west, and hospitality of its residents.
While one can go on and on about its unique qualities, you can never truly understand this magnificent city until you experience it. 
If and when you do, you can always buy travel insurance when planning a trip to Turkey, just to be safe!
World Nomads has a large selection of travel insurance available.
Getting a quick quote from World Nomads is simple - just click the button below to get started!

So, instead of asking if Istanbul is safe, try to be prepared for certain possible scenarios to feel safer and enjoy the journey. As you discover the dreamy world of this beautiful, historically, and culturally rich city that entices your imagination to the fullest, you will only find new reasons to visit the city once again.