6 Amazing Things to Do in Cappadocia
Experience the wonders of Cappadocia
Cappadocia is a must-see for travelers visiting Turkey. Leave the chaos of Istanbul behind and learn the best things to do in Cappadocia.
The town offers some of the best things to do in Turkey. Check off incredible bucket list items like sleeping in a cave and soaring into the sunrise in a hot air balloon. Be sure to add Cappadocia to your Turkey itinerary after reading this guide.
So, what are the best things to do in Cappadocia?
1. Embrace the Hot Air Balloons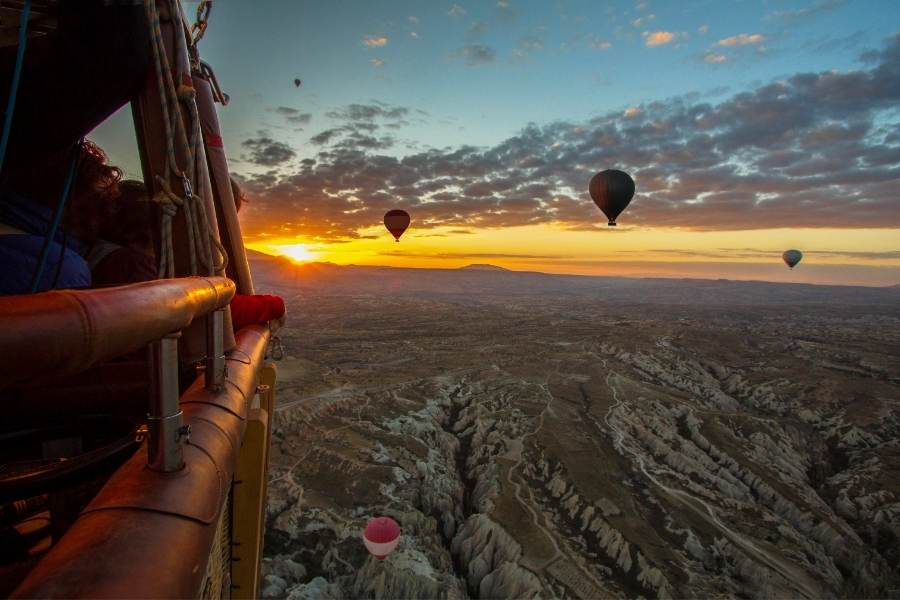 Cappadocia is synonymous with hot air ballooning for most travelers.
People book trips specifically to see the bright balloons filling the horizon as the sun rises each morning. You can stand on Lover's Hill and get an amazing view as balloons pass within meters of you.
Watching the balloons is a great way to appreciate the activity for free.
Or you can be more adventurous and take to the skies yourself.
150 hot air balloons lift off each morning while the sky is still dark. They soar almost 10,000 feet into the air, dipping as low as 3 feet between the fairy chimneys in the valleys below. Although you're high up, the smooth ride makes it feel like you're on solid ground. 
You'll be surprised how safe you feel staring above the Tabletop Mountain as you drift past other balloons.
There are dozens of companies that launch balloons every day. It's best if you choose the right season for hot air ballooning and prebook during the busy summer season to avoid them selling out. Prices vary based on your vendor. 
Don't forget your camera and your gloves! Keep your fingers warm while you take shots of yourself above the cloud lines.
Prepare to stay in Cappadocia for more than one night to ensure you get good weather for your ride. The balloons can't fly without gentle winds and clear conditions.
Even if you don't plan to ride in a balloon, spending more than a day in Cappadocia is a must-do!
2. Visit the Göreme Open-Air Museum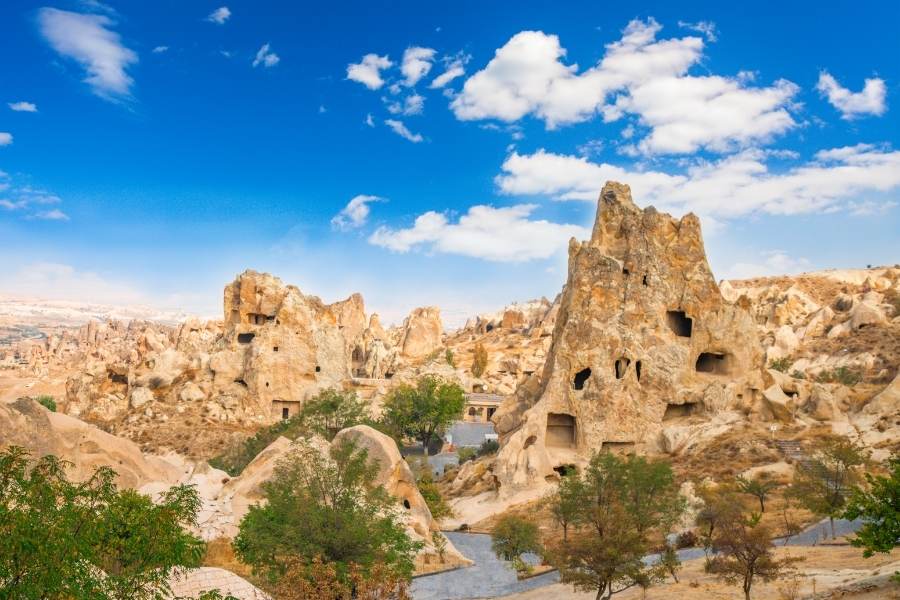 An open-air museum is exactly what it sounds like: a museum that's outside in the open air.
Goreme is a unique spot to visit an outdoor monastery built into the natural cliffs of Cappadocia's valleys.
From the outside, this museum looks like hollows in the sandy stone. It's not until you step inside one of these hollows that you'll discover the true beauty of the monastery. Inside this community are altars and tombs.
The walls are painted with fading frescos depicting religious life.
It's both religion and museums in a way you've never seen before.
The Göreme Open-Air Museum is the first UNESCO World Heritage Site in Turkey, recognized for the incredible preservation of the rock-cut churches. 
Budget 25 TL (Turkish Lira) for your visit.
3. Explore the Valleys on a Hike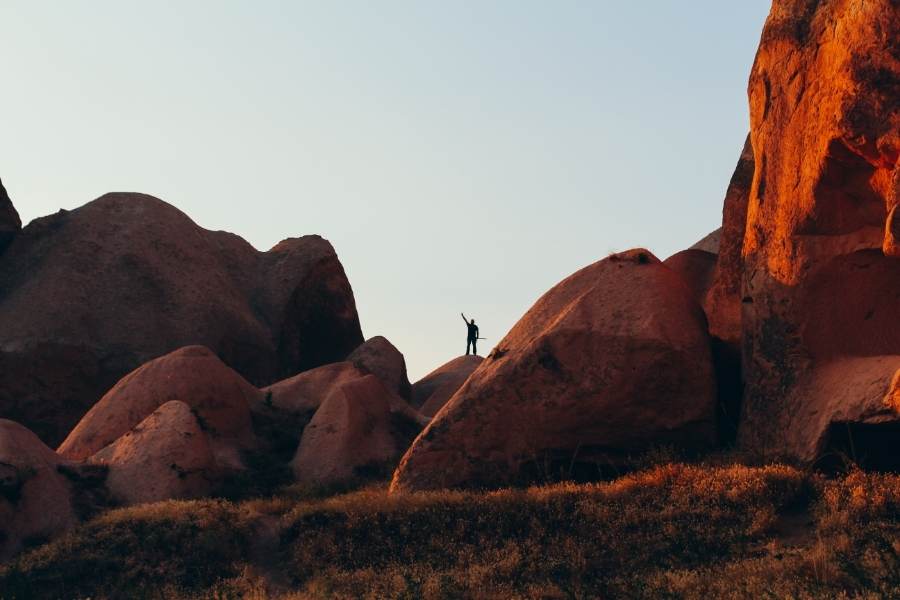 One of the reasons Cappadocia is so famous for its hot air ballooning is its gorgeous landscape. The region is covered with cave dwellings, fairy chimneys, and deep valleys. The best way to see the region up close is to go hiking.
Hiking is the second most popular adventure in Cappadocia, after hot air ballooning. It's a free option that lets you see more of the area's landscape up close.
You'll get amazing views of sunsets over the valleys, see more interesting formations in the rocks, and walk between the fairy chimneys.
You can't do that from a hot air balloon.
There are dozens of hikes to do in the region. The best hikes in Cappadocia are:
Red Valley at sunset
Rose Valley to see the unique pink-tinted sand
Love Valley to Uchisar Castle, past the Fairy Chimneys
Ihlara Valley for a greener side of Cappadocia
Pigeon Valley for ancient cave paintings and lots of pigeons
4. See the Fairy Chimneys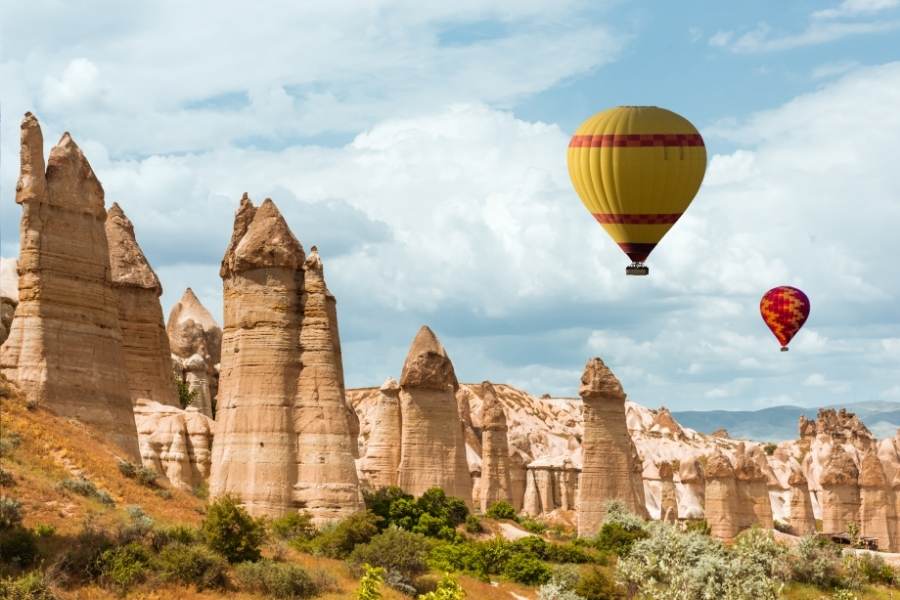 Cappadocia was formed by volcanic eruptions over 100 million years ago. When the lava hardened and was exposed to the cold, it cracked, causing pieces to fall off.  This left the softer rock of the bottom exposed, causing it to erode faster than the top. Rain and wind helped sculpt the fairy chimneys as they stand today.
They gave the famous Love Valley its name due to the suggestive shape of some of the rock formations.
You can see the Fairy Chimneys from a hot air balloon along the route as you drive through Cappadocia or up close on a walkthrough of Love Valley or Paşabağ Valley.
Be sure to stop to see these gorgeous rock formations up close. 
5. Visit an Underground City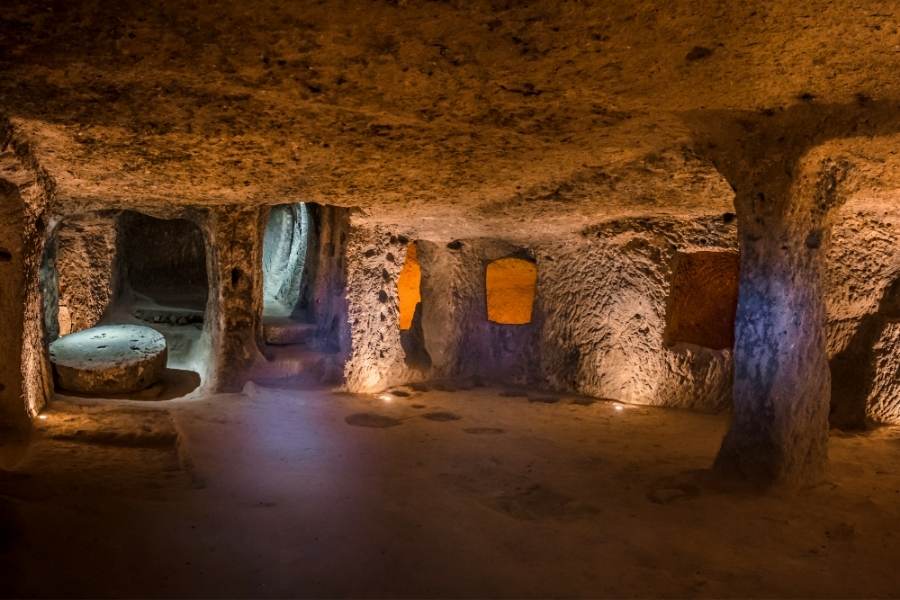 Cappadocia is full of history, both above and below the ground. One of the best things to do in the city is to visit an underground cave city, such as Derinkuyu.
The caves originated in the 8th century BCE but weren't expanded into the multi-level chambers they are now until the arrival of the Christians. They created miles of tunnels beneath the surface that could be closed in with a stone door from the inside.
The caves were the perfect place to hide from persecution during the Arab-Byzantine wars in the 8th century CE.
Derinkuyu is a multi-storeyed cave community that can hold up to 20,000 people. Take a tour of the wine and oil presses, or head to the stables to see how they housed animals underground. 
This is a great activity for history buffs and anyone who isn't claustrophobic. Some areas get a bit tight due to low ceilings and can be quite dark. Make sure you're comfortable before you start winding deeper into the city's depths. 
5. Stay in a Cave Hotel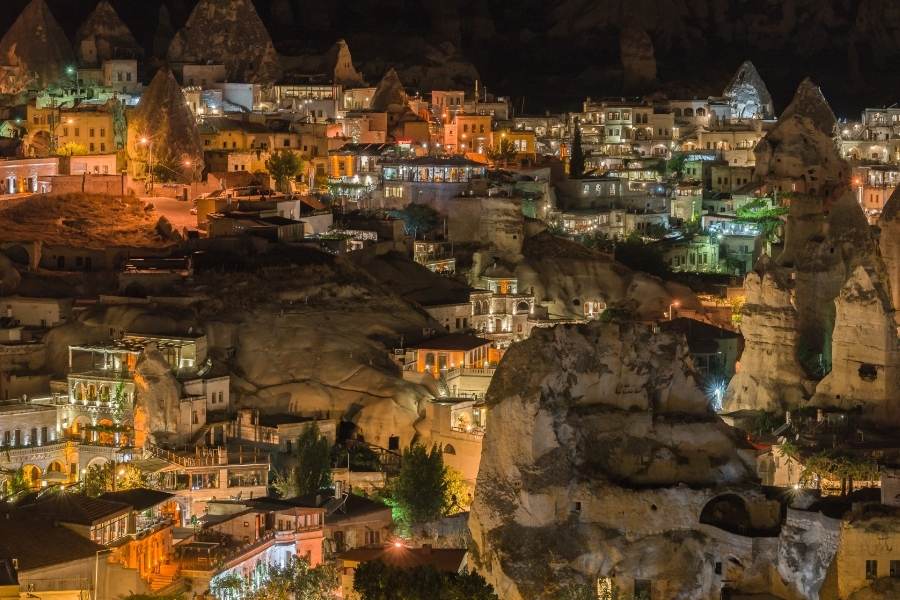 With all the amazing things built in the volcanic rock in Cappadocia, it's no wonder that hotels are on the list.
Cave hotels are a popular attraction in Cappadocia. They have all the amenities of a modern hotel: comfy beds, electricity, wifi, and bathrooms. Some even have underground pools or breakfast overlooking the hot air balloon flights in the morning.
Unlike the underground cities, the cave hotels are above ground. They're built into the rock, much like the Goreme monastery, with windows and high ceilings to make any guest comfortable.
If you're looking for a true, one-of-a-kind accommodation, [you need to book a cave hotel](http://booking.com/hotel/tr/mosaic-cave.html?aid=304142;label=gen173nr-1DCAEoggI46AdIM1gEaCeIAQGYATG4AQfIAQzYAQPoAQH4AQKIAgGoAgO4AoqVtf0FwAIB0gIkYzFhMWM5OGQtOGQwOC00Yzg1LWExYmQtNTZiMTNiMzc3OTc32AIE4AIB;sid=515835696d8de901f547589252139a2c;all_sr_blocks=297355301_110133784_0_1_0;checkin=2020-11-20;checkout=2020-11-21;dest_id=2758;dest_type=region;dist=0;group_adults=1;group_children=0;hapos=1;highlighted_blocks=297355301_110133784_0_1_0;hpos=1;nflt=price%3DTRY-min-500-1%3B;no_rooms=1;req_adults=1;req_children=0;room1=A;sb_price_type=total;sr_order=popularity;sr_pri_blocks=297355301_110133784_0_1_0__2501;srepoch=1605192386;srpvid=3d7667e0a0df01ae;type=total;ucfs=1&#hotelTmpl(opens in a new tab)) (link to read reviews on Booking).
For the luxury you get, the prices are very reasonable. Rooms begin at 200 TL, the equivalent of $40 USD.
Pack your bag and get ready for the trip of a lifetime, staying in a romantic cave hotel.
6. Eat a Pottery Kebab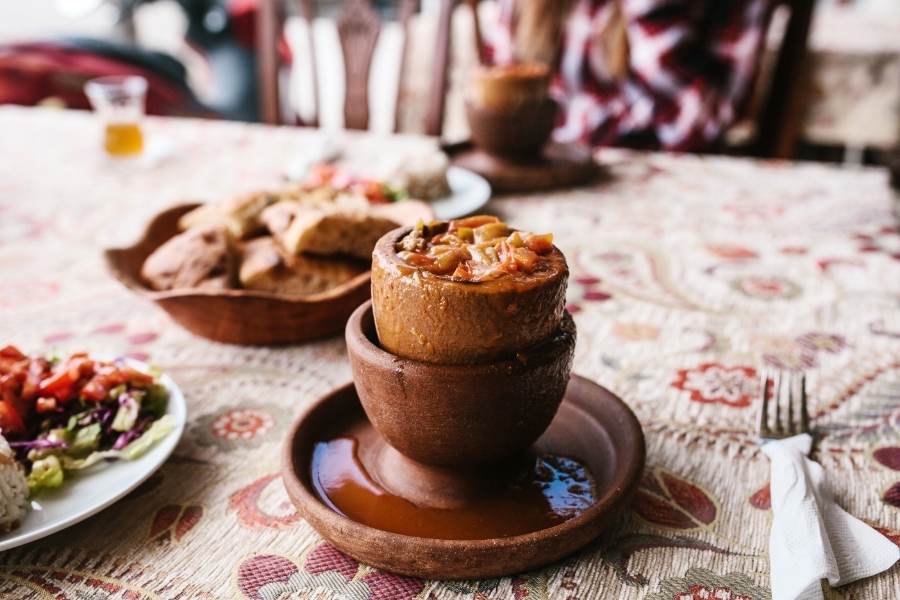 Not all of the best things to do in Cappadocia are adventure or history-related.
Eating a pottery kebab is a must-do. They're a regional dish from Cappadocia that will make anyone drool.
Turkish people use "kebab" to signify any kind of meat. This isn't a skewered meat dish. It's more like a stew, served in a clay pot.
The dish is made up of stewed meat of your choice with vegetables. It's slow-cooked until the vegetables are lovely and soft. The dish is typically served with a side of rice. You can even get it vegetarian by asking for no meat.
You'll find the dish all around the city. Prepare to feel very full and a bit sleepy after this ultimate comfort food dish.
It's a great way to end a night before you head back to your cave hotel to curl up and hibernate. 
Where to Stay
Staying in any cave hotel around Cappadocia will be an unforgettable experience. At Hezen Cave Hotel (link to see availability on Expedia) you can immerse yourself in the mysterious atmosphere of this fairyland. The fairy chimneys will be your view at breakfast or under a starry night, and you'll be surprised to see that the cave rooms have natural air-conditioning. It will definitely be an authentic experience.
Olivia Cave Hotel (link to see availability on Expedia) is a budget-friendly alternative to the mysterious-looking cave hotels in Cappadocia. This hotel is in the small town of Göreme within easy reach of all the landmarks, but also to the supermarkets and shops. The stone building has excellent rooms with authentic decor, so you'll still breathe in the magical atmosphere of the town, and the guest reviews are great.
Closing Thoughts
The best things to do in Cappadocia aren't a guarded secret. In fact, the city wants you to discover them, so you have an amazing time. Anyone you ask will give you recommendations on where to hike, amazing cave hotels, and how to book a hot air balloon flight.
Take advantage of all of the amazing things Cappadocia has to offer on your visit to Turkey.