6 Amazing Things to Do in Kaş
Discover the charm of Kaş - a coastal town with ancient ruins and thrilling adventures.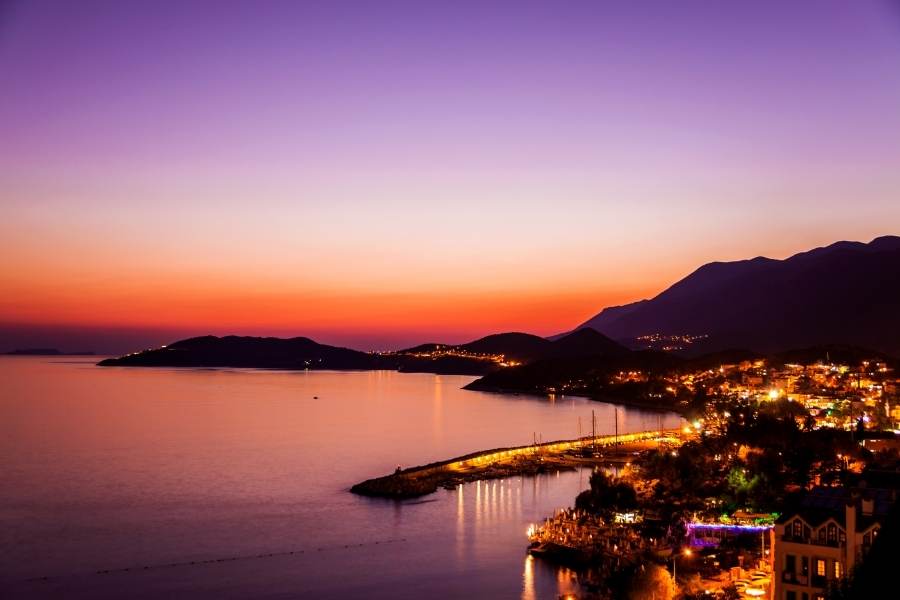 Kaş is a small harbor town between Muğla and Antalya, the two most popular holiday destinations in Turkey for beach-lovers all around the world. And there are many amazing things that you can do here to make your stay exceptional.
Once an ancient Lycian fishing town, Kaş is now the preferred holiday location for scuba divers, yachters, nature lovers, archaeology enthusiasts, and partygoers. Although Kaş looks small, you can fit in a lot of activities in a short holiday in this cool town, ranging from swimming, scuba diving, bay-hopping on a boat cruise, visiting archeological sites, and paragliding. 
With this list, you'll discover all the amazing things you can do in Kaş in detail.
6 Amazing Things to Do in Kaş
1. Explore the Town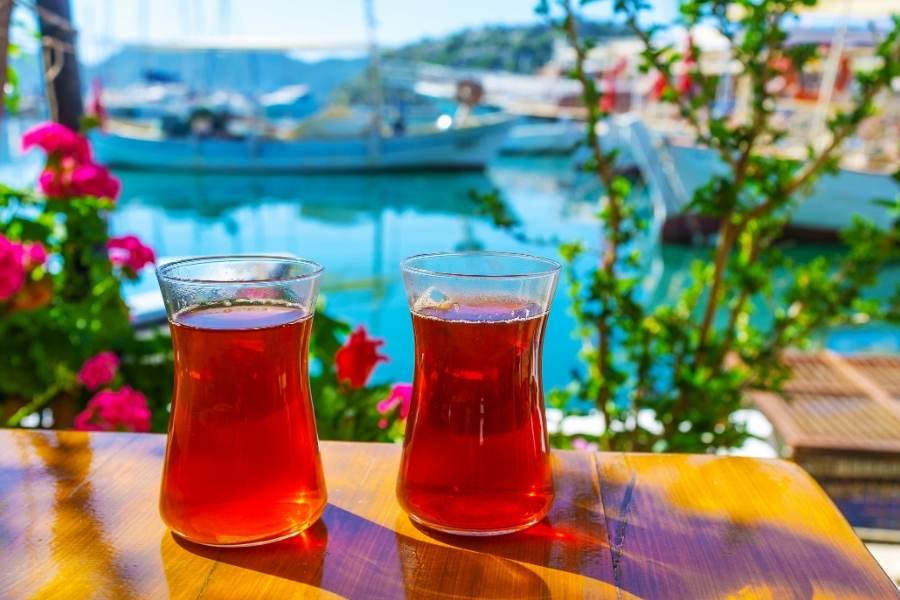 Wandering around the town of Kaş is not an idle activity, but an experience full of surprises. This small town will dazzle you with its white houses with wooden shutters, ornate with splashy Bougainvillea flowers, and archeological ruins that appear out of nowhere in the middle of the cobbly streets. And the sea view is mind-blowing from the upper streets and bars offering terrace views.
The modern town of Kaş was once home to the ancient Antiphellos. Prepared to be surprised when you bump into some ancient Lycian attractions as you walk around town, like the sarcophagus standing in the town center.
There's also an amphitheater on the west side of the town, the remnants of ancient city walls towards the harbor, and some rock tombs to the northeast.
The town center is busy with artsy small shops to buy souvenirs, cool bars, lovely restaurants, all in perfect harmony with the town's vibe and its charming streets. Pet the friendly street animals and chat with locals to immerse yourself in the welcoming atmosphere.
When the night comes, everyone hangs out and socializes in the main square, so you won't feel lonely in Kaş even if you're traveling solo. Mavi Bar on the harbor is the meeting point for rock'n'roll lovers and the intellectuals frequenting Kaş. Most people just grab a drink and sit across this bar in the open air to enjoy the music and socialize with the crowd.
2. Check Out the Bays and Beaches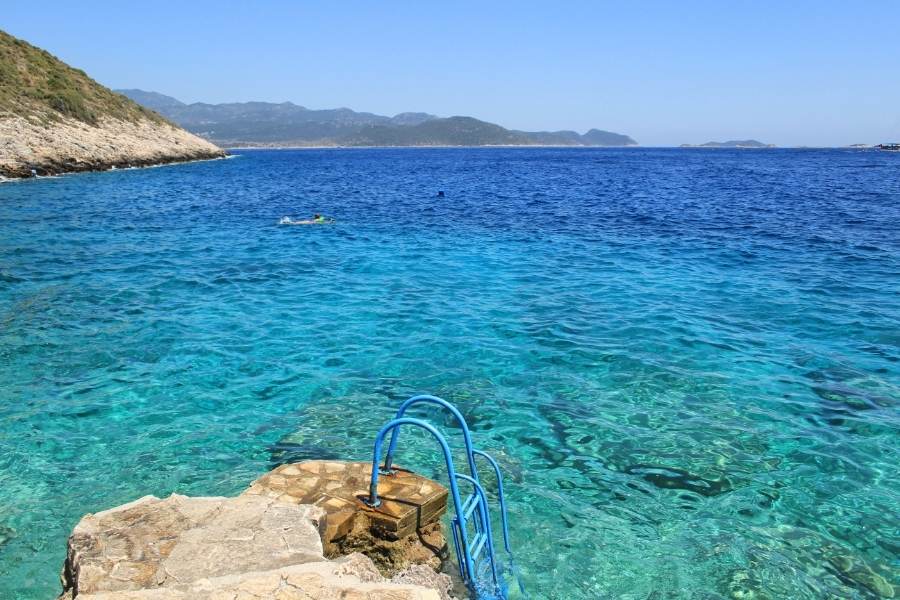 Kaş is all about the sun and the sea during the summer. The coastline is full of beautiful small beaches and bays where you can just relax and enjoy the sea.
The beaches close to the town center include Küçük Çakıl (Little Pebble) and Büyük Çakıl (Big Pebble), İnceboğaz, Çınar, Kaş Halk Plajı (Public Beach) and Akçagerme beaches.
Once you get a bit further from the center, extraordinary turquoise bays and coves invite you to the refreshing crystal clear waters. Kaputaş Beach, which lies 25 minutes (13 miles) away from Kaş town center, is a definite must-see. Also called Mavi Mağara (the Blue Cave), the beach is at the bottom of a deep cliff, offering a stunning view. Dipping in the deep, wavy sea is an adventure on its own. 
After a five-minute ride from Kaputaş, you can find yourself in the coastal town of Kalkan and its sandy turquoise beaches. You can take a public minibus or a taxi from Kaş to get to these fantastic beaches. 
3. Discover Kekova: The Ancient Sunken City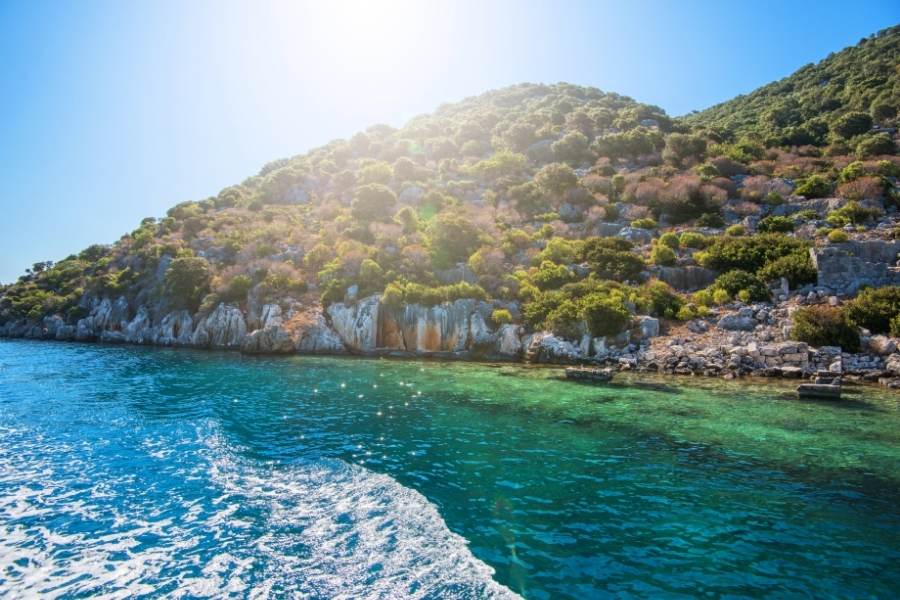 Kekova is an uninhabited island near the town of Demre, opposite the villages of Kaleköy and Üçağız. The region is home to four ancient towns: Simena, Aperlae, Dolchiste, and Teimioussa.
You can take a boat trip for about $35 USD from Kaş to Kekova to see the ancient ruins partly sunken under the sea. These trips offer the best combination for a summer holiday abroad: swimming and sightseeing.
Alternatively, you can go to Üçağız village by land from Kaş. Üçağız village (ancient Teimioussa) is the launching point for kayaking trips to the underwater ruins.
Kayaking trips to the sunken city allow you to get an even closer look at the ruins. These trips also include onshore visits to the Roman castle and Aperlae ruins in the nearby village, Kaleköy (ancient Simena). The trips start from $65 USD in general.
The whole shoreline of the Kekova island showcases the remains of Dolikisthe. There's a dockyard, steps and stairs, gates, and the remains of a Byzantine Church in this partly sunken site.
An earthquake in the 2nd century caused the ancient cities to sink underwater partly. But the beautifully shimmering crystal clear waters allow you to see the ruins, which makes the experience so unique and memorable.
The submerged sarcophagus right in front of the peninsula is one of the most famous sights in Kekova.
4. Visit the Home of Santa Claus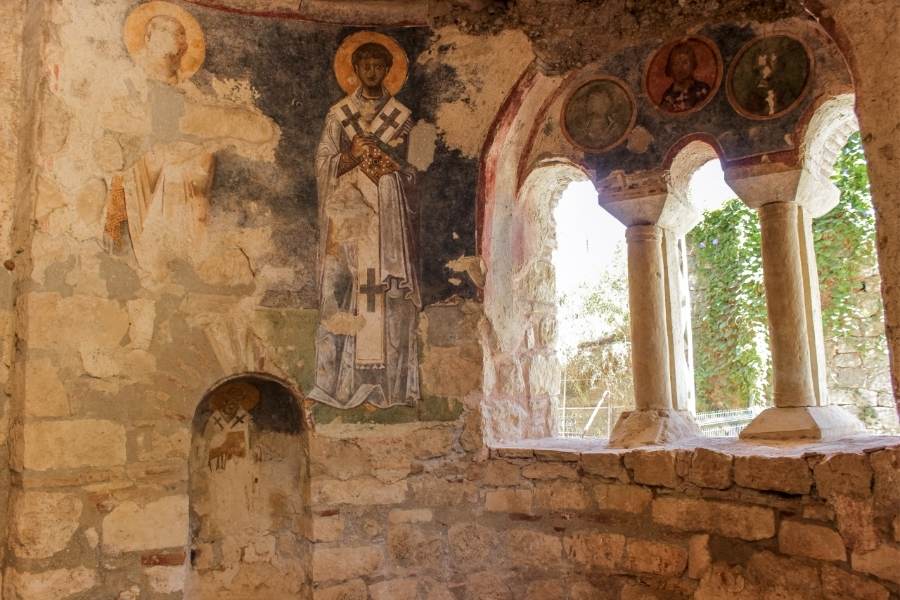 After or before your sunken city tour, make sure you stop by the town of Demre, the home of Santa Claus. Yes, Santa Claus is actually from Turkey, more specifically Demre (ancient Myra). He was the town's bishop, and you can still visit the medieval domed Basilica of St. Nicholas in Demre. This 11th-century church has been mostly preserved, and you can see the frescoes on the walls.
St. Nicholas Church is an important pilgrimage destination for the Orthodox Christian faith. You will enjoy the serene atmosphere of the basilica, whether you share their faith or not. You can also buy souvenirs from the shops around to remember your visit by.
You can also see the remains of ancient Myra in Demre. Well-preserved Lycian rock tombs carved on the face of a cliff and a large Roman theatre await you on this site.
Myra is within walking distance from the St. Nicholas Church. But make sure you have some water, sunscreen, and a hat with you before you set out in summer.
5. Dive Under Water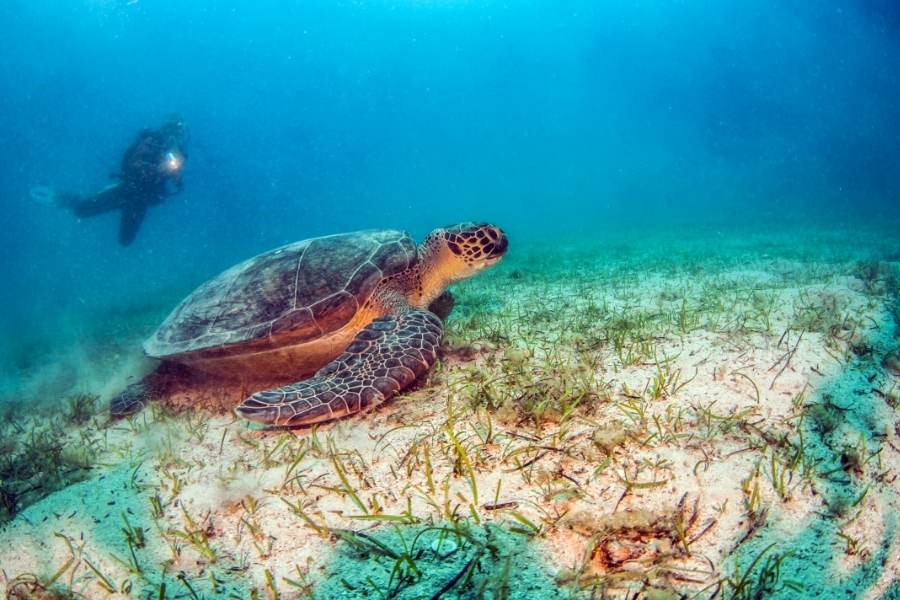 For most people, the best way to spend the day in Kaş is to spend it in the sea. Kaş is perfect for diving and snorkeling and scuba diving. There are over 15 dive centers and diving schools in the town.
You can explore Kaş on a full-day snorkeling or scuba diving tour to make the most of your holiday here. There are about 50 diving spots around Kaş, so your diving spots may vary depending on your experience, tour, and the weather condition.
The boats leave Kaş Harbour in the morning and return at about 6 pm. You go to 3-4 diving spots on a standard tour. Popular diving spots include Twelve Islands, where you'll see an underwater canyon and shipwreck. 
Snorkeling or scuba diving are both fun diving activities available in Kaş. But if you're not sure which diving experience to choose, we can help you decide.
Swimmers with no diving experience can go snorkeling with no training, so it's best to try it if you don't have much time for training. Snorkeling involves a mask and tube (snorkel), allowing you to observe fish, coral reefs, and aquatic plants from just beneath the surface of the water.
However, scuba diving requires more equipment, including an autonomous breathing gas supply tank and diving suits. So it allows you to explore at much greater depths and dive to explore caves or shipwrecks. But you need to receive training and certificates for scuba diving, so it's best to plan ahead if you're willing to do that.
The tours provide snorkeling or scuba diving gear, fins, stand-up paddleboards, and other gear. Lunch, coffee, tea, and bottled water are usually included on the trip, and you can have drinks and snacks for an extra cost all day.
The tour prices start from $55 USD and can go up to $450 USD, depending on the tour, the boat, the duration, and the services.
6. Paraglide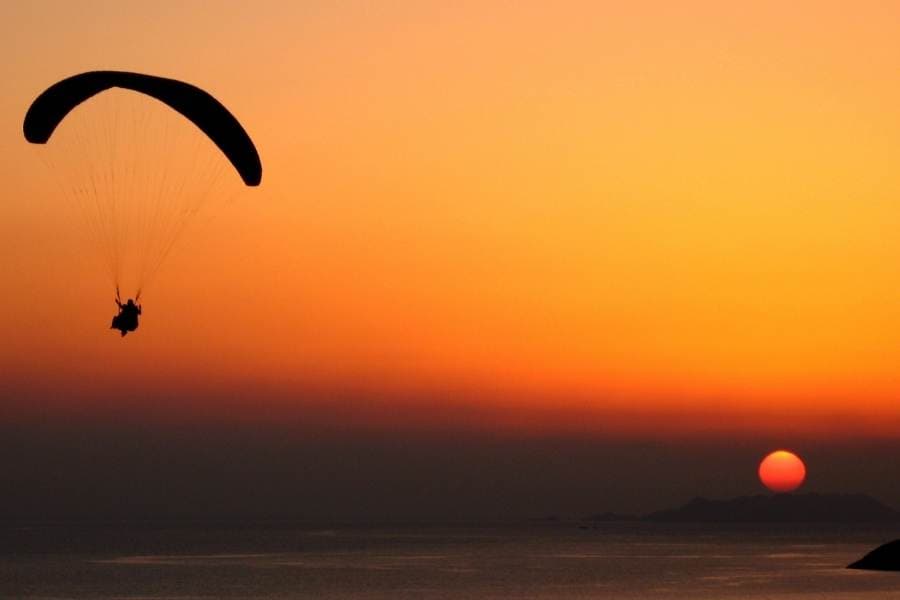 If diving underwater like a fish is not enough for you, you can always try flying like a bird! Paragliding in Kaş will make your stay completely unforgettable. The panoramic coastal view of the shore and the Greek islands will dazzle you, maybe even upstage the experience itself.
You can try tandem flying without any prior experience. But you have to wear sturdy, closed shoes, so you don't hurt your feet on the landing.
You can book a flight from one of the agencies around the Kaş harbor and choose your flight time. It usually costs about $120 USD. 
A 15-minute adventurous drive up the nearby mountain from the harbor will take you to the paragliding take-off point at 1,600 feet high. You'll then get the necessary gear and training to paraglide with an experienced pilot. Tandem flying is not the only skill they have, so if you're up to it, let your pilot make things more exciting with a bit of acrobatics and stunts.
After descending for about 30 minutes, you'll land on the harbor with some great photos and videos and a memorable experience.
Make sure you bring a strap if you want to use your own camera. Or you can always buy some amazing pictures of yourself taken by your pilot for an extra price – bargaining is common at this point.
How to Get to Kaş
Kaş is easily accessible by flying into Dalaman Airport (DLM) or Antalya Airport (AYT), followed by a private shuttle or bus transfer (2-3 hours). You can use public transport as well. Buses and minibusses are available from nearby areas such as Antalya or Fethiye.
Airlines in Turkey offer flights to these destinations from Istanbul and abroad throughout the year.
Where to Stay
Arnna Hotel (link to see availability on Expedia) is only one minute away from the Small Pebble Beach, so the location is great for both swimming during the day and enjoying the bars at night. Kaş is a very small town so you can reach almost anywhere on foot from this hotel, and the surrounding attractions are within reach by a short ride.
Hotel Koza (link to see availability on Expedia) is also within walking distance of the Small Pebble Beach and it also has a small outdoor swimming pool. The hotel boasts a free breakfast buffet served in its garden embellished with beautiful purple bougainvilleas. There's a free parking space in front of the hotel and you can walk to all the shops and bars in town.
Final Thoughts
Kaş is an incredible coastal town with a laid-back, tranquil atmosphere. If you're dreaming about a relaxing summer holiday within the heart of nature, Kaş is the place to go.
If you want something more adventurous, Kaş and its neighboring towns offer several things to do, too. So, visit Turkey and let yourself experience amazing new things in Kaş.